Consultation continues to prepare DB schemes to be less reliant on sponsors as the sector matures
Key points
The Pensions Regulator is consulting on a new funding code for defined benefit schemes
The 'twin track' approach is designed to be more flexible for complex schemes and to reduce the reporting burden on others
The regulator wants schemes to publish clear journey plans explaining how they will close deficits and secure member benefits
A delay to the consultation deadline is being considered because of the COVID-19 pandemic
The Pensions Regulator (TPR) is considering extending the consultation period for its proposed new funding code for defined benefit (DB) schemes, in light of the COVID-19 pandemic.
David Fairs, executive director of regulatory policy at TPR, said in a recent video interview with consultancy firm LCP that the regulator was aware that trustees, employers and advisers "might not have the time to fully focus on all the issues" in the consultation, given business continuity issues and the recent huge moves in some asset prices.
More information on a possible extension would be provided "in due course", Fairs said in the video, which was circulated to LCP clients and the media in April.
The consultation – the first of two – was initially due to close in June. Implementation is slated for 2021, and there has been no indication from the regulator that this date will change.
Those expecting a rethink on some questions may be disappointed. Fairs stated that "many of the principles" set out in the consultation were just as valid as they were before the current crisis hit.
"What we have noticed is that schemes that have practised fully integrated risk management have come through this crisis in much better shape than those who have not," Fairs said. "Many of the principles issues that we raised in that consultation are still absolutely relevant."
Chief among those principles is a requirement for every scheme to set a long-term objective, usually to reduce the reliance on employer contributions and investment returns to pay benefits.
Once that objective is set, trustees can then formulate a 'journey plan' setting out how they intend to reach that objective.
The changing DB landscape
The regulator decided to revisit its approach to defined benefit (DB) scheme funding last year after analysing the demographics of the sector. Most private sector schemes are expected to be "significantly mature" in the next 15-20 years, according to Fairs, with three-quarters already paying out more in benefits per month than they receive in contributions – or cashflow negative – according to Mercer.
To ensure schemes properly prepare for this development, TPR has proposed a 'twin-track' compliance approach to valuations. Trustee boards will be able to choose either a 'fast track' or a 'bespoke' approach to scheme valuations.
To qualify for the fast track, schemes will be assessed on a quantitative basis on areas such as the length of recovery plan, dependency on employer contributions, investment risk and journey plan.
Those that do not meet the regulator's requirements will go through the bespoke approach. Schemes can also choose this option if they feel their situation requires more attention from the regulator.
TPR says trustees going down the bespoke route "will have to submit more supporting evidence on their approach, including how they propose to manage additional risk, and may receive greater regulatory scrutiny".
The covenant risk question
The consultation has five main themes: long-term planning; employer covenant assessment; investment risk; recovery plan structuring; and treatment of open DB schemes.
Each scheme will be expected to set out a long-term objective, specific to its situation, that aims to achieve full funding with a low dependency on its sponsoring employer. This plan should be "prudent", TPR says.
The regulator is seeking feedback on "the extent to which the employer covenant should remain a key aspect of scheme funding", given its intention to reduce schemes' dependency on their sponsors.
Tom Neale, head of integrated risk management (IRM) at TPT Retirement Solutions, expresses surprise at the regulator's proposal to reduce the impact of covenant risk.
"Much progress has been made over the past decade in understanding the role of sponsors in funding DB schemes and this is a key pillar of IRM," Neale says. "Changing the regulation to exclude this key consideration could be potentially damaging to overall member security, as it may lead some schemes to consider it less thoroughly.
"Not considering risks does not make them go away but rather increases the chances of insufficient planning or mitigation needed in order to protect schemes."
The regulator is also consulting on the treatment of alternative methods of scheme support, such as contingent assets and guarantees, and how these should be incorporated into long-term objectives and journey plans.
Investment risk and deficit funding
On investment risk, the regulator has proposed ways in which trustees could demonstrate that the investment risk they are taking is appropriate for the benefit structure, maturity of the scheme, and strength of the employer.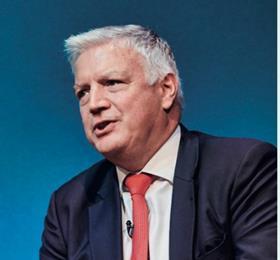 Deficits "should be funded by an appropriate recovery plan", TPR says. It has proposed that employer affordability should be the "key factor" when structuring recovery plans to ensure they are viable and sustainable.
However, while the new approach may have a "limited impact" on some schemes, according to law firm Herbert Smith Freehills, others could be forced to demand higher contributions and alter investment strategies. Sponsors could also be forced to reduce dividend payments to shareholders to fund their DB schemes.
Christy Jesudasan, director for UK institutional fiduciary solutions sales at BMO Global Asset Management, says it is likely that most schemes will not have to make major changes.
However, those with low liability-hedging ratios or high allocations to growth assets such as equities may need to reduce investment risk in the short term, Jesudasan adds. This "could lead to higher sponsor contributions to compensate for lower expected investment returns", he says.
Regarding DB schemes that are still open to accrual and/or new members, TPR has asked for feedback on how the framework might affect these funds. It has emphasised that accrued benefits in open schemes "should have the same level of security as accrued benefits in closed schemes".
"Open schemes could be worse off if they need to de-risk over the timescale over which they have covenant visibility," warns Alistair Jones, client strategy director at SEI. "This is often a lower period compared to when their liabilities mature. This could result in lower future investment returns, higher funding costs, and ultimately more cash having to be injected into the schemes of more secure employers."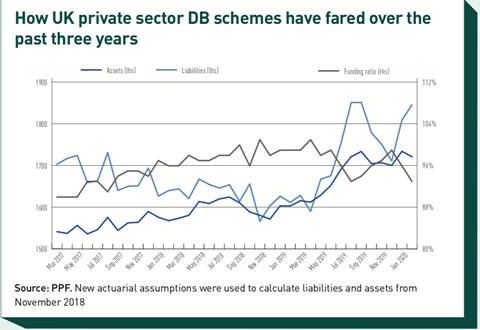 An uncertain timeline
Despite TPR's confidence that its plan does not need major changes based on the current crisis, Matthew Arends, head of UK retirement policy at Aon, warns that market conditions could "challenge TPR's plans for a more heavily prescribed fast-track approach".
"If these circumstances were to repeat when the new funding regime is in place, TPR would need to step up to the challenge and be ready to flex 'fast track' quickly enough to respond to the changing environment," he says.
In a note to clients, Herbert Smith Freehills partners Tim Smith, Marcus Fink and Francesca Falsini questioned whether TPR might have to "refine its approach" in light of the economic uncertainty brought on by the spread of COVID-19.
"At the very least, it is likely that…. the resulting economic, social and political impact will lead to a further delay in the code being finalised and coming into force," the trio wrote. "It could also force the regulator to soften its tone towards sponsors and allow more time than it had planned for deficits to be cleared (even for stronger employers)."
A second stage of the funding code consultation will focus on the structure of the fast-track process and how the new code will be enforced. It is currently scheduled for the end of this year but there is much that could still change. However, it is clear from the regulator's stance and its ongoing commentary that change is coming, and schemes will have to prepare, regardless of the ongoing health crisis.
To read the latest IPE Digital Edition click here
UK country report: Regulator plans twin-track funding code
1

Currently reading

UK country report: Regulator plans twin-track funding code

2

3

4