Nordic institutions are backing an AI approach to assessing individual businesses and their impacts
Key points
The Upright Project uses AI to measure net effects of individual companies on the environment, societal, health and knowledge spheres
Devised firstly for institutional investors, the creator aims for eventual use by consumers, employees and companies
Net impact profiles are produced by overlaying blueprint of a company's main impacts on a database of scientific articles
Early clients include Varma, Aktia Bank and Danske Bank
In today's world of interconnected human activity, the impact of one action can indeed be far-reaching – for better or worse. To get a scientific view of the net effects of individual companies on the environment, societal, health and knowledge spheres, a team of idealistic technology experts in Finland is marketing a new model of impact measurement to institutional investors.
The Upright Project is the creation of Annu Nieminen, a Finnish systems engineer and entrepreneur who was named by MIT Technology Review as one of its 2018 Innovators under 35.
The project's stated mission is to give companies an incentive to optimise their net impact – by building a model to quantify their net impact on the world around them and then making it rewarding for them to improve.
"We create fun ways for companies, employees, consumers and investors to use this data for smarter decisions and a prettier future for us all," the platform declares.
The new impact quantification model was devised primarily for institutional investors, and since the project began operating two-and-a-half years ago, Nieminen says it has been well received.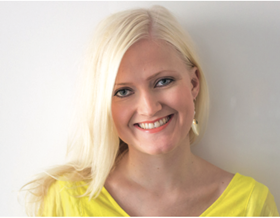 Varma, Nokia and Danske Bank are among the clients the model has attracted so far.
"From the investor side, the actual measuring of the impact of investments has been lagging behind the enthusiasm that exists for sustainable investment for quite some time," she says.
And even though global frameworks for assessing investments are now available, Nieminen says there is some frustration in the investment sector with some of these.
Pension funds are potential users of the Upright Project's quantification model, as are asset managers, that "want to tell more and more compelling narratives in order to sell their funds", according to Nieminen.
She says that, as well as being available to institutional investors and business-to-business services firms, the tool can also be used by retail investors as clients of financial services providers. Aktia Bank in Finland, for example, is using the model to send reports to its clients on the net impact for each of the investment funds they hold.
She says: "The first step is recording, and the second step is improving. Investors can log in, see investments in the tool, and they can test development of the impact of funds by putting stocks in and taking others out."
There is a free version of the project's net impact assessment calculator on the platform that is also accessible to the public.
The Upright Project uses an AI system dubbed Leena-Leena to process data on thousands of businesses and their products and services. The model takes a taxonomy of a company's goods and services and uses this to create a blueprint of its primary impacts.
Out of these two, a net impact profile is then produced by overlaying them on a database of millions of scientific articles using natural language processing (NLP) and deep neural networks.
NLP is the technique of applying machine learning to understanding texts, which Nieminen says is crucial for the project, since all information is codified in the form of natural language.
"What we aim to do is to make that information readable, and that's the core of our IP. It allows us to be able to tap into all this wisdom," she says.
Deep neural networks, meanwhile, is another technology component of AI that refers to the construction the project has built – one which understands causal relationships between words or terms in a snippet of text.
Although initially most useful for investors and investment providers, Nieminen has ambitions for the model to be used far more broadly – eventually including consumers, employees and companies.
Already, the project has received quite a bit of interest from corporates, she says.
"We were quite prepared for negative reactions from companies, particularly about the so-called minuses that come out of the assessments. But we have been really surprised by the positive and pragmatic approach from the business side," she says.
"What I realised is that executive boards are actually finding it freeing to state the negative side honestly. Doing so and acting on the information creates more value than it destroys," according to Nieminen.
While some of the information revealed by the Upright Project's model is reasonably predictable, she says its calculations also throw up some surprises:
"One of the things we tried hard to do was around the misconceptions that arise from making connections between impact and industry, for example, health. While it is true that many companies in that sector have a positive impact, it is also true that there are many which are not having a net positive impact."
For example, she says, certain health products are only accessible for the wealthy.
Another example where an investor might not immediately see the positive side of an investment, Nieminen says, is the sewerage sector.
"But when you think about how the resources are used and what the impact is, here it could be allowing two-year-old children to avoid infection," she says.
The Upright Project's model considers 19 different impact categories in four 'dimensions' – environment, health, society and knowledge.
While the project is currently being used to calculate the net the impact of investments, Nieminen says a future step will be to create new products using the data: "Providers will start by stating certain investment criteria, for example third world companies, and then say they want to maximise the positive impact of fighting climate change, for example. On top of that, they might add some financial optimisation criteria, and from the results that emerge they can make the financial decisions themselves."
A key feature of the whole project for its creators is the information the model will draw in from its users, thereby increasing the opportunities for companies to have positive net impacts by improving the effectiveness of investor action.
On its website, the Upright Project's users are encouraged to give feedback on companies, products or impacts they know about.
Nieminen believes that net positive impact and investment returns can be aligned. "That's the whole change we are trying to bring about," she says.
"If you look at how money flows around the world and its drivers, customers, employees and capital, the more information we get about this, the better decisions we can make.
"At the end of the day, where money flows reflects the decisions we make as human beings," Niemenen concludes.
Impact investing: Build back better
1

2

3

4

5

6

7

8

9

Currently reading

Upright Project: Applying tech to impact