The UK's FSA is seeking feedback from the financial services industry on its plans to work out a definition of value for money
KEY POINTS
The UK's Financial Conduct Authority has set out a plan to define what constitutes value for money in workplace pensions
Value assessment is based on costs, investment performance, and service quality
The regulator wants to improve outcomes and competitiveness within the defined contribution sector
Definitions will be used to inform future work on other areas of pensions in collaboration with The Pensions Regulator
Delivering value for money is a perennial preoccupation in the financial services sector. While many are sure they know how to define it, there has yet to be a definitive agreement.
In the UK, the Financial Conduct Authority (FCA), the regulator for the financial services industry, made its latest attempt to shape its version of value for money in June. This came with the publication of a consultation relating to contract-based, or workplace, defined contribution (DC) pension schemes.
Since 2015, these schemes have been required to have an independent governance committee (IGC) in place, with similar responsibilities to the trustee boards that oversee 'trust-based' schemes.
At the end of 2018, contract-based schemes had an estimated £160bn (€176bn) in assets under management, according to Hymans
Robertson. Membership data compiled by The Pensions Regulator (TPR) shows there were 2,030 schemes with more than 5.3m members as of April 2019.
Definitions
The regulator has proposed a common definition of value for money, alongside three key elements that IGCs should take into account when assessing the value of their providers compared with other options on the market – charges, investment performance, and services provided to members. It has also asked for views on whether providers should have a direct responsibility to deliver value for money.
The proposed definition states: "The administration charges and transaction costs borne by relevant policyholders or pathway investors are likely to represent value for money where the combination of the charges and costs and the investment performance and services are appropriate (a) for the relevant policyholders or pathway investors, and (b) when compared with other comparable options on the market."
The FCA also explicitly urged IGCs to compare similar firms when appointing new providers, to allow a better comparison of services – and, of course, value.
Jacqui Reid, partner at law firm Sackers, says open tenders will also allow IGCs to look for features that are beneficial to the nature of their schemes.
"For example, having multiple retirement options may matter less if the average pot size at retirement is so small that members would typically take cash, but an effective campaign about the benefits of increasing contributions could be more important," Reid says.
"Conversely, for members with large pot sizes, the way in which benefits are taken at retirement could have a significant effect on members' outcomes, so an IGC might choose to place a greater weighting on this factor than a campaign to increase contributions."
Costs and charges
Any workplace pension scheme used for automatic enrolment has been subject to a charge cap of 0.75% since April 2015, under rules brought in by the Department for Work and Pensions (DWP) to ensure that new members of DC schemes were not hit by high or "unfair" fees.
However, Piers Lowson, a director at asset manager Baillie Gifford, argues that the cap has led to a "focus on cost to the exclusion of almost everything else".
He says: "In value terms, cheap may be good but then so might expensive. Cost is but one part of any value-for-money assessment."
Richard Birkin, head of DC pensions at consultancy firm Isio, agrees that there has been a "race to the bottom" on fees, which are now at "remarkably low levels, especially for the default structures of some of the larger schemes".
However, he also acknowledges that this mindset appears to be changing. "Very few" new appointments in which Isio has been involved have been the cheapest provider, he says, with IGCs instead emphasising factors such as technology, education, and default design.
"In value terms, cheap may be good but then so might expensive. Cost is but one part of any value-for-money assessment" - Piers Lowson
Marcus Hurd, managing director and partner at Ndapt, a professional trustee firm, is sceptical of calls for higher fees. "Paying more does not necessarily get you a better outcome," he says. "On the contrary, paying more can be a symptom of inefficiency. I firmly believe that the better outcomes are achieved by having clear objectives and running the scheme with the same care and attention as if it were a business. Effectiveness is achieved through approach and delivery not by paying more."
Investment performance
The performance of an investment portfolio is often a member's first priority when deciding whether their scheme provides value for money. After all, a portfolio that has lost money – and therefore hurts the saver's prospects for a comfortable retirement – will likely outweigh any arguments on costs or service provision.
Existing FCA rules require IGCs to assess performance net of fees and the risk profile of default investment options.
However, Lowson, who contributed to the Institutional Disclosure Working Group on cost transparency for defined benefit schemes, says IGCs and their providers should work together to focus on optimising financial outcomes for scheme members. They should not just focus on absolute costs or performance.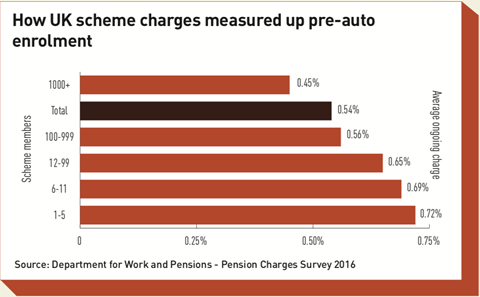 "This should include a diverse range of long-term growth and income-producing assets, investing in both public and private markets, appropriate for each stage of the investment journey," Lowson argues. "Many of these assets are not cheap to invest in but do represent good value for money if you consider the end result."
Additional services
Ensuring members are fully prepared for their retirement is now a vital element of a DC scheme's service. This has taken on added significance in the wake of the 'pension freedoms' reforms of 2016, following which savers are no longer required to buy an annuity.
"This captures not only what flexibilities are available 'in-scheme', but how members are supported and educated much earlier in the savings cycle," says Birkin. "Things like member engagement budgets, at-retirement guidance and video benefit statements have all largely become standard hygiene factors."
Measuring these services and features is a serious challenge. As Sackers' Reid points out, while charges and investment performance can be measured consistently, other factors are less straightforward to assess.
"The IGCs I have been working with have been looking at flexible and innovative ways of addressing these challenges," Reid says. "While there is no doubt a way to go, significant progress has been made in developing useful data points on qualitative and quantitative aspects of value to encourage meaningful comparisons."
Looking to the future
The regulator's definition of value lacks one crucial element, according to some commentators.
Sue Pemberton, head of employer services at Premier Pensions, agrees with the FCA's trio of value assessment points but argues for the addition of futureproofing of DC schemes.
"If we want the DC schemes of the future to reflect the needs of the future member and the environment in which they live, this element must also be paid for," Pemberton says.
Sackers' Reid agrees. She points out that issues such as sustainability, ethical investing, technology advances, and member education all require funding. "IGCs should include the assessment of advances made and those planned during the scheme year," Reid adds. "Measuring these against set objectives and comparing them against those made by their peers should also play a part in assessing value."
The FCA states in the consultation paper that its measure of success will be improved competition and better outcomes for members. Shorter term, however, there are some significant hurdles for DC providers and IGCs to tackle.
Chief among these is combining the three elements the FCA has focused on into a format that members can access and understand.
Premier's Pemberton adds that transparency will only be effective if it is communicated properly. "We are in danger of confusing the member and the whole exercise then becomes counterproductive," she warns.
"The format and language of this information is rarely member friendly," says Isio's Birkin. "The challenge is turning this much improved assessment of value into something digestible for the average member."
The FCA's consultation closed on 24 September, with a policy statement due in the fourth quarter of this year. What emerges from that could play a crucial role in the path of the UK's DC sector in the years ahead.
Value and Costs: UK workplace pensions – measuring the unmeasurable?
1

Currently reading

Value and Costs: UK workplace pensions – measuring the unmeasurable?

2