Many German asset managers have yet to decide how to apportion external research costs
Key points
• Many German asset managers have yet to decide whether to absorb research costs under MiFID II.
• Multiple jurisdictions and the tailoring of client needs makes single solutions difficult.
• Research costs can vary dramatically.
The January 2018 deadline for implementing MiFID II is fast approaching. But in Germany, asset managers are still working to determine their own solutions to the unbundling of sell-side research costs.
The unbundling of sell-side research costs is a strategic question every investment management firm will respond to individually, a spokesman for the German Investment Funds Association (BVI) clarifies. Investment managers are indirectly affected by MiFID, as brokers will have to price their research separately under the new regime.
The BVI outlines options the fund management companies will have for charging the costs for this research:
• Pay for the research within the management fee they receive from clients;
• Calculate the cost of the research at a flat rate and pass this on;
• Calculate research costs as a separate expense reimbursement item for clients but with a maximum limit.
In the latter, the investment management firm would have to state the costs in the annual report and include the sum under the heading of "payments to be made to third parties", according to the BVI.
Decisions by firms on whether to pass the costs on to institutional clients or to absorb them depend on a variety of factors, and many asset managers report that it is not yet possible to say what they will do regarding the costs.
"It is about finding an approach that is globally consistent, which means finding one for all jurisdictions we are active in," says one large asset management house.
Andre Haagmann, managing director at Union Investment Institutional, explains why there is no simple answer as to what its approach will be: "Institutional mandates are in general tailored to individual client needs, and therefore, general indications on costs are not possible."
Clemens Schuerhoff, CEO of Kommalpha, echoes the view that it is hard to tell what action asset managers will take to solve the matter of research costs under MiFID II.
Some of the big players such as Deka and Union Investment will pass the costs on to the fund level in the retail business, he says. Deutsche Asset Management has not yet decided on its approach, while Allianz Global Investors says it will not pass on the costs. However, Flossbach von Storch, a Cologne-based asset manager, will cover the costs internally and will not pass them on, Schuerhoff notes. A survey of asset managers carried out by KPMG in the first half of 2017 found that 43% had not made a decision on how to treat these costs (figure 1).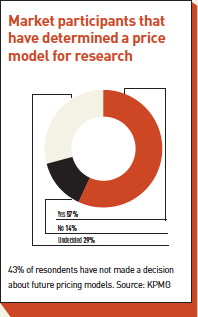 "From my perception the majority will pass it on to the fund level and therefore to the client," he adds. "In the institutional business – Spezialfonds – I think it will be handled individually because the pricing of every mandate is individual. If the costs are to be passed on to the client, the costs will vary depending on the asset class and investment style and so on," he says.
A relevant factor is whether the asset manager, or KVG, receives the research from an external player or produces it internally. Schuerhoff says: "This has strong implications regarding the character of these costs – whether they are fixed or variable, for example – and the amount itself."
As can be seen from cases where research costs have been revealed, these amounts vary dramatically from one player to another, ranging from a few thousand euros to much larger amounts.
Although, it is true that German institutional investors are price sensitive, Kommalpha say it will pay if it sees a benefit to a particular service. There is a strong link between the returns investments produce and the costs, Schuerhoff says. "The main issues of pricing models are transparency, granularity and fit regarding the mandate."
But, it is hard to predict how firms will assess and value sell-side research. "The assessment and valuation of research is totally new because this issue is only now coming up," the Kommalpha CEO says. "Like everybody, they will get a feeling for value, need and prices. The market for research is becoming sophisticated, and specialised smaller vendors seem to be building themselves up."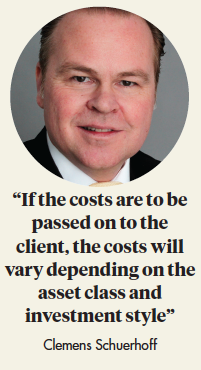 Some large German institutional investors already conduct their own investment research. In general, Schuerhoff remarks that the debate around transparency and business models as well as processes that has arisen is positive. "Investors will benefit," he says.
Union Investment notes that the institutional market is price sensitive and the pressure around this is high – in particular from regulated clients. "This is all certainly due to the low-yield environment and the competition of passive products," the firm says. "As an active manager, we have to make the added value visible for clients – and do this over a longer period of time."
Although assessing and valuing sell-side research may appear difficult, Union Investment has a model in place that combines qualitative and quantitative aspects, which it says allows it to evaluate research and determine a fair value.
Although, like others, Union Investment receives research from investment banks and brokers, as well as from independent providers, it plans to expand proprietary research – including big data. The challenge is to identify relevant data and to integrate it into the investment processes. Flow analysis and text mining are providing additional information beyond traditional fundamental analysis. Big data has to be turned into smart data, as the firm puts it.
German Asset Management: A model for collaboration
1

2

3

Currently reading

Research costs: Managers wrestle with MiFID

4

5