In the second article on a new study, Amin Rajan and Simon Klein argue that momentum towards passives is unlikely to ease during this decade, but that its composition will change
Our last article (IPE, July/August 2018) showed that the swing towards passives has a long way to go and we may be only halfway there, based on a new survey of pension investors, Passive investing: reshaping the global investment landscape*.
The next wave of growth will have two distinctive features. It will strengthen existing asset class coverage while also extending into other asset classes. This extension will be accompanied by an increase in the holding period to allow for longer time horizons for mean reversion after a market correction.
The coverage rate
The asset class coverage of passive funds is somewhat uneven. Three asset classes appear to dominate (figure 1): equities, fixed income, and multi-asset funds.
Taking them in turn, equities have the highest coverage because passive investing started with them back in 1976 on account of their simplicity, transparency and liquidity. Over time, these inherent features acquired added significance, as pension plans became more cost conscious when actives struggled to beat their benchmarks.
Furthermore, since quantitative easing put a rocket under equity markets, it has distorted valuations to the point where bottom-up stock picking has been undermined in this decade.
For investors of all types, passive investing made far more sense in an environment where valuations are influenced more by central bank largesse than by economic fundamentals. As one survey respondent put it: "When macro factors are driving markets, asset allocation is far more important than stock selection."
Indeed, 43% of respondents expect equity coverage to increase over the next three years, while only 9% expect it to decrease.
Moving on to fixed income, its coverage rate is relatively lower at 54%, mainly because the majority of their active versions have regularly beaten their benchmarks over three-year, five-year and seven-year periods. As a result, active bond funds have not featured as prominently in the active-passive debate.
Another reason is the scope for 'adverse selection' associated with cap-weighted bond indices. These confer the highest weight on the most indebted companies or governments. This can have a troubling twist: the most influential, or largest, components may also have the biggest debt loads, which could be a sign of deteriorating finances. Hence, alternative weighting schemes are emerging with a fee structure that is – as yet – not as favourable as that of passive equities. Unsurprisingly, therefore, the growth in fixed-income passives will be very modest at best: 23% expect its coverage to increase, while 21% expect it to decrease.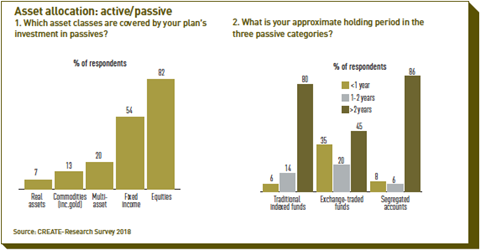 Finally, at 20%, the penetration of passives into multi-asset funds is also relatively low now, because they hold substantial legacy assets in long-term buy-and-hold vehicles that have been traditionally managed in active funds.
However, these funds are shifting to a new phase, as more pension plans switch from defined benefits to defined contribution (DC) owing to funding pressures. Some 52% of respondents expect their coverage to increase, and only 5% expect it to decrease.
Commodities and real assets are also likely to see an improvement in their coverage, especially real assets: 35% expect it to increase and only 8% expect it to decrease. This improved coverage will be driven largely by DC plans seeking to broaden their asset diversification via low-cost options.
The holding period
One of the main findings of our survey is that 80% of respondents hold plain vanilla indexed funds for more than two years; while another 14% hold them for one to two years.
Only 6% hold them for less than a year (figure 2).
The data refute the idea that pension plans are becoming short-termist in their approach to passive funds; quite the opposite. If anything, the data support the view that passives are being seen as part of the core portfolio with longer time horizons.
Compared with indexed funds, the holding periods of ETFs are markedly lower because exchange-traded funds (ETFs) enable investors to slice and dice the investment universe to pursue specific themes over the market cycle. They also provide the intra-day liquidity and transparency that facilitate dynamic investing as well as hedging in the face of untoward events. That fact notwithstanding, 25% of our respondents expect the ETF-holding period to increase over the next three years and 4% expect it to decrease.
The rise of segregated accounts rests on their two benefits. First, they have offered pension plans complete latitude on asset allocation: a choice of indices and their regional or sectoral coverage. Any performance fees – especially for smart beta strategies – are calculated at the end of the mandate period, not year on year. This allows an implicit fee clawback in bad years.
Additionally, they have enabled pension plans to engage directly as active investors, unlike pooled funds, which rely on the asset managers to partake in shareholder activism on their behalf indirectly.
On balance, between a quarter and a third of our respondents expect the holding periods of these three passive vehicles to increase over the rest of this decade and less than 5% expect it to decrease.
In conclusion, the reported rise in the coverage rate and the holding periods is indicative of the fact that passives are becoming an important component alongside active funds in pension portfolios.
Amin Rajan is CEO of CREATE-Research and a member of The 300 Club. Simon Klein is head of passive sales specialists, EMEA & APAC, global client group, at DWS
*Available at www.create-research.co.uk