Asset classes once considered too esoteric can be seen as safe havens when the market environment changes, argues Amin Rajan
Prior to 2008, private debt was deemed a peripheral asset class in a typical institutional investor's portfolio. Since then, it has gained traction owing to forces emanating from two separate sources.
On the supply side, the new Capital Requirements Directive IV under BaseI III has enjoined banks to shrink their loan book to beef up their capital base in the aftermath of the 2008 credit crunch. Asset managers are moving to fill the vacuum.
On the demand side, quantitative easing programmes in Europe and the US have over-inflated the values of traditional assets such as equities and bonds, driving investors off-piste in search of decent yields.
The spotlight has duly moved to private debt. Some 54% of institutional investors globally are investing in private debt, 13% are considering doing so and the remaining 33% have no such plans, according to Preqin. Well over 75% of those who are invested in private debt report that returns have lived up to their expectations or exceeded them (figure 1).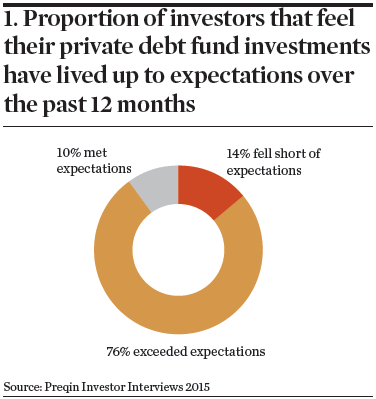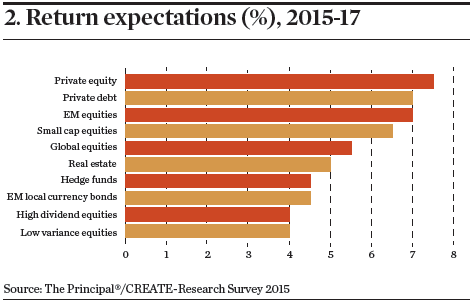 A recent study from Intermediate Capital Group* identifies the reasons behind the reportedly high satisfaction rating.
The first is track record. Between 1997 and 2014, the longest period for which data is available, private debt outperformed two key fixed income indices – global high yield and US investment grade. More detailed examination of data on the internal rate of return for private debt shows that funds launched in 21 out of 28 years have delivered 10% or more; and funds launched in 13 out of 28 years have delivered 15% or above.
The second driver is the diversification appeal. Private debt is perceived as a cross-over asset: one with equity-like returns and bond-like volatility, and very low correlation with other asset classes. Its high returns and low volatility have inspired interest especially from defined benefits (DB) pension plans that have adopted glide path strategies that progressively immunise risk in their portfolios. Such strategies have suffered a double whammy in recent years: increased volatility in equity portfolios and a shortage of AAA-rated bonds in the hedging portfolio. Private debt has come to be seen as a surrogate for equities, and real assets (including real estate and infrastructure) as surrogates for conventional bonds.
The third driver is the defensive nature of private debt. To start with, due diligence is rigorous, loan terms are customised, and investors have a prior charge on borrowers' assets compared with unsecured investors. Two features of today's bond markets have also reduced the appeal of traditional bond investing and encouraged investors to explore other forms of fixed income, including private debt. The Volcker Rule – constraining liquidity in bond markets by banning proprietary trading by banks – is causing a liquidity drought in secondary bond markets, thereby reducing the appeal of a raft of fixed-income instruments. Furthermore, as institutional investors ramped up their demand for fixed income after the crisis, there was a shift in issuance from floating to fixed-rate bonds, favouring issuers as the US rate hike cycle progresses. The amount of callable bonds has increased too, enabling issuers to redeem the debt as and when they like, leaving investors with reinvestment risk. Private debt, in contrast, is mostly based on floating rate note that links interest rate to market benchmarks, such as the federal funds rate.
Finally, not all private debt is illiquid. New deal structures are emerging under which investors can draw regular income. But investors who have dabbled in this asset class accept that high returns do not go hand in hand with liquidity. The industry is attempting to cater for the different needs of 10 institutional segments which make up the private debt investor universe in 2015: pension plans (38%), foundations (12%), insurance companies (10%), fund of funds (8%), endowments (8%), asset managers (5%), family offices (5%), wealth managers (4%) government agencies (2%) and others (8%), as shown in the ICG study.
Over the medium term, institutional investors' allocation to private debt is likely to rise from 2.1% to 5%, according to Preqin. This is further corroborated by respondents' views on how the size of the market will evolve over the rest of this decade. Specifically:
• 45% expect it to 'increase significantly';
• 41% expect it to 'increase slightly';
• 8% expect it to 'remain the same';
• 4% expect it to 'decrease slightly';
• 2% expect it to 'decrease significantly'.
Such expectations rest on the view that private debt will continue to deliver good returns relative to other asset classes, at least over the next two years (figure 2). Doubtless, quantitative easing has borrowed future returns by over-inflating valuations across the patch. Thus, whereas future returns are bound to be lower for all asset classes, private equity and private debt are expected to deliver superior returns.
With its well-developed capital markets, the US will remain the epicentre of the private debt market. But Europe is emerging as its growth engine, as its banks continue to repair their damaged balance sheets. This structural dynamic will continue to last at least until the end of this decade.
It is interesting to note that after the 2000-02 bear markets, investors intensified their search for uncorrelated absolute returns by diversifying into alternatives such as hedge funds, private equity and real estate. The 2008 credit crisis showed all too clearly that, in a bear market, correlations between all asset classes can surge. Since then, the search for uncorrelated absolute returns has significantly narrowed to esoteric asset classes such as infrastructure, wind farms, farmland, shipping finance, catastrophe bonds and private debt. The current turbulence in financial markets will doubtless test their diversification credentials, as will the interest rate cycle in the US. For now, though, their defensive features are a big plus for institutional investors.
Amin Rajan is CEO of CREATE-Research
*The Rise of Private Debt as an Institutional Asset Class