The corporate policy of share buybacks received a boost with the US tax cut, but are they an efficient use of excess capital or a means to further enhance executive remuneration and entrench societal inequality?
Key points
Share buybacks are at record levels
Commentators are divided about whether these levels are something to celebrate
Are they an efficient way of allocating capital or evidence of long-term declines in capital investment?
US companies purchased over $800bn (€712bn) of their own shares last year, according to S&P, beating the previous record of 2007, in nominal terms, by 36%.
This will continue, according to Goldman Sachs, with the US's biggest companies predicted to give back almost $1trn – a third of their free cash – to shareholders.
Everyone knows the spur for this generosity: President Trump's one-off tax on repatriated assets. But US share buybacks have been rising since regulatory changes in 1983. Top of the pile is Apple, which over the last decade has repurchased more than €250bn of its own shares.
Buybacks are less an alternative to dividends, but an addition. "It's not uncommon for US companies to do buybacks and dividends," says Michael Stiasny, manager of M&G's Dividend fund and Charifund, and deputy manager of M&G's Recovery fund. Dividend payments by US companies this year will be $525bn (compared with $940bn in share buybacks), predicts Goldman.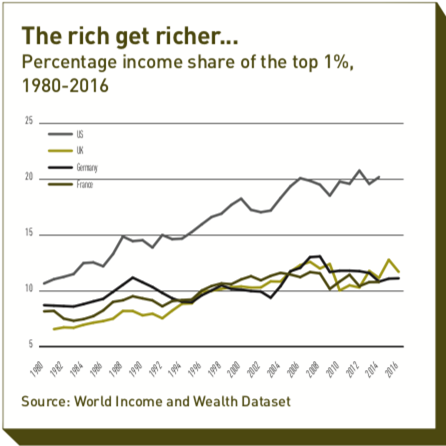 Commentators are divided on whether these are records to crow about. The argument boils down to who best allocates capital to the economy: fund managers with the whole market (and increasingly unlisted companies) to choose from; or individual corporations developing products and acquiring competitors. In the first camp is Lloyd Blankfein, former Goldman Sachs CEO, who tweeted: "The money doesn't vanish. It gets reinvested in higher growth businesses that boost the economy and jobs."
The buyback analysts at Goldmans' take was that "in the near term, we expect companies prioritising buybacks and dividends will continue to outperform firms investing for growth. Returning cash to shareholders is a winning long-term strategy and performs best when GDP growth is as strong as in 2018."
Politically, the opposing camp is led by Bernie Sanders, senator for Vermont and a potential US Democratic candidate for president in 2020. The senator agrees the money does not vanish but says it goes into the pockets of billionaires such as Blankfein. Left-wingers such as Sanders argue financiers take too fat a cut for allocating capital.
William Lazonick, professor of economics at the University of Massachusetts, is foremost among academics whose research endorses Sanders' view. Lazonick says that investment in training and retaining employees is the key to productivity growth and innovation, for individual companies and the economy. His beef with financial markets is that in pushing companies to maximise shareholder value, they have destabilised employment and lowered productivity.
He sees value creation occurring within businesses, by founder investors if they have a stake in the enterprise. Lazonick dismisses asset managers who buy and sell on the stock market as "savers not investors".
Value creation
Findings from MSCI ESG Research dispute this notion that buybacks are just another mechanism of disgorging wealth to greedy short-term shareholders1. Ric Marshall, Panos Seretis and Agnes Grunfeld found that those companies actively distributing cash to their investors were also the strongest on numerous metrics: value creation, capital expenditure, research and development, and ESG ratings.
In a study of 610 US companies, Marshall and his co-authors. defined value creation as the return on invested capital over the cost of capital. Quoted firms were ranked by total dollars distributed (dividends and buybacks); and by distribution as a percentage of total assets. In both cases, the companies that gave most back also generated decent value creation, especially in terms of total assets.
Critics of buybacks note, however, that in aggregate across the 610 companies analysed, both capital spending and R&D have declined almost every year since 1997.
European buybacks are much rarer, but not unknown. Nestlé, one of Europe's most valuable companies, is in the midst of a CHF20bn (€18bn) programme begun two years ago under new boss, Mark Schneider.
M&G's Stiasny sees good and bad to buybacks. Charifund's clients do need reliable income to fund their charitable causes – that is the overriding priority. Secondarily, Stiasny prefers dividends because the latter dictates a sale. He also notes that announced buybacks and actuality do not always tally to the same amount because companies can change their mind [Nestlé itself says it will buy back "up to CHF20bn" before 2020].
"It's not uncommon for US companies to do buybacks and dividends" - Michael Stiasny
Companies such as UK high street fashion retailer Next, used to have a clear policy of buying back shares below a certain price. This follows the thesis that management buy because they are confident that the market undervalues the company (the current US wave of buybacks is not occurring on falling prices). For shareholders who do not sell, the expectation is that their holdings get a boost in value but Stiasny says this value is neither as clear or certain as dividend payments.
On property companies trading well below their Net Asset Value (NAV) – Stiasny points to British Land and Land Securities – management could buy back shares they know well rather than new acquisitions. "This could be reasonable although the company still has to demonstrate that the NAV is 'real' – the market obviously believes that some of their assets are worth less," he says. But on the point of whether buybacks are wrong for distributing company capital, he says that investors have to be vigilant against such misuse of funds.
Misuse of funds returns us to Sanders' accusation that buybacks go into the pockets of financial agents. This broadens the argument from the relative merits of buybacks within investing to the merits of maximising shareholder value. This is germane to funds, which relate to both markets and the broader world of work, where median earnings have suffered over the past 40 years.
Lazonick and other academics root the accusation of overcharging by financial agents in the development of remuneration of executives based on their company's share price. They contend this turns senior management towards the markets but away from other stakeholders, notably employees.
In 1983 (the first year after regulations on share buybacks were relaxed) the average ratio of chief executive to worker pay in the US was 46:1, according to the American Federation of Labor and Congress of Industrial Organizations (AFL-CIO). By 2017, it was 361:1, according to the AFL-CIO.
The gap may be much wider. In a 2017 paper co-authored with Matt Hopkins, senior researcher at the Academic-Industry Research Network, Lazonick demonstrates that executive reward is mismeasured because commentators, including the AFL-CIO, have taken reported fair value estimates rather than realised gains. An extreme example would be John C Martin, chief executive of Gilead Sciences, a biotech company. Martin's remuneration on a fair value basis in 2014 was $19m and in 2015 $18.8m. Hopkins and Lazonick calculate that he earnt $192.8m in 2014 and $232m in 2015.
Realised gains make the average pay ratio in some years more than double what the AFL-CIO reports. But Lazonick and Hopkins note that this mismeasurement is now institutionalised by the US Securities and Exchange Commission's Pay Ratio Disclosure Rule, which directs companies to use fair value rather than realised gains.
However it is measured, few asset owners have made attempts to address the inequality gap through investment policy. This March, the Church Investors Group, a £21bn (€25bn) UK alliance, issued guidelines that it does not want short-term incentive awards for company executives to exceed 100% of base salary for 'on target' performance and/or 200% as a maximum award. It also asks investee businesses to demonstrate that the remuneration of the workforce has been considered when determining executive remuneration. Within the UK's FTSE 350, this will require both the disclosure of a remuneration ratio and equitable treatment of staff in terms of pensions.
Investors act
How many other shareholders back CIG policies remains to be seen. They are rare, even among Church groups with established ethics. "Sweden has officially the fastest growing inequality," says Gunnela Hahn, head of responsible investment at the Church of Sweden, which has a SEK8bn (€770m) General Fund. "We are not proud of that. We as the Church work for more equality throughout the world. We set up Oiko Microcredit [in the 1970s as part of the World Council of Churches].
"We have had some engagement on taxes, we were actually quite early in driving that agenda, and make our asset managers ask companies to disclose a tax policy. Taxes are necessary to lower the gap, to redistribute income. Living wages is another topic we pushed for before it was accepted as a topic for engagement and only an NGO thing. So, perhaps being more transparent on taxes and to pay living wages are two examples on how we have worked on closing the inequality gap."
But she adds that the Church of Sweden has not discussed a policy on executive remuneration to tackle inequality. This issue rests with its external managers, which are all ESG specialists.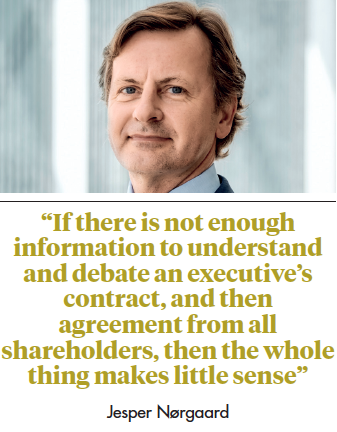 For Jesper Nørgaard, deputy chief investment officer at Sampension in Denmark, inequality comes from many sources. He says that focusing the debate on executive remuneration is unnuanced. Regarding executive remuneration, he says the issue is that there is transparency on the terms and targets. "If there is not enough information to understand and debate an executive's contract, and then agreement from all shareholders, then the whole thing makes little sense."
But more broadly, Nørgaard feels that Danish pension schemes retain high levels of trust; Incorporating ESG into pension scheme management attracts increasing attention, and corporate governance – including corporate executive's remuneration – is part of that development. But it is from the "governance angle, not the equality angle".
Pension rights inequality
Economic trends – outsourcing, globalisation, stock-based executive remuneration and lower taxes on the wealthy – have benefited ordinary workers less than the owners of big businesses. But those workers, if they are also members of pension schemes, would enjoy some spoils of globalisation because they are fractional owners of big business via the pension fund's investments whose value eventually filter to them as retirement income. How far and how evenly have funded pension benefits compensated for lower remuneration in work?
These are questions not well addressed in academia, because data on occupational pension rights is not readily available. One comparative study of the US and Germany finds that the incorporation of pension wealth in the household portfolio reduces measured wealth inequalities in both countries, but wealth inequality is reduced more in Germany.
Although this effect is more because of the social security pension in Germany, occupational and private pension wealth are nevertheless estimated to reduce the Gini co-efficient in both countries by about 7%.*
* A head-to-head comparison of augmented wealth in Germany and the US, NBER 2017
Elsewhere, many asset managers have been deliberating the societal effects of inequality. Search the IPE Reference Hub and papers on the topic abound.
This is from a paper co-authored by Paras Anand, Fidelity's head of asset management for Asia Pacific: "The next generation can no longer rely on education as a way to success and financial safety: today's graduates are found serving coffee or staffing call centres. And this is not just a western phenomenon; China churns out graduates at such a speed that many no longer find lucrative careers.
"In all of this, the '1 per cent' – the top percentile in the income distribution who wield significant corporate and political power – have been pulling away from the rest of the population, fostering wider resentment."
In a post on the blog, Populist Push, Andy Warwick, co-manager of Newton's Real Return fund, quotes research from the Boston-based National Bureau of Economic Research, showing that 84% of stock market wealth in the US is owned by 10% of the population. Absent from the debate is the dual role of pension funds as agents of this rising inequality as investors but also inhibitors of the trend as redistributors of stock market wealth as pension (see box).
The asset managers are clear on their function, which is to interpret the effects of inequality on the universe of investee companies. One, who declined to be named, said: "We are not presenting ourselves as champions of those who have not done so well out of rising stock markets and property prices. We are looking at how policy is likely to change – in housing and other government departments - and which companies we invest in to benefit from those changes."
1 Taking Stock, August 2018. https://bit.ly/2WR1ONJ