The Federal Reserve-sparked 'taper tantrum' of 2013 revealed how sensitive emerging market currencies could be to interest rates set in the developed world. Caroline Saunders asks whether that volatility told us more about investor sentiment than fiscal fundamentals
Even its most ardent fans would have to agree that 2013 was an unpleasant year for emerging market debt (EMD), with local currency bonds dropping over 12% in euro terms, the worst performing fixed-income global asset class by some considerable margin.
"EMD was very hard hit, not least because by the time chairman Bernanke made his FOMC tapering statement, the market had got itself to very low spread levels," says Stuart Sclater-Booth, portfolio strategist at Stone Harbor Investment Partners. "There was no protective premium left, and a high degree of leverage had built up."
Sclater-Booth adds that at that time liquidity dried up, contributing to the sense of panic: "When there is just a small exit window, and too many are trying to get out, the selling pressures are amplified."
Jan Dehn, head of research at Ashmore, agrees. "In the preceding months, we had seen huge inflows from both short- and long-term investors, and from US mutual funds, all jumping in after EMD's very strong showing in 2012," he recalls. "This speculative frenzy was aided further at the start of 2013 when hedge funds, and others, began front-running the news that Japanese investors would soon be diversifying into non-Japanese assets – including, of course, EM."
In short, many investors were wrongly positioned coming into 2013, and there was a good shake-out.
Offenders
"Historically, this is the way it has been with EM," says Rob Drijkoningen at Neuberger Berman. "The first reaction is to sell fast in a panic, then the selling is overdone and the sector becomes potentially attractive again. EM has needed its yield cushion for the crises, even if it is not always the source of the problem – this great financial crisis had its origins very clearly in the developed market domain."
Since the turbulence in 2013, managers argue that many EMs have done a great deal to sort out problems that fleeing investors had blamed as they sold out. Peter Eerdmans, co-head of emerging markets fixed-income at Investec Asset Management, says there have been positive moves.
"We have seen action on many fronts, with many countries putting in place more prudent fiscal policies, and central banks all over the sector hiking interest rates – which has helped constrain excessive credit growth," he says.
"Decent governance is so important to our investment decision-making process," says Dehn, "and we have seen some very good – and by no means easy – decisions undertaken by the likes of Indonesia, India and Brazil, adapting to the shocks. And these countries were, just a year ago, labelled as 'EM's worst offenders'."
Alongside South Africa and Turkey, these were three of the five economies dubbed The Fragile Five by Morgan Stanley – and then most of the financial press – during 2013.
"We dislike terms like 'The Fragile Five' because they are fundamentally misleading," protests senior portfolio manager at Aberdeen Asset Management, Edwin Gutierrez. "Last year, there was so much short selling in these five markets and yet, so far this year, three of those countries have topped the returns tables because their governments took action, and made positive changes."
Sclater-Booth agrees and notes that Indonesia is now Stone Harbor's highest conviction Asian market after a successful election, a quick hike in rates from the central bank and, at 8%, "quite a compelling" yield.
"Overall, it is Asia which appears to have done more than other geographical areas over this last year," agrees Drijkoningen. "But the whole sector is growing up, including Latin America. We think Mexico, for example, has done really well with its reforms."
Ashmore's Dehn agrees that EM economies have, today, far more resilience and are more reform-oriented. "DM economies don't really do reform, they much prefer fiscal stimulus and then inflating their way out of trouble," he observes. "It is highly debatable whether many DM economies could withstand what EMs have been through in the last 18 months or so – certainly not the huge hikes in interest rates."
Caution
EMD managers all share a strong belief that their sector's maturity is being underestimated, and that the need for substantial 'cushions' will wane. EM has often been the victim of its own success, as huge waves of money have swamped markets, both on the upside and the down, much of it very short-term in nature from non-dedicated EM investors (the so-called 'crossover' investors whose benchmark-neutral position in EM is zero).
As well as arguing that much of the hot money that left in such a hurry last year is not about to return, managers suggest that, instead, EM should benefit from structural increases in asset allocations from both international and domestical investors. Neuberger Berman points out that the EMD markets, investable internationally, are nearly three times the size of the US high-yield market but, at the same time, less than 2% of US pension funds assets are allocated to this asset class.
"EMs now have very large FX reserves, close to 80% of the world's holdings," says Dehn, "and we believe that it will not be long, perhaps two years away, before these central banks diversify out of their dollars and move into local currencies."
Looking forward into 2015, there is general agreement that caution is still warranted at this juncture. "Though we are not expecting anything like what we saw in 2013, we have to be careful when the tide does turn," warns Gutierrez. "And there is no getting away from the fact that liquidity conditions are more demanding. Counterparty balance sheets have contracted hugely, despite assets under management increasing – once again the buy-side is bigger than The Street. But we think the market is, if anything, short at the moment."
Eerdmans concedes that the environment is challenging. "Valuations are OK, particularly in terms of currencies, but gauging economic growth prospects in both the US and China is key," he says. "There is a risk too, though this is not our core forecast, that US growth could surprise on the upside, particularly if that brought dynamic higher inflation with it. But we believe there aren't too many extreme positions out there just now. We're fairly neutral in duration terms, and we prefer relative country trades, rather than big outright positions. But it will be good to get that first rate hike out of the way."
Sclater-Booth says that he is defensive for the shorter term due to the lack of growth in the economy and uncertainty around the Federal Reserve's exit strategy.
"We do not yet see the green light for EM currency appreciation, so we'd be underweight local versus hard currency in the EM domain," he says.
Alliance Bernstein's head of emerging debt, Paul DeNoon, agrees that the Fed outlook is critical, although he remains reasonably sanguine.
"There are two schools of thought here," he suggests. "The first is that the Fed ought to go early and gradually; the second approach suggests delay, but with more aggression. We'd agree with the former, and we currently think that we'll see the first hikes coming during the second quarter of 2015."
But China is certainly another big factor in determining overall global growth, and therefore performance in emerging market debt, he adds.
"Not just in terms of its overall speed, but also the mix of that final demand," he explains. "The way it grows presents an ambiguous set of opportunities for different economies – if there's less pressure on commodities, then this can benefit the commodity-poor economies, for example."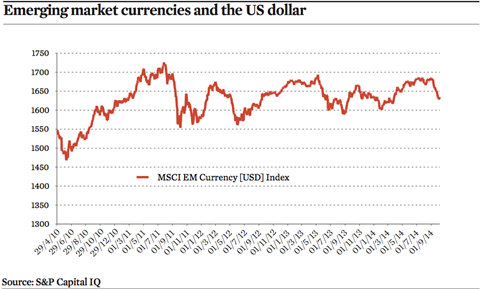 Stone Harbor is moderately constructive on China. It agrees with the view that growth is slowing down, but in a reasonably controlled manner. The firm also suggests that there is going to be more differentiation between the Asian currencies.
Ashmore similarly underlines the diversity of the asset class, and also highlights the potentially rapid changes that can happen at a country level – such as an economy entering an investment index for the first time, or announcing plans for issuing euro-clearable bonds.
Over the more strategic horizon, investors are cautiously upbeat. "Longer term, no one could deny the better growth outlooks for EM economies, that both real investment and capital expenditure will increase," states AllianceBernstein's DeNoon. "But the global backdrop certainly is not as favourable as it was. Each and every emerging market presents differently, it is definitely not one homogenous group. No-one would advocate panicking into a market, and one definitely should not panic out either. With fixed-income, it is hard enough to get it right and it is horrid to get it wrong. The risks are asymmetric."
Volatility is "almost certain", agrees Dehn. "But we are fairly sure that the market is less inclined to sell EM to anywhere near the extent of last year," he adds. "After bouts of short-term volatility, we will be buying the dips. Acknowledging what EM endured over 2013 – with curves typically rising some 200 basis points, and there were no sovereign defaults – they proved themselves incredibly resilient. Technicals are also better and valuations far more attractive."
Special Report - Emerging Markets: Buying opportunity, or structural setback?
1

2

3

4

5

6

Currently reading

Special Report - Emerging Markets: Fed up with volatility

7

8