The chief executive of scandal-hit Swedbank has been dismissed by the bank's supervisory board after the country's fraud squad broadened its investigation into allegations of money laundering.
Three of Sweden's largest pension funds – all significant shareholders in Swedbank – this morning refused to discharge CEO and president Birgitte Bonnesen from liability, ahead of this afternoon's annual general meeting.
Shortly after this, the bank announced its board had decided to sack Bonnesen. Anders Karlsson has been appointed acting president and CEO.
Lars Idermark, chair of the supervisory board of Swedbank said: "The developments during the past days have created an enormous pressure for the bank. Therefore, the board has decided to dismiss Birgitte Bonnesen from her position."
The Swedish Economic Crime Authority said yesterday that the ongoing investigation was being broadened to include suspicion of gross fraud. The fraud investigation team entered the Swedbank's Stockholm headquarters yesterday as part of the probe.
Pension funds hit out at bank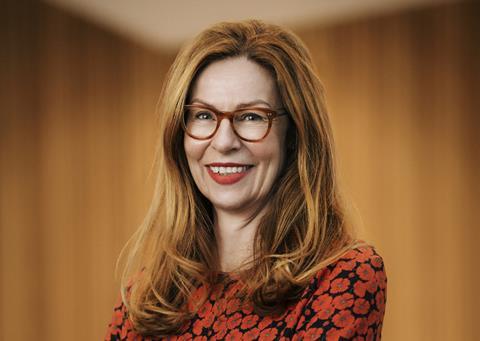 AMF – which owns 4.4% of shares in the bank – reiterated that it was still not satisfied with measures taken to deal with the situation, and refused to grant Bonnesen discharge from liability for 2018.
Johan Sidenmark, chief executive of AMF, said: "After yesterday's dramatic development, with the Swedish Economic Crime Authority's announcement about extended suspicions of serious crime, we have come to the conclusion that we cannot currently grant the company's CEO discharge for 2018.
"Although this is so far only about suspicions, and no one should be regarded as guilty until she or he is convicted, these are such serious allegations that it would be irresponsible to make such a decision at today's meeting."
Alecta – which held approximately 5% of Swedbank's stock – also said it would vote against the discharge from liability at the AGM.
Folksam, the second-largest shareholder in Swedbank with a 7% stake, has been more satisfied than the other shareholders with the bank's correspondence during the investigation. However, it also said it would withdraw its support for the chief executive.
Thomas Langrot, chief prosecutor of the fraud squad's Financial Market Chamber (Finansmarknadskammare), said: "Information which has been gathered gives a picture of Swedbank appearing to have spread misleading information to the public and the market about what the bank knew about suspected money laundering within Swedbank in the Baltic countries."
On Friday, AMF and Alecta criticised a report commissioned by Swedbank into the alleged money laundering as inadequate, although Folksam said the report gave answers to important questions.