Anthony Harrington finds managers keen to emphasise the robustness of the diversified growth concept following criticism from the likes of Willis Towers Watson
At a glance
• Modern multi-asset strategies such as diversified growth funds (DGFs) seek diversification and inflation or cash-plus returns.
• DGFs also seek lower volatility than equity portfolios.
• A recent report found that the bulk of DGF returns are the result of good market conditions rather than active management.
Diversified growth funds (DGFs) have a strong claim to be one of the most popular new investment strategies in the UK in recent years. Instead of the traditional 60/40 equities/bonds split that characterised the balanced portfolio approach, modern multi-asset funds can seek opportunities across a wider range of potential asset classes. This enables greater diversification and enhanced returns. What's not to like?
However, experience shows that not all multi-asset managers or strategies are alike or as robust as each other.
This point came out in a recent report from Willis Towers Watson, which analysed the DGF universe (see page 6). It found that when DGF performance is measured against consumer price index (CPI) inflation, 30% of the funds beat annual CPI by 4% or more; 20% by 3-4%, while the other 50% returned below CPI-plus 3%. Measured against equities, returns ranged from 5% outperformance to up to 8% under-performance on an annual basis.
Where DGFs did well, however, was on the risk metric, with volatility ranging from between half to two-thirds of that expected from an equity portfolio.
However, Willis Towers Watson was not particularly impressed. Its report shows that the bulk of returns from DGFs derive from beta, and where managers try to generate alpha by tactical allocation, they generally destroy value.
Passive investing within a DGF would probably generate superior results for a significantly smaller fee, the report argues, suggesting that the reasonable performance achieved by 50% of DGFs is partly thanks to a lengthy period of favourable market conditions.
The report concludes: "Many investors currently holding traditional, actively managed DGFs should be prepared to move their assets to more cost-effective and better-structured solutions to improve the likelihood of a better investment outcome in the medium to long term."
Leading DGF managers, of course, disagree strongly. Moreover, many would argue that it is facile to try to compare a multi-asset strategy against a pure equity strategy if all you are doing is picking a moment for the comparison when equities are performing well. Percival Stanion, vice-chairman of Pictet Asset Management, regarded as one of the architects of diversified growth strategies, is clear on the reason for going down this route.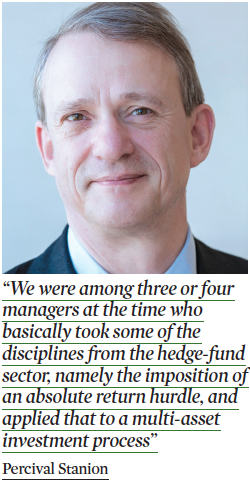 "When we started, back at the turn of the millennium, it was all about questioning the philosophy behind peer group and capital-based benchmarks. We regarded these 'tests' as being not well aligned to the interests of pension fund trustees and managers," he explains. Equity heavy benchmarks were seen as the cheapest way of funding liabilities, but this was based on spectacular performances that ended with the dotcom bust.
"We were among three or four managers at the time who basically took some of the disciplines from the hedge-fund sector, namely the imposition of an absolute return hurdle, and applied that to a multi-asset investment process," Stanion continues.
The point was to respond to the fact that pension funds are highly asymmetric in their view of risk – they are much less willing to take downside risk than upside risk. So the first goal of multi-asset investing was to limit downside risk by reducing risk assets in the portfolio.
"The multi-asset global framework is simple and clearly articulated, built around a central macro scenario of what our cross-asset group expects to happen. The more convinced we are about that scenario, the more it has a role in setting allocations to assets, regions, sectors, styles and other risk factors" Raphael Sobotka
This point is worth emphasising. One criticism the report makes is that many DGFs pay too little attention to risk metrics. In fact, better DGFs emphasise risk management, so the advice to pension funds should be not to avoid DGFs but rather to look for and assess the performance of those that have very strong risk-management characteristics and exclude those that are weak in this area.
Franklin Templeton Solutions' multi-asset offerings aim to make a clear link between targeted volatility and returns. Matthias Hoppe, senior vice-president and fund manager, Franklin Templeton Solutions, runs four key multi-asset funds points, ranging from 3-5% target volatility and a target return of EURIBOR-plus 2%, to one with 8-11% target volatility and a target return of 5% over EURIBOR.
By definition, multi-asset investing has to pay attention to macro factors, including the relative value between asset classes and the position of an asset class in the cycle. Hoppe emphasises the need to think in terms of risk, rather than asset classes.
Much the same point is made by Sandra Crowl, member of the investment committee at Carmignac, which has had multi-asset funds on offer for the last 27 years. Crowl emphasises that the basic aim is to preserve capital, pointing to a flat to positive performance in 2008 for one flagship fund when the benchmark was down by 11.99%. This fund is not permitted to hold more than 50% in equities and it cannot hold more than 25% in emerging markets.
Top-down decisions will, of course, generate beta if the underlying assumptions are correct, since they are designed to benefit from the anticipated movement of the entire market. The value of tactical allocations will be seen from the performance history over time.
A key advantage of multi-asset strategies is that most are reasonably straightforward to understand – at least when they do not make use of structured products or derivatives. But although the main elements may be straightforward, the funds often give managers a degree of freedom that adds complexity.
As Raphael Sobotka, global head of multi-asset institutional clients at Amundi, points out, his fund is diversified across equities, credit and sovereign bonds, including emerging-market debt and high-yielding currencies. That part is straightforward, but the managers have considerable flexibility. "We can go from zero to 100% government bonds, and use negative duration to protect against rising rates," Sobotka says. "We can also go net short on equities to adjust risk to stressed market conditions. But the multi-asset global framework is simple and clearly articulated, built around a central macro scenario of what our cross-asset group expects to happen. The more convinced we are about that scenario, the more it has a role in setting allocations to assets, regions, sectors, styles and other risk factors."
There is little evidence that risk considerations are being left behind in the hunt for yield. Pension funds should have a clear guide if they are interested in multi-asset strategies and should focus on a potential fund's risk management in conjunction with performance. If there is such a thing as a fund with outstanding mid to long-term performance and poor risk management, its manager was clearly born under a lucky star.
Multi-Asset Strategies: Can you beat it?
1

2

3

4

5

6

Currently reading

Testing the value of diversified growth

7