There is growing demand for research that genuinely adds value
Key points

Prices have been cut, budgets reduced and broker lists shrunk since the introduction of MiFID II
Quality has not changed, but measuring value for money is not easy
Larger buy-side firms are faring better because they have the resources to pay for research
Buy-side firms have become tech savvy in determining whether the analysis they are receiving is value for money
It has been 18 months since the implementation of the EU's MiFID II directive ushered in the era of unbundling and many of the predictions have come to fruition. The pace of change has varied but, in general, research prices have been slashed, budgets reduced and broker lists shrunk. The buy-side community is also becoming more tech savvy in determining whether the analysis they are receiving offers good value.
There have been few surprises but several results were predicted, according to Rhodri Preece, head of industry research at the CFA Institute, which polled more than 500 European portfolio managers and analysts. This survey showed the average budget decrease for research was 6.3% but this rose to 11% for bigger firms that were managing more than €250bn of assets
"We found that as asset managers absorbed research costs, there was less money to go around and research budgets have been cut," he says. "However, MiFID II is not the only driver behind the recalibration of budgets. There has also been pressure on margins due to the increased regulatory scrutiny on fees and the shift to passive investing."
Last year, the UK's Financial Conduct Authority asked active asset managers to justify their charges, but investors worldwide are flocking to lower-cost products. Earlier in the year, Moody's Investors Service estimated that passive funds were poised to overtake active funds in terms of market share by 2021.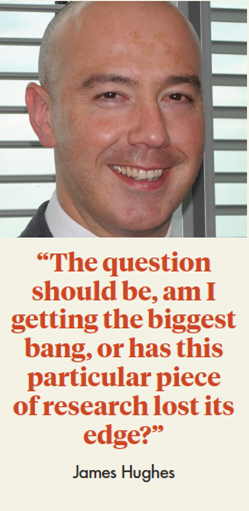 The result is that active asset managers are interested in research that can generate the alpha they are promising. "The buy-side have a better set of tools and are using companies such as Feedstock to analyse what they are consuming and the impact it is having on performance," says Greg Faragher-Thomas, director at Alpha FMC, a global asset management consulting company. "This is leading to much better conversations with brokers in helping them better understand what research adds value."
To date, as the CFA study highlighted, most consumers judge the quality of research to be unchanged. This view is shared by Steve Kelly, CEO of the European Association of Independent Research Providers. He notes that the increase in measuring and assessing research services has been part of the price discovery process by asset managers in terms of identifying what various components of research will cost. This has often involved the use of third-party systems to help capture research interactions.
Big data tools that are deployed in the investment decision-making process will increasingly also be used in the assessment of research providers. As James Hughes, global head of dynamic solutions for Natixis Investment Managers notes, one of the biggest challenges is to find demonstrable evidence to determine whether the research is adding value or not. Hughes says: "The question should be, am I getting the biggest bang, or has this particular piece of research lost its edge?"
The price of everything
There is an ongoing debate on the need for or value of counting everything, and how useful the process is in assessing actual value, according to Kelly. He adds that the FCA as well as other regulators have made it clear the buy-side should "focus more on quality judgements, rather than being too fixated on having to measure and count every interaction".
The UK regulator has also turned its gaze towards the aggressive pricing, low-cost offerings and bundled research that have proliferated in the post-MiFID II arena. Integrity Research's fourth benchmark study of research pricing found that average European research payments were $25,000 (€23,000) in continental Europe and $31,000 in the UK. These are both lower than the average Asian payment of $35,000 and $42,500 in North America.
It is definitely a trend seen by Hans Copini, head of fixed income at MN, the €150bn Dutch pension plan. "The prices have declined enormously since MiFID II came into effect," he says "Just before the start of MiFID II, research price offers ranged between €100,000 to €200,000 for a package but after MiFID it came down to between €10,000 to €20,000. That was quite a cut but it is partly due to the fact that no one in the industry knew how to price the research. However, I think the cost will continue to be under pressure but asset managers are also cutting budgets and are really thinking about what type of research they need."
Sell-side firms are also responding by fine-tuning their offerings to ensure that they are providing proprietary insights and customised research as well as altering their operating models. As Nathan Cockrell, co-director of global research at Lazard Asset Management, notes, sell-side firms are moving to a billable hours business structure akin to law firms. They are also reducing or 'juniorising' coverage where revenues do not surpass costs, and at the margin, consolidating.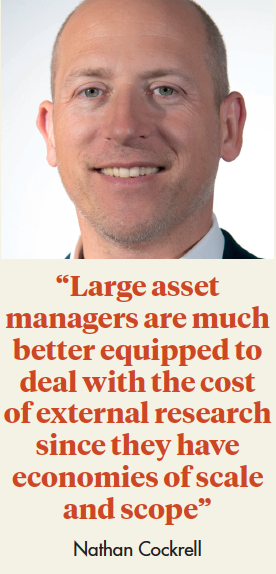 Ironically, despite the changes and the attempts of MiFID II to level the playing field, the participants – large investment banks, traditional brokerage houses and independents – have not changed. In fact, the sell-side firms that have dominated the research league tables remain the same – UBS, JP Morgan, Bank of America Merrill Lynch and Citi – although they may occupy different positions in the top 10.
The CFA study shows that independent research providers have not benefitted from MiFID II nor have new research platforms gained traction. The difference, as Kelly notes, is that asset managers rely on fewer providers. On average, they have about 25-30% fewer counterparties.
The contraction has created gaps in coverage particularly in the small to mid-sized market, this was anticipated. For example, studies show that the average number of analysts covering each stock in Germany's main small-cap index fell to 8.5 in December 2018, from over nine a year earlier, with a reduction also reported in the UK's FTSE small-cap index.
The shortfall is being addressed by the French regulator Autorité des Marchés Financiers (AMF) which has announced it is looking at ways of improving analysis of these companies as part of an impact study on MiFID II.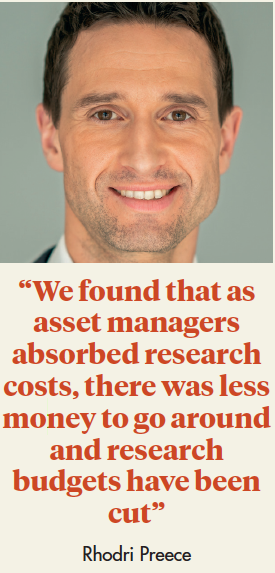 "Polar Capital's demand for external research is quite specific; our objective is opportunity, not coverage," says Sandy Black, CIO, Polar Capital. "In the main, our teams are able to access the research that they need without undue problems." He affirms that there is less research available on UK small and mid-cap companies. If this continues, the market in smaller UK stocks could become less efficient and may affect those companies' ability to raise capital. There is less evidence of this phenomenon in the US as the regulations governing research procurement differ (see article in this section).
Size dominates
As with many industries, the new landscape is a size game. The bigger buy-side players had started building their own internal ranks long before MiFID II and have the deep pockets to be selective with third party offerings. Many have not had to make substantial changes to the way they operate. Take Jupiter Asset Management, it built its own analytical expertise across asset classes years ago and does not rely on external sources for idea generation.
"We find external resource to be an important input into our investment processes, particularly in enabling us to gauge widely held market views," says Katharine Dryer, deputy CIO at Jupiter. "We use a combination of independent research providers and broker research, encompassing both specialist, regional and sector, and generalist providers."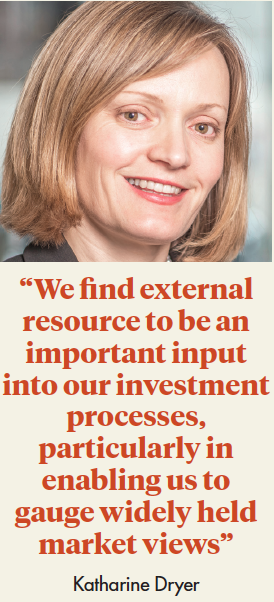 Lazard, which does not depend on external research has also previously invested in proprietary research capabilities. "Large asset managers are much better equipped to deal with the cost of external research since they have economies of scale and scope," says Cockrell. "Smaller firms that do not have the scale to build a dedicated in-house research capability, are having to make hard decisions about how much external research they buy."
The smaller research houses are facing the same challenges. MN, which obtains research from a mix of sell-side and independents as well as internal resources, believes that "smaller research houses have to develop their own niche to compete." This may be easier said than done, as many of the quantitative and boutique asset managers have their own internal teams while "in areas such as ESG, fund managers, especially in the Nordics and Benelux, are hiring their own people for research as well as product development," Copini says.
Investment Research: The small-cap research squeeze
1

2

3

4

Currently reading

The buy-side: Greater focus on quality