The UK government has pledged to take the lead on developing a "pension dashboard" to allow individuals to see all of their savings through one portal.
Speaking at the Pensions and Lifetime Savings Association (PLSA) conference in Manchester yesterday, Guy Opperman, minister for pensions and financial inclusion, pledged that the Department for Work and Pensions would take forward work on the project "at pace".
"Be in absolutely no doubt: The dashboard will happen," Opperman said.
The project has been pushed forward by industry bodies so far, with the Association of British Insurers (ABI) leading work on a prototype.
The ABI co-ordinated work between pension providers and technology firms to attempt to address data issues and other hurdles to displaying all an individual's savings and pensions in one place.
Huw Evans, director general of the ABI, said a dashboard was "vital to helping workers keep track of their pension savings as they move employment as well as helping them track down lost pension pots likely to be worth billions in total".
Strong statement of intent from @GuyOpperman - wants 'Britons to fall in love with pensions again' #PLSAAnnual

— PLSA (@ThePLSA) October 19, 2017
Graham Vidler, director of external affairs at the PLSA, said: "The minister's support of the pensions dashboard is great news for savers – who will be placed at the heart of the project. The dashboard could have a revolutionary effect on the way people engage with pensions, but it needs regulation and strong governance underpinning it. This is a job for government and we are pleased DWP has been tasked with leading the project."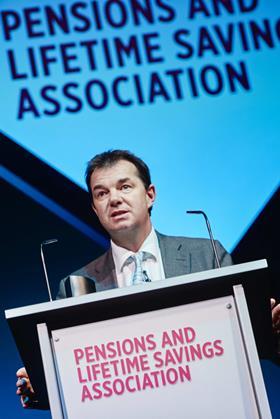 The Pensions Regulator also backed the project. Darren Ryder, director of automatic enrolment, said: "The work to date is also a clear demonstration of what industry can achieve when it works together and showcases the huge benefits the pensions industry could get from the application of such technology."
The People's Pension, one of the UK's leading defined contribution providers, has been a vocal supporter of the dashboard concept. Darren Philp, director of policy, described the government's support as "an important milestone".
"While there are still significant challenges to overcome, this is a substantial step to help bring people closer to their pensions," he added.