Governance in the new-look local government pension scheme of England and Wales
KEY POINTS
LGPS schemes in England & Wales are part way through a major asset pooling project, with eight pools at various stages of formation.
Schemes have had so-called local pension boards since 2015 to boost member participation, in addition to each fund's pension committee.
Governance is in flux as these new structures develop and lines are blurring in some cases and as the relationship between pools and the funds develops.
If IPE's readers think UK central government is in flux, they should look at the state of local authority pensions.
Admittedly, funding deficits across the Local Government Pension Scheme have improved. Latest figures show an increase in overall funding from 79% in 2013 to 85% in 2016.
The scheme recently moved to career-average with index-linking for new contributions, which should help keep it sustainable for the 1.9m active members.
But the issue of who does what in managing the £217bn (€247bn) assets of the LGPS is up in the air. And it is central government policy rather than any local authority that has caused this confusion.
Two years ago, the 89 administering local authorities in England and Wales were told to form asset pools with a guidance size of £25bn to achieve better outcomes for scheme members. Bigger is better in terms of resources, breadth of investment choice and bargaining on fees – so went the argument for reform.
Except the pools will only handle manager selection. The 89 existing administering authorities continue to be responsible for strategic asset allocation. They also remain on the hook for liabilities and by extension for deficits – most of the 89 funds are in deficit and have been so for decades.
So while each administering authority has the most profound decisions to make, such as asset-liability modelling, they now also have to work out how they proceed using an external manager selector they neither chose to create nor chose to own, but now do.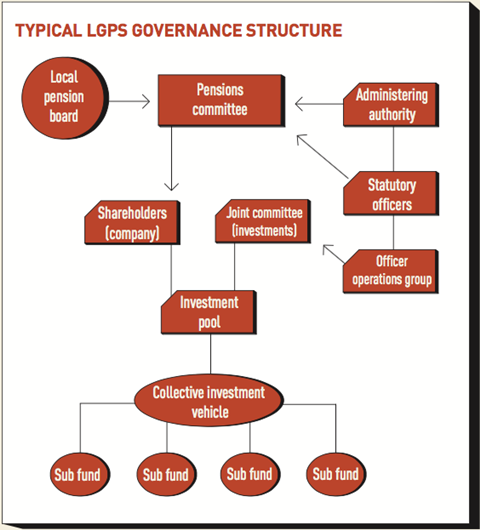 This is what Sue Ellis, chair of the South Yorkshire Pensions Authority wrote in the entity's annual report for 2015-16: "The focus of the exercise is clearly on reducing investment management costs and increasing the allocation to infrastructure without causing any detriment to performance returns.
"While laudable in themselves, when applied to well-run and efficient internally managed funds like [South Yorkshire], the only outcome can be a significant increase in costs. All the evidence to date confirms that initial view."
Last month, Colin Pratt, investment manager at Leicestershire County Council gave a more optimistic view, telling IPE: "My hope and expectation is that, over time, the pool will become a valuable resource to its partner funds rather than just a third party to manage investment managers." For example, he thinks the pools will be able to suggest more efficient ways of achieving desired outcomes.
The relationship between funds and pools is not the only work in progress. Since 2015, each fund has had a Local Pensions Board (LPB), another central government idea. The original intention of LPBs was to increase the representation of ordinary scheme members in the governance of local authority pensions, in line with their presence in private-sector schemes in the UK. LPBs were also expected to include independent professionals with experience of pensions.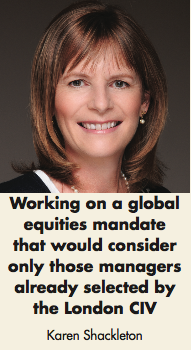 An obvious query regarding LPBs is how far their remit would become confused with existing pension committees – the equivalent in the Local Government Pension Scheme to a board of trustees or fiduciaries but without scheme member representation – in effect, a corporate board made up of employer representatives. After all, many members of pension committees are also scheme members.
Local authority law, however, prevents a minimum quota of ordinary scheme members and independents on pensions committees. LPBs consequently have a role assisting the governance of their local pension fund but not actually governing.
Improvements or impediments
Given the pressure on the Local Government Pension Scheme – it remains defined benefit in an era when most of the UK's private-sector pension schemes have become defined contribution; in aggregate it now relies on investment income for positive cashflows – these operational and governance changes could be seen as welcome improvements or unwelcome impediments, or a mixture of the two.
Gerard Moore, former finance controller of an administering authority and now chair of two LPBs, says it is not easy to generalise about the boards and pools because each is developing its own character.
LGPS KEY FACTS
Total assets: £217bn (€247bn)
Career average with 1.9m active members
101 administering authorities (89 in England and Wales)
Overall funding level: 85% (2016)
140,000 employers, 8 asset pools in England and Wales
"You can see from their terms of reference that some administering authorities welcome the LPBs," he says. Likewise, he notes that pension heads have been working hard to make a success of the pools, notwithstanding the origin of the concept in the desire of the previous chancellor, George Osborne, to channel assets towards national infrastructure projects.
"Not all the ramifications of Osborne's plans were fully thought out," says Moore.
One such outcome is how the LPBs and pools work together. This is a hot topic all over the country, with both constituent authorities and pools discussing whether LPBs should have observer status on the pools. How else can LPBs understand comprehensively how their fund is faring? The prevailing trend, however, is one seat for each chair of the pensions committee of each fund, meaning no presence for LPBs.
Moore himself would like a rotating chair of each LPB to attend the appropriate pool's meetings as an observer. That might yet happen. Of the eight pools for England and Wales, most are still at the planning stage. Only two – London and LLP – have assets under management. So governance is still in formation.
Meanwhile, other tests of governance are also likely to come.
'Dark' pools
One consultant, who declined to be named, questioned how legal contracts and governance structures will account for situations such as if the performance of a third-party asset manager – selected by a pool – adversely affects the solvency position of a LGPS fund. Each fund has its own funding position and each is both a client and shareholder of its pool.
Will replacing that asset manager suffice? Pools are owned by the administering authorities, typically with one nominal share each. Any litigation or financial redress involving a pool is therefore almost certain to affect the capital of its owners' funds. When it comes to reaching a decision, some pools are established so that only 75% of members need to be in favour of a decision affecting them all – others require unanimity.
There are pragmatic ways for funds and pools to mitigate such risks. The first is to understand the funds' needs properly, so that pools create the products they want.
As with the question of who sits on the board of each pool, this boils down to a question of communication and how information is disseminated to stakeholders. Alistair Sutherland, a consulting director at Deloitte and adviser to two London borough pension funds, says they were already sharing with the London CIV details of current mandate searches to deepen the London CIV's understanding of individual fund needs. This is most important in London, which has four times as many client funds as some other pools.
Karen Shackleton, a senior adviser at consultancy Allenbridge Epic with three London Borough fund clients, says she is working on a global equities mandate that would consider only those managers already selected by the London CIV. In terms of governance, however, Shackleton notes that the approach of London, which will have eight external asset managers in global equities, still leaves the final say in manager selection to the funds. This was not envisaged by the original division of duties between fund and pool and others, such as Brunel in south-west England, plan to offer client funds target outcomes to suit their asset allocation needs.
More and more LGPS administering authorities are taking out indemnity insurance on behalf of their officers and the pensions committee. This does not cover fraud, criminal misdemeanours or fines. It is specific to the administering authority and committee.
The terms of such insurance is precisely the kind of information to be understood by LPBs. This is because their prescribed role is to assist in the effective governance of the 89 LGPS Funds in England and Wales. That is how they are expected to serve members' best interests.
Two groups have traditionally 'governed' these funds. Pension committees vary in number but it is common for the greatest membership share to be drawn from the administering authority. The administering authority for the Merseyside Pension Fund has 10 councillors on a 15-strong committee. Devon County Council has six on a 10-strong committee for the Devon Pension Fund.
The original plan for the involvement of more 'lay' members in governance was in part an alternative to this concentration of councillors – even though many of them are LGPS members themselves.
The second influential group comprises in-house pension professionals, treasury and finance officers at the administering authority. These authorities work for more than 14,000 employers – many of them private-sector companies with contracts for public services – each with their own schedule of liabilities and payments. But all management is channelled through the administering authorities, hence the importance of the senior employees in pensions and finance at these authorities.
Strength in unity?
For Colin Meech, national officer at Unison, the biggest public-sector union, local pension boards have not altered the de facto governance of the LGPS. This rests with the administering authorities, which thus have a potential conflict of interest. They are ultimately obliged to serve taxpayers, not pension scheme members.
Unison believes the current set-up contravenes article 8 of the European Union's first IORP Directive a the legal separation of sponsor and pension fund. A judicial review of the situation began at the High Court in London in June 2017. Meech says that the administering authorities in LGPS should be independent to avoid this conflict – some such as South Yorkshire Pensions Authority and London Pensions Fund Authority already are.
Unison would like to see LGPS run as a single entity – the equivalent of ABP in the Netherlands – with a paritarian board of employer and union representatives. Why unions, not direct member representation?
"Because the LGPS is collectively bargained," says Meech. "The unions negotiate on behalf of members."
Moore feels the LPBs intrinsically do play a useful role. Among the members of the boards he sits on are a trustee of one of the UK's largest schemes, an HR officer and a former finance officer of an LGPS administering authority – he feels such "heavy hitters" can do the necessary job of monitoring the governance of funds.
Moore adds that his LPBs' appointments are timed to fall far from local government election dates.
It is a common criticism of LGPS fund governance that as political parties win and lose seats, the continuity of governance on pensions committees suffers. If Moore is right, the LPBs might improve overall stability.
THE UK'S LOCAL GOVERNMENT SCHEME
The UK's local government scheme is established – and altered – by legislation in the British Parliament. It is not a trust-based scheme. As such, national politicians set policy. There are LGPS experts within the civil service to advise on policy as well as the LGPS advisory board, which represents unions and employers.
The LGPS is administered by more than 101 authorities across the United Kingdom. Within these authorities, day-to-day management is carried out by a pensions department. However, ultimate financial responsibility rests with a finance officer, often the county treasurer, rather than with the pensions executive.
A Pensions Committee, comprising local councillors and some elected representatives, meets four to eight times a year to oversee each fund's management.
Since 2015, each fund also has a local pensions board to oversee the pensions committee. The same kinds of investment consultant, actuary, lawyer and auditor that advise private-sector DB plans in the UK advise these funds.
The role of the eight new asset pools is to act as manager selectors for the funds in their region. The pools will choose and maintain direct relationships with (and fire) underlying third-party asset managers. Thus far, less than 5% of total LGPS assets have transferred to the new pools although the plan is for them to manage most of the £217bn in the scheme within a matter of years. Much of this will be done in-house by the pools themselves as asset managers.
It is noteworthy that while the governance of LGPS assets has yet to settle, administration of pensions is already an open market, as with many other local authority services, from tax administration to adoption.
Northamptonshire and Cambridgeshire have been offering joined services for years. Five London boroughs have already pooled their administration as the Pensions Shared Service.
LLP, one of the eight pools, is actively looking to win administration mandates too.
A non-UK observer might wonder whether professional advisers should not be sufficient to ensure good governance. After all, the calculations of an actuary guide future scheme payments and a lawyer's advice ensures the committee and officers act prudently and within the law. In all the discussions so far about governance of pension schemes, the importance of external advisers has not yet been mentioned. Yet, they are both well remunerated and contractually obliged to act in the fund's best interest. In the current set-up, lay members of the LPBs have to assimilate more than 70 documents in order to be able to fulfil their role of ensuring that another part-time body, the committee, is doing a good job. The advisers, by definition, already do the LPB's role.
Perhaps the advisers could be constituted as the Local Pension Board? No adviser IPE spoke to, however, was particularly keen on this idea.
But some authorities, such as the Environment Agency, have clearly decided against duplication. Mutatis mutandis, the personnel on the LPB are the same as its committee.
Second, minutes from LPB meetings suggest some are not merely challenging the committee and officers do their job but offering suggestions on how to do things better. This indicates a blurring of lines between the role of LPB and pensions committee, which some may take as a sign of healthy governance.
On the other hand, one adviser said he did not expect LPBs to contribute if they were invited to a meeting of the pensions committee.
This debate will rumble on as each administering authority, fund and the various committees work out how the LPBs should work to fulfil their duties. As for the emerging pools, Pratt concludes: "There will undoubtedly be some things it is sensible to deal with at an individual fund level and some where all partner funds can meet with the pool together.
"It is too early to even think about what fits into each category, but there is no reason why governance should be a problem. The partner funds are, after all, shareholders of the pool and have quite significant powers."
Pension fund governance - Netherlands: New models
1

2

Currently reading

UK LGPS: In flux

3