---
A large proportion of institutional investors' costs remains opaque. Will a new UK initiative change this?
Key points
• The 2017 FCA Asset Management Review has focused on investment costs.
• Campaigner Chris Sier has been asked to devise a cost transparency template.
• An initiative has started in the UK local government sector.
• Some managers see transparency as a marketing benefit.
When it comes to visualising investment costs for asset management, think of a 30cm ruler. The first 10cm covers fees such as invoiced bills for services from asset managers. These are the most recognised costs. The middle 10cm covers indirect costs, such as captive FX trading by a custody bank. So far, these have been rarely seen or scrutinised by funds that have outsourced asset management to third parties. What's in the final 10cm is not really understood by anyone. They include market impact and preferential trading rates.
The 30cm ruler metaphor was dreamt up by Chris Sier, an independent consultant, in a 2015 paper1 . Sier has been campaigning for a decade to answer a deceptively simple question – how much does it cost to run a pension fund?
Now it is a query that the UK's Financial Conduct Authority (FCA) also wishes to be answered for pension fund and retail investors. The FCA has asked Sier to form a committee to devise a cost transparency template. The Pensions & Lifetime Savings Association (PLSA) and the Investment Association will be represented, and the committee should devise its template for public securities by the end of 2017. Next year, the committee will scrutinise private equity and hedge funds. Other relevant bodies may then join the discussion.
The industry can apply its best brains to satisfying the request of the FCA, which will oversee the outcome – and wade in with a stick longer than a 30cm ruler to chase laggards.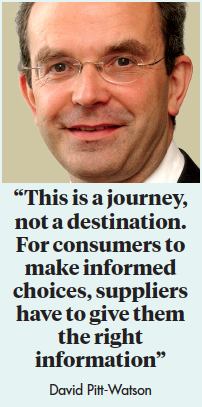 It is remarkable progress for Sier and those who campaigned with him, notably Andy Agathangelou of the Transparency Task Force, Con Keating, pensions specialist and commentator, Colin Meech, national officer at Unison, and David Pitt-Watson, executive fellow in finance at the London Business School.
The 2015 paper is notable for the paucity of data gathered despite the efforts of Sier. Examples of ignorance, obfuscation and extreme redaction are evidence of how rare attempts to connect all the costs in the chain of pension fund asset management have been – and how threatening they appear to asset managers and owners. In one example, Sier found a turnover rate exceeding 1000% in one local authority pension fund equity portfolio.
Data for all
From a famine of data, however, asset owners, pension fund trustees, academic researchers and FCA employees can expect a harvest. Asset managers and consultancies will learn as well. CIOs and portfolio managers have little sense of the costs of active management themselves. Their firms have not volunteered data thus far because like the pension funds, they have not been capturing all the costs systematically. Indeed, there are examples of firms dumping data on clients and leaving them to sort through who paid what to whom themselves.
But data reporting will not get to the bottom of the question of the last 10cm of the ruler soon. Here the harvest will not be so rich.
In part, this is because there are few precedents for this kind of transparency. Dutch occupational pension funds are obliged to report cost transparency – but only three figures: the cost of asset management, the cost of trading, and the cost of internal operations and management. These are comfortably within the first 20cm.
A report last year by the Dutch Pension Federation recommended greater standardisation – for instance between the obligatory reporting of the cost of operations and similar data in the annual report of the pension fund, and in how to incorporate performance fees measured over several years into the asset management cost figures, which could be based on single years.
Swiss pension funds also have to produce total expense ratios, but initial reporting in 2014 only served to reveal the extra work that needs to be done to make transparency effective and educational.
Competitive spirit
The FCA has been clear that its goal is not to lower costs but to make asset management in the UK more globally competitive.
As in the Dutch and Swiss systems, however, there is the risk of businesses loss for UK asset managers who do not comply.
That threat means that although Dutch pension funds have had to report only three figures on costs, in practice they are obtaining far more data. Asset managers serving the Dutch market grumbled at the beginning, as many are now in the UK, but deeper reporting has become accepted practice.
"This is a journey, not a destination," says Pitt-Watson. "For consumers to make informed choices, suppliers have to give them the right information."
Plenty of European asset managers supply cost data voluntarily. "Already today, we inform on execution-related costs to a level of detail that clients praise as very transparent," says Barbara Wokurka, head of international client relations at quant house, Quoniam. "As a technology-driven asset management boutique, Quoniam has the ability to adopt its reporting to national or client-specific needs even at short notice."
Others see the FCA's wish to make asset management more competitive as a chance to shake out those giving active management a bad name.
"When you think about active versus passive strategies, the financial regulator in the UK rightly focuses on the portion of active that looks to be closet-tracking," says Colin Fitzgerald, head of institutional business, EMEA, at Invesco . "We need to get rid of closet trackers."
New regulation often produces unintended consequences. The MiFID II requirement on unbundling research and trading costs means that research costs are now being absorbed by managers rather than apportioned to clients.
Jupiter Asset Management, Kempen Capital Management, M&G Investments, Robeco and Woodford Investment Management are among the names that have said they will not pass research costs on. In a way, this means that part of the quest for transparency has failed – unless asset managers do not pass on research costs indirectly to clients at all.
Toine Van der Stee, CEO of the fiduciary manager, Blue Sky Group claims that the new Dutch reporting rules have led some pension fund boards to be swayed by costs rather than value. He claims that there has been aversion to private equity, for example, because of the fees.
A similar reaction occurred after total expense ratios were first reported by Swiss pension funds in 2014.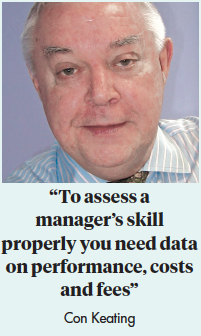 This happens because it is easy to confuse a rise in costs with a hike in fees. In the UK, the requirement to better understand costs at local authority funds has already led to higher reported figures. Stated total aggregate investment costs for the Local Government Pension Scheme (LGPS) will exceed £1bn (€1.1bn) this year, predicts Jeff Houston, head of pensions at the LGPS Advisory Board. The 2012-13 figure was £414m. But Houston – who will be a co-chair of the FCA's new committee – warns that this is a result of clarification, not necessarily an increase in direct manager fees.
Let us look at how cost reporting might unfold in the UK. First, we know that the FCA does not want to set standards or hold responsibility for creating the template itself. Creation then falls to another body – moot points are how competitive this market will be and whether new market entrants should pitch.
The LGPS Advisory Board is currently searching for a provider to collect and analyse data it receives from its initial drive at cost transparency via a costs template. The operative term is 'utility' – an unusual choice but one that reflects the desire to avoid ceding data control to a commercial provider. The expectation is that this utility will not be served by an existing provider, such as a custodian bank. Instead, the board itself will have ownership of the data – supplied by asset managers and processed under contract by a data analytics firm – for the LGPS investment pools to use. This utility will be an accounting service, with the contracted data processor constrained in how it makes further revenue from the mandate.
The board itself is not-for-profit. Its legal responsibility is to protect the LGPS's viability, which explains the drive for cost transparency and also its desire to avoid commercialisation. There is no equivalent central body, however, for private-sector pension schemes, charities, foundations or other groups of investors in the UK. One prediction is that these groups will be served by similar data providers to the LGPS utility, by Trade Data Monitors currently licensed by the FCA or by Approved Publication Arrangements under MiFID II. These are commercial organisations constrained by licensing rules on terms of reference and usages of data.
Before taking up his new post, Sier said he would like to see 'kitemarks' (referring to the quality mark of the British Standards Institution) for transparency, as the LGPS Board is ready to issue to asset managers to use in their marketing. This would permit the necessary actors to see and evaluate all the data while nevertheless giving others, such as retail investors, fair guidance. For instance, a transparency kitemark could be a criterion in searches on fund platforms.
Full disclosure
The asset management industry is wary that full disclosure will damage its commercial position, although it is evident from the names that have signed up to the LGPS Transparency Code that some see it as a marketing benefit. Of the 14 that have, only a few already manage LGPS assets. Keating says the industry will have to get used to greater disclosure. "To assess a manager's skill properly you need data on performance, costs and fees," he says.
Keating is sanguine about who gets the data provision business. Now the FCA has made clear that it is serious, all sorts of providers from the major credit ratings agencies to existing data-crunchers for Trade Data Monitors to investment consultancies are mulling how to position themselves.
Investment consultancies would be an obvious interpreter of data for occupational pension schemes. They already advise on investment manager performance and have databases containing such information, some of which are available for purchase under licence. Like everyone else, however, consultants have struggled to obtain cost data from managers of their clients' assets. Theoretically, the big three UK firms, Aon Hewitt , Mercer and Willis Towers Watson , could create a substantial universe fed by figures from their pension fund clients.
The hitch is that the FCA is looking further into whether these big three are too dominant in the UK, but this might not block the big consultancies proceeding in this direction. They were rocked by the 'pay-to-play' scandal of investment conferences 12 years ago, although that has not stopped them growing. However, the current air of uncertainty and dearth of corporate champions of cost transparency should encourage new entrants in data provision. Two candidates are Boat, which supports an existing Trade Data Monitor, and Novarca, an established adviser on costs to asset owners that has previously worked for UK regulators.
Some experts, however, do not believe there needs be much intermediation of cost data, even for retail investors. Ralph Frank, head of DC at Cardano and leader of the Transparency Task Force's cost and charges section, likens transparency reporting to Global Investment Performance Standards performance verification. It needs to be audited by a qualified third-party but that should not complicate the result. "End users should not need an intermediary," says Frank.
The discussions will be clearer when a template for cost transparency emerges. As Mark Austin, senior vice-president in Northern Trust 's institutional investor group, points out: "No organisation, including a potential provider, is going to spend heavily on adjusting its systems until it knows exactly what standards it has to adhere to." Austin expects data on investment funds to be comparable and ubiquitous, like fuel consumption figures for cars. He emphasises that just like those figures, cost data will be only one factor in customer's decision-making.
Regarding the lack of detail, the good news is that Sier has had a technical role in the LGPS cost template. He knows what he wants. He also knows what is feasible, having repeatedly acknowledged the difficulties of obtaining "the full 30cm" of costs. The question mark is over other folk and organisations in the value chain of asset management: if greater transparency engenders more competitiveness, their tenure may be in jeopardy.
1 The Drive Towards Cost Transparency in UK Pension Funds, Financial Services Consumer Panel, 2015
UK pensions: Running the rule on costs
1

Currently reading

UK pensions: Running the rule on costs

2

3

4

5

6

7

8