Women remain under-represented in asset management despite substantial success in improving their representation in other professions. Brendan Maton examines attempts to redress the balance
At a glance
•Several asset managers have signed up to the UK's Women in Finance inititative but set their own targets to boost the presence of women in senior roles.
•The Joseph Rowntree Charitable Trust has set targets to boost female participation in asset management and expects its managers to participate.
•The Charities Responsible Investment Network is looking to boost data on the gender breakdown in senior investment positions.
The UK government has unveiled a campaign to redress gender imbalance in Britain's financial services industry. According to its website, the Women in Finance initiative "reflects the [UK] government's aspiration to see gender balance at all levels across financial services firms".
In the UK, almost half of qualified doctors are women, 44% of accountants and 24% of solicitors at partner level1. By contrast, just 7% of investment funds in the UK have a woman as the named manager or co-manager, according to BestInvest, a private client investment group.
The situation in the US is little better: of more than 7,400 portfolio managers tracked by Morningstar, only 9% are women and they run just 2% of mutual fund assets. The figures for board-level representation in asset management by women are much higher. But many are non-executives.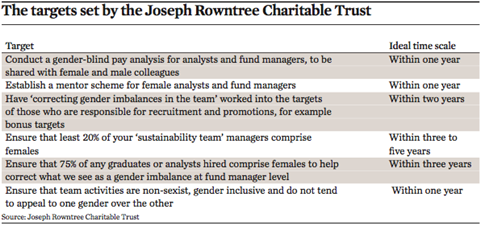 There has been a positive, if patchy, response to the Women in Finance initiative. Some 72 firms signed up initially, including Aberdeen Asset Management, Aviva Investors, BlackRock, BNY Mellon Asset Management, Columbia Threadneedle, Credit Suisse Asset Management, Deutsche Asset Management, Henderson Global Investors, Hermes, Morgan Stanley International and Schroders from the asset management sector.
There are no common targets, however. Managers set their own, which, in theory, makes perfect sense but in practice leaves wiggle room. Hermes, for instance, wants women to represent 35-50% of its entire staff by 2018 – but the figure is already at 34%.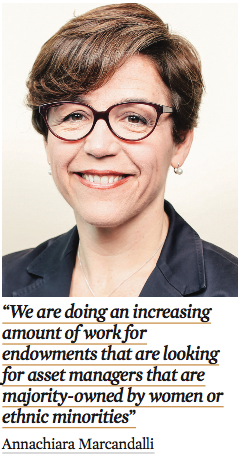 Legal & General – which before the Women in Finance initiative had set itself a goal of a 50% female workforce by 2020 and has a colourful logo to publicise it – says "it does not support the use of quotas to increase under-represented groups but does believe that having a target and signing up to the Charter commitments will be a focus for action and behaviour change". In other words, targets are not obligatory.
To avoid too much slippage, the Charter commitments must be championed by a senior executive in-house; and they must be related to board members' remuneration. But there are plenty of ways to fudge remuneration targets and spin performance, should a large corporation wish to do so.
Hard targets
A new development, however, demonstrates how clients can play their part in achieving better gender balance. Earlier this year, the Joseph Rowntree Charitable Trust (JRCT) set its own targets to increase and improve female participation in the asset management industry. These targets are in the spirit of Women in Finance but with an extra imperative: houses that cannot demonstrate meaningful engagement with the targets are unlikely to be appointed as the trust's managers.
The targets include a gender-blind pay analysis for analysts and fund managers, to be shared with female and male colleagues; establishing a mentor scheme for female analysts and managers; and ensuring team activities are non-sexist and gender-inclusive. The latter includes hospitality offered by third-party brokers.
The most striking demand, however, is to ensure that, within three years, 75% of graduates or analysts hired are women (see table).
The targets were published by JRCT, which has around £200m (€225m) in assets that are used to finance a host of causes in the area of social justice, including developing a sustainable future.
"I have never seen anything like these targets before," says Annachiara Marcandalli, co-head of the non-profit practice in London at Cambridge Associates, an influential adviser to charities and endowments. "We are doing an increasing amount of work for endowments that are looking for asset managers that are majority-owned by women or ethnic minorities." Often there is a connection between the values of the endowment and the nature of the board – for instance, a college for women seeking an asset manager majority-owned by women. Marcandalli also says clients are looking for emerging talent. "But it is really interesting setting targets for how a manager is run."
Jeannet Bergan, head of responsible investments at KLP in Oslo, says she does not know of any other asset owner taking on such a strong commitment. "I wonder if it is even possible to find any asset manager living up to equality at this level," she says.
Diane Pinto, global deputy head of human resources at Aberdeen Asset Management, and a key agent in implementing its targets for Women In Finance, says targeting above 50% representation would constitute affirmative action. Aberdeen is aiming for 47% of its global workforce by 2022.
Head of finance at the Joseph Rowntree Charitable Trust, Jackie Turpin, explains that the 75% target is aimed at accelerating change in an industry where entrenched and outmoded attitudes and practices have, historically, meant that it has been a difficult environment for many women to develop and progress. "There is now an established gender imbalance which needs to be addressed as a matter of urgency," she says. The trust's thinking is that there has to be a bias at the recruitment stage to balance these departures years later.
Within the figure there is also an understanding that many women find it difficult to re-enter asset management after having children. Their track record as a portfolio manager or analyst will have been dormant for several years; this does not look good when contrasted with a (male) colleague's unbroken record.
No one-size-fits-all
Sarah Smart, chair of the Pensions Trust, a sector-wide pension scheme for charities and voluntary organisations and herself a mentor for young entrepreneurs, says more flexible working would by itself fundamentally improve conditions within the asset management industry.
"I also suspect that some asset managers will look at the size of the Rowntree mandates and deign not to meet the targets because frankly there is not enough money at stake," she says. "Others may cosmetically attain the targets while not meeting them in spirit."
This gets to the heart of the Rowntree Trust's campaign. It is a bold address from an institutional investor that – in the grand scheme of things – is not big enough to shake the industry. Although its current managers have had an input in setting them, it is open to other suggestions regarding their expansion or modification over time.
At the same time, JRCT is not suggesting its targets are right for everyone. It is not attempting to claim the high ground in the debate on gender balance. The trust's motivation, according to Turpin, is that while it employs responsible fund managers, it is almost overwhelmingly presented with male fund managers when hiring. "Ironically, these same managers will engage with their investee companies about their gender balance, recognising that a good gender balance enhances the quality of decision-making, while failing to acknowledge what impact their own gender imbalance is having on their own performance," she says.
Here the general argument for employing more women is not that it is better in itself but that the current ratio of men to women running portfolios is so large relative to the population that it looks suspiciously like bad bias.
"Why does this matter? In short, because diversity is being compromised, and diversity matters," says Chris Wagstaff, head of pensions and investment education at Columbia Threadneedle Investments, which has set some of the most ambitious targets among the Women in Finance signatories. "Diversity should not be seen as an end in itself but as adding a valuable, arguably invaluable, dimension to money management. Being different is just as important as being smart."2
On Smart's points regarding incentives to adopt the targets and the quality of adoption, Turpin is clear that they form part of a dialogue with external managers. One highlight so far was a day's debate with senior representatives – men and women – from all six of the Trust's current managers together in London this summer to gather opinion from them on the validity of setting targets. JRCT says its managers are already "leaders, not laggards" – with some having allocated significant resources to reflect on their own diversity – and it wants to encourage wider self-analysis to tackle the conscious and unconscious biases known to be present in recruitment and retention in most industries, not just asset management.
JRCT does not see its targets as a stick to beat managers with. "It is not who wins the race that it important. It is what managers are doing to finish it," says Turpin. One of the smaller managers, for example, has already told JRCT that it would struggle to meet the targets in the allotted timeframes. "We recognise that it is not always possible to move things along as quickly as we might like, especially in firms where staff turnover is low," says Turpin. "We also acknowledge that the targets are not all-encompassing and that we may need to modify them over time in the light of experience."
Peer pressure
What about influencing peers? The trust has shared its thinking with other charities and institutional investors. As proof that dialogue matters, a new suggestion has come forth already. Through CRIN (ShareAction's Responsible Investment Network), several foundations have recently collaboratively written to listings agencies, asking them to disclose the names of co-managers of funds. "During the collective meeting in summer with our managers it became apparent that the practice of listing only one manager per fund very often prevents women being recognised in the industry for the contributions they make and progressing further," said Turpin.
"I also suspect that some asset managers will look at the size of the Rowntree mandates and deign not to meet the targets because frankly there is not enough money at stake. Others may cosmetically attain the targets while not meeting them in spirit"

Sarah Smart
There is a long way to go. Most requests for proposals (RFPs) in asset management do not ask for a breakdown of analysts and fund managers by gender. At most there may be a question on gender split across the entire firm; the gender split of those running the strategy, as proposed in the RFP, may be obvious. Marcandalli says Cambridge Associates will be able to conduct deeper analysis on team composition from next year. But even committed responsible investors struggle to obtain more data from asset managers on this issue.
And then there is the issue of how many pension funds and insurers care. Several people interviewed for this article said they support equality but it did not form part of their process for hiring asset managers. Ultimately, however, wealth management reflects wealth ownership. As the number of female accountants, doctors and solicitors grows, so more wealth accrues to women in their own right. Rightly or wrongly, they will expect to see more people like them in charge of their savings. The Women in Finance campaign only takes asset management in the same direction as society itself. The Joseph Rowntree Charitable Trust's initiative might take it there faster.
Footnotes:
1 ONS 2013, General Medical Council Annual Report 2013 and Gender in the Law Survey 2014, Chambers Student.
2 From the paper Missing Persons: Gender Balance in Asset Management