Earlier this week, the UN Principles for Responsible Investment (PRI) informed its signatories that it would require them to report on climate change risks from next year.
The PRI's 2,250 signatories together represent more than $83trn (€73trn) of assets, and include many of the world's biggest asset owners and asset managers — and its influence is still growing.
Insticube, an institutional data service powered by IPE, recently surveyed European asset owners on their attitudes to and work around environmental, social and corporate governance (ESG) issues.
It found that, of 338 investors polled, 121 had signed up to the PRI. Additionally, 241 said they had established an ESG policy.
---
---
The PRI's recent action suggests that it wants to push signatories to treat it seriously, and not just as a box-ticking exercise.
Insticube's research indicates that there is some way to go on this aspect, however. When asked whether failing to support the PRI was sufficient grounds to sack a fund manager, just 82 out of 338 institutions agreed – less than 25%.
---
---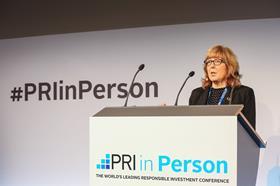 Announcing the tough new policy earlier this week, Fiona Reynolds, chief executive officer of the PRI, said: "It is increasingly important for investors to incorporate emerging mega-risks such as climate change into their view of the future."
The PRI's signatories could — and should — face a much tougher task to convince the organisation and other stakeholders of hiw seriously they take the standards they have pledged to uphold.