Cyclical recovery or secular healing? That is the big question behind the European Union's economic bounce after its 'lost decade' – the toughest period since the founding of its predecessor, the European Economic Community, in 1957.
Last year, its economy finally joined the growth party as part of the most synchronised global expansion since the 2008 financial crisis, raising hopes that the EU's political and business leaders will take action to create fresh dynamism to improve business competitiveness and citizens' well-being.
For European pension plans, this is important: most of them tend to have a strong domestic bias in their investment choices.
Moreover, the latest regulation, designed to protect European and American banks, has not eliminated risk from the global economy. It has merely transferred it from banks to investors by forcing them into risky assets via zero-bound interest rates. Like a waterbed mattress, pressure applied in one place simply moves the contents elsewhere.
The latest wave of tit-for-tat tariffs in a new 'cold war' between the US and China, the unwinding of super-liquid monetary policies and the rise of populism have added ramifications.
These new sources of risk have sparked interest in whether the long-awaited institutional reforms in the EU are likely to be implemented so as to minimise damage in the next downturn. After all, in this beggar-thy-neighbour world, the chances of the G20 countries uniting once again against a new crisis are slim. Besides, for the first time since 2007, central banks will be unable to act as circuit breakers in a crisis, having exhausted their policy bullets.
These are some of the key findings from the 2018 Amundi-CREATE annual survey, Rocky Road for the European Union: Pension Plans' Responses*. It aimed to ascertain whether the EU economy has turned a corner, what actions can accelerate its healing and how pension plans are adapting to the new reality.
An old-fashioned recovery
Nearly four out of every five survey respondents agree that the recent recovery in the European Union is cyclical and fuelled by synchronised global growth. Only 9% disagree with this (figure 1).
Within this overall assessment, however, there are divergent views that reflect uncertainty.
For example, while 33% agree with the proposition that Europe still suffers from a deflationary bias owing to its debt, deficits and demographics, just as many disagree.
Such divided views are corroborated by two further responses.
While 25% of respondents agree that Europe has finally healed after the 2008 crisis, 30% disagree. Such division is also evident when asked whether the recovery marks a secular improvement brought about by improved competitiveness: 22% agree, while 31% disagree.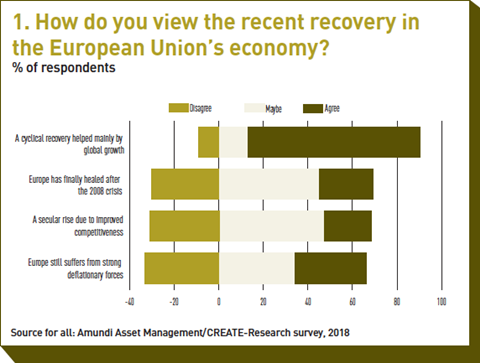 However, there is agreement on one point: growth in the global economy has been a critical driver of European recovery.
Beyond that, a notable minority say that the recent recovery reflects secular improvement in the growth engine. After years of austerity, Europe may well have reached the escape velocity that allows its economy to lose its deflationary mindset.
They argue that while the self-healing powers of the economy are re-emerging, the rise of populism in countries as diverse as Austria, the Czech Republic, Italy, Germany, the Netherlands and the UK is worrying.
For example, the populist wave in Italy has the potential to derail the euro project and halt further integration in the EU.
A decade after the global financial crisis, uncertainty is restraining investment and confidence. European companies are hoarding cash owing to the lack of opportunities as much as the fear of another economic shock. They also worry about the rise of anti-globalisation sentiment and have lingering doubts about the future shape and direction of the European Union itself.
No wonder the euro-zone economy has experienced a slowdown in 2018 after its expansion in 2017. It grew at 1.1% in the first half of 2018 while the US economy grew at 4.1% – in part fuelled by tax cuts and spending rises.
Failure of leadership
A number of factors have contributed to slow economic and social progress in Europe. Running through them is a common thread – failure of leadership.
In the first seven years after the Lehman collapse in 2008, the European Union stumbled from one crisis to another and the response has been piecemeal to the point where it presented an existential threat to the survival of the euro, as evidenced in the Greek sovereign debt crisis of 2011-13.
In fact, such setbacks have not been used to tackle the long-standing problems that have conspired against economic dynamism and social progress. Many barriers came in the way as part of a vicious cycle.
The main barrier is institutional and policy inertia, which rules out the bold and necessary reforms (identified by 59% of our respondents). A further 48% said this is because of a lack of clear vision about Europe's future and 42% point to lack of consensus on integration among political leaders. This has created distrust of politicians and political institutions (46%) and promoted populist sentiment (36%).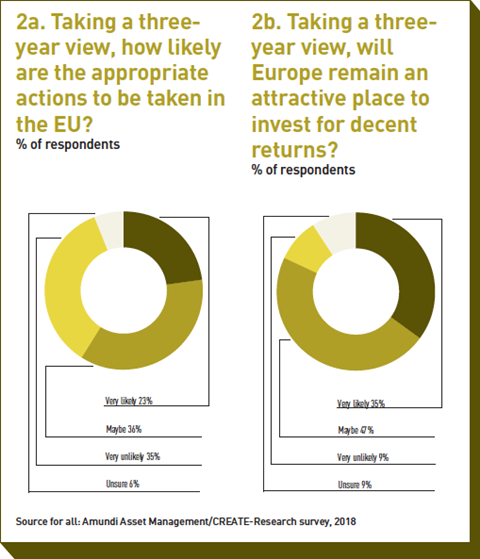 A good illustration is provided by Italy. The new coalition government wants a fiscal boost in excess of €100bn to reboot the economy after 18 years of stagnant output since joining the euro in 2000.
But this would blow holes in the EU's Financial Stability Pact, which forbids budget deficits and national debt beyond specified ceilings. Members of the euro-zone have a common monetary policy under the auspices of the European Central Bank, without any significant fiscal harmonisation that could help member states who fall into difficulty. Austerity is their only option. This has proved self-defeating.
The stark truth is that political leaders have not put the single currency on a more secure footing implementing the various reforms that would have permitted greater convergence between euro-zone member states, as envisaged with the currency's introduction in 2000.
As a result, there is reluctance by national authorities to pursue genuine European solutions to the common problems they face: large deficits, mounting debts, sagging productivity and lack of innovation. The reform agenda needs to find its second wind.
Time for a new narrative
Since the Brexit vote, one thing has become clear: those disenchanted with globalisation also have little faith in the EU and its institutions.
The UK is not leaving a fully developed entity, but one that is still evolving. The UK's departure offers yet another opportunity to set a vision of what the EU wants to be. Such a vision is vital to retain the EU's relevance as the memories of the bloody wars that prompted its creation slip into history.
The latest French plan to promote fiscal union, with a European finance ministry with its own budget to help economies in difficulty, shows no sign of gaining traction. Attempts to build a banking union that breaks the familiar bank/sovereign vicious cycle –
'the doom loop' – are also slow to emerge. Its bail-in provisions for failing banks lack both consistency in implementation and the necessary resources for the recapitalisation of failing banks. Likewise, progress on the European Deposit Insurance Scheme and the Capital Markets Union has stalled.
When asked what will revitalise the European economy, at least 40% of respondents identified five actions to achieve three aims.
The first one is to have an overarching action plan that sets out where the EU is heading – duly stipulating reforms, priorities, accountabilities, regulatory certainty and timelines.
The second aim seeks to create fresh momentum for strengthening Monetary Union and the Capital Markets Union to improve the economic resilience of member states.
The final one is about reducing the 'trust deficit' in politicians and political institutions by improving social welfare, reducing income inequalities and improving employability in this age of accelerated technological change.
When asked whether the necessary actions will be taken over the next three years, views are very divided (figure 2a): 23% of respondents said it very likely, 36% said maybe and 35% said it was very unlikely. Uncertainty is rife because Brexit and the migration crisis have sidelined essential reforms. There are expectations of fresh action.
After all, the EuroBarometer polls consistently show that EU membership remains very popular even in countries whose leaders lambast it, such as Hungary and Poland.
As a result, 35% of respondents still see Europe as very likely to remain an attractive place for decent returns. 47% said maybe; 9% said this is very unlikely (figure 2b).
Behind these dry numbers lies our survey's key finding: for all its problems, it would be unwise to write off the EU. Its progress has always been a matter of chaotic play, not grand design. Populism has imposed a warped trajectory. Hence, it is hard to see how the EU can mount a concerted action to minimise the pain from the next recession when it comes.
In response, pension plans are adjusting their asset allocation approaches accordingly. They are moving away from a formulaic approach, as next month's article will illustrate.
*Available at www.create-research.co.uk
Amin Rajan is CEO of CREATE-Research. Pascal Blanque is CIO of Amundi Asset Management