The newly-enlarged Finnish pensions insurer Ilmarinen has found a successor to its current president and CEO, who is due to leave the company in March.
Ilmarinen, which officially merged with smaller rival Etera on 1 January, has appointed Jouko Pölönen to replace outgoing president and CEO Timo Ritakallio.
Pölönen, who is set to start work in the top job in June at the latest, is coming to Ilmarinen from Finland's OP Financial Group — the company that managed to lure Ritakallio away from the helm of Ilmarinen, as announced in September .
Mikko Helander, chairman of Ilmarinen's board of directors, said in the company announcement released just before Christmas: "Our selection was based on Jouko Pölönen's strong expertise in the fields of finance and investments, economy and insurance.
"Pölönen has a track record of strategic management in a regulated business environment and the ability to lead change, which is of particular importance due to the merger of Ilmarinen and Etera," he said.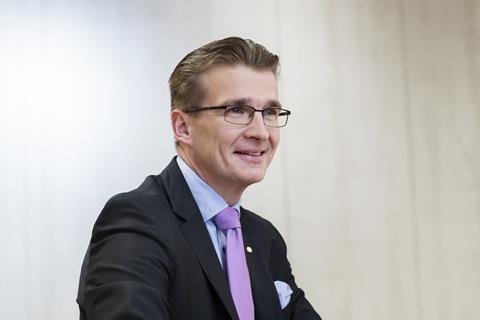 Helander said that under Pölönen's leadership, Ilmarinen would "continue to evolve into an agile and customer-oriented service company making efficient use of the opportunities offered by digitalisation".
Ritakallio is to become the new president and group executive chairman of OP Financial Group, replacing Reijo Karhinen who is retiring this month.
Pölönen is currently executive vice president, banking and member of the executive board at OP Financial Group, CEO of OP Corporate Bank and CEO of the Helsinki Area Cooperative Bank.
He has previously worked as CEO of Pohjola Insurance and worked at Pohjola Bank as well as having been an auditor at PwC.
Pölönen said of his new appointment: "I am thrilled to take on my new position at a very interesting stage, with Ilmarinen becoming Finland's leading earnings-related pension company."
Having merged with Etera, Ilmarinen — which is retaining the same name for the larger company — is likely to be slightly smaller than the country's biggest pensions insurer Varma in terms of assets under management, but has more pension scheme members.