In the final article on a new survey, Pascal Blanque and Amin Rajan argue that IORP II is set to drive out structural inefficiencies in the EU pension landscape
Across the EU, there is one common trend: mergers of smaller pension plans into large consolidated units, as exemplified by the Dutch example. Over the past 20 years, the number of Dutch plans has shrunk by 75%. Similar trends are just emerging in the UK in the local government sector, according to our latest survey, Rocky Road for the European Union: Pension Plans' Response*.
In the Netherlands and elsewhere, three factors have driven consolidation within individual member states in the EU. The main driver is the need to avoid cost duplication of common functions such as asset liability-matching studies, manager selection and back office administration.
In addition, as investing has become more complex over time, the need to attract the brightest and best talent has intensified.
Finally, most pension plans lack the skills and governance to enter risky asset classes or reduce the ever-present principal-agency risk.
This process of consolidation is extending – from within individual member states to between them. The key driver is the second directive on Institutions for Occupational Retirement Provision (IORP II).
It enables pan-European companies operating in multiple pension jurisdictions in the EU to have common standards across the pension value chain in key areas such as asset allocation, governance, member communication and risk management.
The long process of consolidation and simplification started with the first IORP Directive in 2003. By 31 December 2016 – the latest date for which data is available – there were 83 cross-border IORPs, involving €63bn (1.6%) of total IORP assets across the EU. New data due out
soon will probably show a substantial rise. Some multinational companies were also implementing international pension plans (IPPs) as an interim solution before the cross-border pension fund market could develop fully.
December 2017 marked a milestone when the IORP II Directive was enacted, transposed onto all member states by last month (January 2019). Currently, 24% of our respondents are already implementing it, a further 16% are close to decision-making and the remaining 60% are in the awareness-raising stage (see left chart in figure). The pace of adoption will speed up, according to 39% of our respondents, while 61% expect it to remain the same (right chart).
Key benefits
As one survey respondent put it, "IORP II will ensure that 2+2=5 by allowing the harmonisation of our pension plan in the EU". When asked to identify the perceived benefits of IORP II, at least one in three singled out four benefits:
• 43% identified a consistent reporting framework that provides better governance and oversight.
• 39% identified freedom for employees to move within the EU without affecting their pension rights.
• 35% identified economies of scale from a customised solution at lower costs.
• 32% identified better asset allocation, risk evaluation and member communication.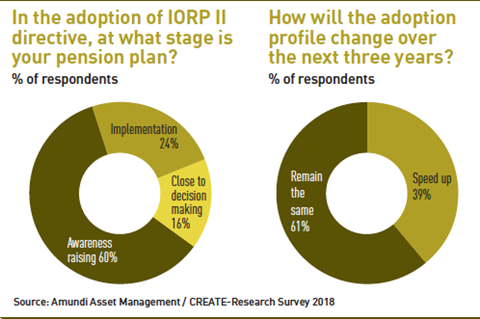 In sum, IORP II will make new demands on the governance and investment side. In return, it will aim to streamline the existing arrangement, which is widely regarded as sub-optimal.
The current pension arrangement is a product of history as much as geography. It is deeply entrenched in national regulations and cultures. Creating a harmonised framework, as IORP II aims to do, will take time and persistence (see case study).
As a result, progress will be incremental and focus on new pension arrangements as well as the current ones that lend themselves readily to simplification. Already, pan-European companies are showing interest in multi-employer vehicles run by external asset managers.
Whether companies have their own IORP or use a multi-employer pooled vehicle, there remains widespread concern about the extent of 'implementation leakage' from the existing arrangement that is both costly and inefficient owing to its fragmented nature. Cost duplication cuts into investment returns. The need to have deep investment capabilities in this era of low returns has become critical, as has the role of first-rate risk management capabilities and sound governance. At a time when two-thirds of defined benefit (DB) plans across Europe have funding levels below 100%, sponsors are looking for decent investment returns that can bridge the gap. Even in defined contribution (DC) plans, members' cash balances are on the low side and not enough to deliver decent retirement outcomes.
On their part, asset managers are improving their investment and risk management capabilities to facilitate a cost-effective transition towards consolidation.
Case study: A Scandinavian pension scheme
Our plan sponsor is a global company with over 250,000 employees, operating in all the key pension markets. Our size has resulted entirely from cross-border acquisitions, creating a mosaic of over 2,500 pension plans of extreme diversity and complexity. Alongside large DB plans in Germany, the UK and the US, we have DC plans, health insurance plans and termination plans in over 13 countries.
Even within DB plans, there is no uniformity. Some are based on final salary, some on average lifetime salary, and some on cash balances where employers do not bear the longevity risk. Some offer full inflation protection, some offer partial protection and some offer none. Some are open to new members; others are closed. Some are open to future accruals for existing members; others are closed. Some have adopted de-risking solutions; others have not. Some have in-house investment capability; others outsource it to external managers.
With IORP II, however, we aim to start consolidating across the EU, once the directive is transposed into national laws in 2019. It offers scope for bringing together so many different activities under one roof and doing away with duplications that cost a lot of time and money; not to speak of missed investment opportunities from sub-optimal capabilities in various jurisdictions. But unravelling our complex arrangements will take time.
*Available at www.create-research.co.uk
Pascal Blanque is group chief Investment officer at Amundi and Amin Rajan is CEO of CREATE-Research