Three international companies are planning to enter the Dutch market for pensions administration, while three other new entrants want to deliver software for pension funds, Dutch consultancy Quint has suggested.
In a recent report mapping out the current and future market, Quint said that the French-Dutch software firm Capgemini and Indian companies TCS and Infosys wanted to offer pensions administration services to the Dutch market.
Aspiring new software suppliers were Dutch firm Topicus and the combination of IG&H-Outsystems and SAP-MSG Global, the consultancy said.
Arno IJmker, managing partner at Quint, said that all companies were in direct talks with pension funds and providers. He added that all of them aimed to provide solutions for both defined benefit and defined contribution (DC) arrangements.
According to the Quint report, Capgemini wanted to start a dedicated operation for pensions provision mid-2020, running an IT system with third-party components.
Tata subsidiary TCS, which is the administrator for UK DC master trust NEST, was searching for its first customer in the Netherlands, where it was already active as a consultancy.
Infosys also would like to work for Dutch pension funds, but still had to invest in IT systems, IJmker said.
The company already served insurers ASR, NN and Allianz in the Netherlands, focusing on closed books for pension insurance, usually using their clients' systems, he added.
Software providers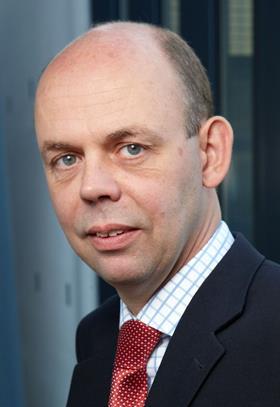 The Quint survey found that software supplier IG&H-Outsystems had been offering "low code" programs for pensions administration, which allowed for quick tailor-made solutions.
"For the many providers who operate outdated systems, flexible solutions could work better than standard software," IJmker pointed out.
Last year, SAP and MSG, who already operated software for life insurance companies, announced "a provision platform on a subscription basis".
"Although they are seeking the limelight with concepts, they don't have a proven system for pensions administration yet," said IJmker.
Topicus, based in the Dutch city of Deventer, has been active with software for individual pensions accrual for a while, and its clients include pensions provider APG.
Last year, it took over Dutch company Pensioenperfect, which had developed a new program for pensions provision.
The Quint report suggested that Topicus was a potential software supplier for Capgemini.
More suppliers needed
IJmker said new players on the market would be good "as the software market was dominated by no more than the four parties of AxyWare, Keylane, Idella and Inadmin-Riskco".
Although there were more administrators, almost all had legacy problems such as relatively old and inflexible systems, he said.
"And some of the smaller ones might cease operating or be taken over in the coming years because of the IT burden they are facing," IJmker added.
In IJmker's opinion, new software suppliers could play a role in the innovation that comes with pensions reform in the Netherlands. "The new players are promising and offer systems that have been built from scratch."
He further noted that a lack of IT expertise on pension funds' boards could be an obstacle for picking new providers who can't show a track record.
"In the outsourcing process for IT systems, you need to fathom the matter in order to know whether providers' promises are realistic."
IJmker advised pension funds to acquire expertise on their board, rather than hiring a consultancy, "as the board remains ultimately responsible".