The assets managed by global asset management companies grew by 19.7% during 2021, breaking the €100trn level for the first time, according to IPE's annual Top 500 asset management study.
The global asset managers within IPE's sample reported overall assets under management of €108.6trn at the end of last year.
As global financial markets recovered strongly from the damage caused by COVID-19, global managers achieved a healthy rate of growth in AUM that was only marginally lower than the record 22.1% growth rate registered during 2019.
The assets managed on behalf of institutional investors across IPE's sample also grew robustly during 2021. Global institutional AUM grew by 18.7% reaching €41.9trn, while European institutional assets were €14.4trn at the end of the year, representing an 18% increase in AUM from 2020.
There were no new entries within the ranking of the largest 10 global managers by AUM, but the ranking did see some changes. BlackRock, Vanguard, Fidelity and State Street Global Advisors retained the first four places.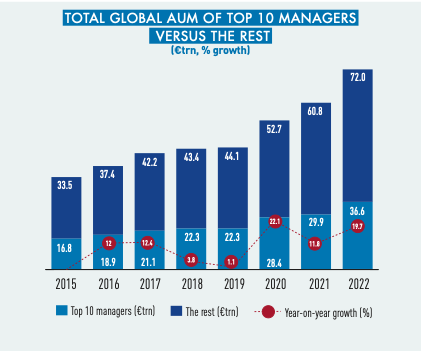 However, JP Morgan Asset Management switched places with Capital Group to achieve fifth place. PIMCO dropped from the seventh to the 10th place, causing BNY Mellon, Amundi and Goldman Sachs Asset Management to all shift one place up.
The ranking of the top 10 managers of European institutional assets was nearly unchanged, as AllianzGI dropped from 10th to 13th place and State Street Global Advisors took the 10th place.
BlackRock topped the list of managers who achieved the largest net client inflows, having registered €475bn of inflows during 2021. State Street Global Advisors, JP Morgan AM and Morgan Stanley AM all had net inflows of over €100bn.
With over €8.8trn in AUM overall, BlackRock represented 8.11% of global AUM last year. Among managers of European institutional assets, LGIM is the second, after BlackRock, to break the €1trn AUM mark.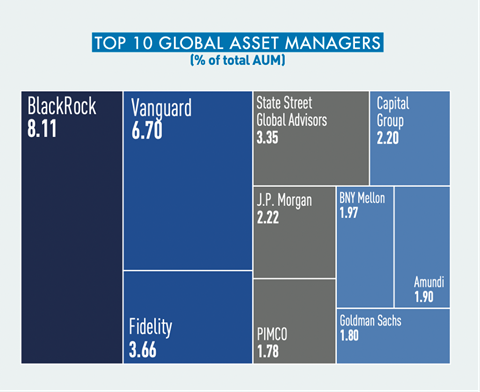 The share of global AUM run by the top 10 largest managers increased slightly, from 32.8% at the end of 2020 to 33.7% at the end of last year. The share of European institutional assets managed by the top 10 was steady at 4.9%.
The share of institutional assets managed on behalf of European pension funds was relatively stable compared with previous years at 49.3%.
Click here to find out how you can gain access to the full report and data pack

Carlo is deputy editor of IPE. He has 15 years of experience as a financial journalist, having worked for publications such as Shares Magazine and Infrastructure Journal. He also has professional experience in corporate communications and in 2010 he worked for the African Development Bank in Tunis.