The overall number of ESG and engagement specialists reported by global managers rose by over 32% to 2,167 in 2021, according to IPE's annual Top 500 asset management survey.
The average number of ESG and engagement specialists per reporting company rose from 10 last year to 12.
The average number of ESG and engagement specialists for companies with over €1trn in assets under management is 25.5, while for companies with AUM between €500bn and €999bn is 17.
The figure falls to 5 and 3.4 for companies with AUM of between €100bn and €499bn and those with less than €100bn in AUM, respectively.
Within the sample, there were a number of outliers, as certain companies report that all the investment professionals employed are ESG and engagement specialists.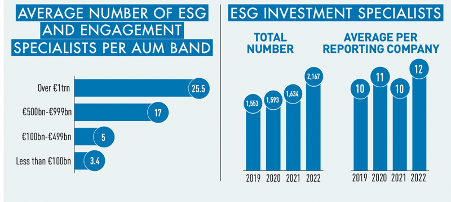 This year's Top 500 study also surveyed asset managers about their decisions with regard to the EU sustainable finance disclosure regulation (SFDR).
While appreciating that the regulation was not meant to introduce a fund classification system, this is how the investment management industry has been using it and so IPE asked asset managers to disclose the number of funds they characterised as Article 6, 8 or 9 and the relevant assets under management.
Over 150 managers responded, offering different levels of detail. Around 90 managers did not report having funds considered as Article 9, the most ambitious in terms of sustainability objectives.
At the other end of the spectrum, BNP Paribas Asset Management reported having 37 Article 9 funds as at the end of 2021, La Française 27, Actiam 25, Generali Investments 24, CPR Asset Management 23, and Robeco 21.
Based on a selection of the 50 largest asset managers responding to IPE's SFDR questions, Article 6 funds represent on average 12.5% of managers' worldwide AUM, Article 8 funds 8.7% and Article 9 funds around 3.5%. As a proportion of fund numbers, the numbers change to 61%, 35% and 7.4%.
This article was updated to remove a reference to Impax and its number of Article 9 funds as this was incorrect.
Click here to find out how you can gain access to the full report and data pack

Carlo is deputy editor of IPE. He has 15 years of experience as a financial journalist, having worked for publications such as Shares Magazine and Infrastructure Journal. He also has professional experience in corporate communications and in 2010 he worked for the African Development Bank in Tunis.
View full Profile