LCP has published three steps to help defined benefit (DB) sponsors prepare for a challenging economic climate that is likely to put companies at increased risk of insolvency.
In a blog published on LCP's website, Jonathan Wolff, partner and head of covenant, said high inflation continues to increase costs for companies and impact revenues.
He added that rising interest rates mean borrowing costs have increased "dramatically" following a period of historically low levels.
Wolff highlighted recent figures from the Insolvency Service, which predicted that the number of companies going bust this year could reach levels not seen since 2009 in the aftermath of the global financial crisis.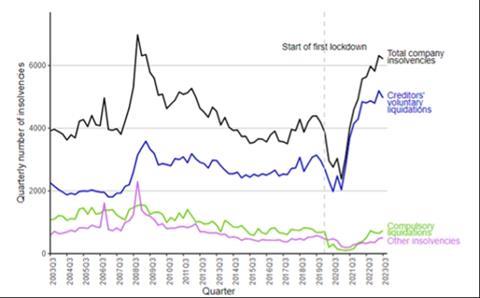 LCP added that these economic circumstances could negatively impact DB sponsors that just about managed during the COVID period.
The consultancy added that with insolvency being "inevitable" in some cases, the more time that trustees have to make contingency plans the better.
It suggested three steps that can give schemes the best prospect of protecting themselves through challenging times.
In order to prepare, LCP said "information is key". Wolff added: "It is really important for trustees to have transparency and strong lines of communication with sponsors regarding financial data and upcoming events."
He added that documenting what trustees will receive from sponsors, and when it will be provided within formal information sharing protocols will help to get everyone on the "same page".
Wolff also highlighted the importance of monitoring. He said that trustees and their covenant advisers should use the information they receive to understand when pinch points could occur that may impact their position, for instance when cashflow forecasts project minimum headroom on borrowing facilities or when borrowing facilities are due to be renewed.
Lastly, Wolff said that trustees will need to be "proactive" in raising their concerns with sponsors and how they propose that the scheme is protected. He said that early engagement can also provide time to consider innovative options such as superfunds or capital-backed journey plans, although he said these will likely only be available to well-funded schemes.
Wolff concluded: "Our overriding message is that preparation is key during periods of volatility and distress. Trustees and sponsors need the right advice to ensure that they have the right plans in place for when times turn tough.

Pamela is IPE's UK correspondent. Before joining IPE in May 2023, she spent five years writing about the insurance industry. During her career so far she won awards for Most Promising Newcomer in 2020 and Best Investigative Article in 2022 from the British Insurance Brokers Association, and was also highly commended at the WTW Media Awards for Insurance Features Journalist of The Year.
View full Profile