Manager search activity by pension funds and other institutional investors for new private market managers has dropped considerably over the past 12 months, according to asset management consultancy bfinance.
In the 12 months to September 2023, private markets accounted for 48% of searches among bfinance's clients, most of which are pension funds. This is down from a record 61% last year, and the lowest share for private markets since June 2020.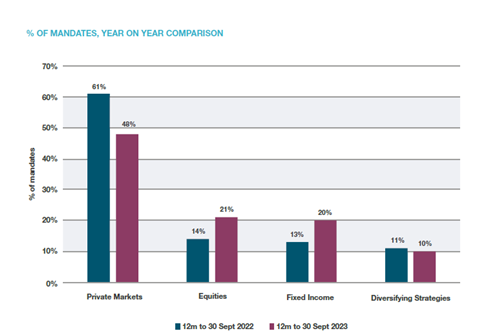 "Private markets search activity had been very dominant, accounting for more than 50% of searches for much of the COVID and post-COVID period, but the last few months it has come down to pre-COVID levels again," said Kathryn Saklatvala, bfinance's senior director and head of investment content.
Within private markets, searches for new real estate mandates came down most dramatically. "There are very few searches for real estate mandates right now," she said, adding: "In fact, real estate searches over the past year have been outnumbered by searches for natural capital which includes timberland and agriculture."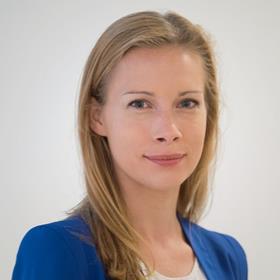 Indeed, demand is still on the rise in certain niche areas, mostly those with some kind of ESG theme. "As well as natural capital strategies that offer carbon offsets we see stronger demand for sustainable infrastructure, and in private equity demand for climate-oriented or impact strategies activity is up while the overall number of searches has come down. But we also see stronger interest in secondary funds," according to Saklatvala.
Mismatch
So why has the tide suddenly turned for private markets, which has in recent years been the fastest growing asset class for pension investors? It's not the denominator effect, which caused many institutional investors to pause new allocation as their non-listed exposure had grown because of steep fall in the price of listed investments.
"The denominator effect is not in place anymore for our clients. It has resolved as public markets have recovered," Saklatvala said. "I'm not hearing stories about overexposure anymore from investors."
In some cases, investors are concerned whether this is the right time to commit to new funds, and about where valuations are, noted Saklatvala.
"We still see a mismatch between sellers and buyers in a number of areas and as a result deal flows have been slow. And the slowdown in private markets search activity is also a reflection of a lower fundraising trend across the industry," she said.
Private market searches have come down overall, but there is a clear regional dispersion. In North America and the UK, private markets still account for the majority of searches while the most serious decline in demand is taking place in continental Europe. Here, demand for global equity and especially investment grade fixed income has surged.
"We are seeing that investors are going back to the basics: government bonds, investment grade credit and global equities, while emerging market debt and high yield bonds have fallen out of favour. On the fixed income side clients have reallocated assets from higher yield investments, liquid or private, seeking to capitalise on adequate yields for their purpose at a higher credit quality," bfinance stated.
In equities, investors are also going for the mainstream. "The majority of searches have been focused on either core or defensively-oriented strategies in global equity markets over narrower regional allocations," according to the consultant.

Tjibbe is IPE's Netherlands correspondent. He splits his time between IPE and its Dutch-language sister publication Pensioen Pro. Before joining IPE following a move back to Amsterdam, Tjibbe worked in London for several years writing about fund selection and portfolio construction trends.
View full Profile