Jens Henriksson, chief executive of Swedish pensions and insurance group Folksam, has been appointed chief executive of scandal-hit Swedbank.
At Swedbank, Henriksson will replace Anders Karlsson, who has been acting chief executive since 28 March when the previous chief executive Birgitte Bonnesen was sacked at a crisis point for the bank during revelations about alleged money-laundering.
At the end of March, under Henriksson's leadership, Folksam was among the group of Swedbank's major investors that refused to back Bonnesen ahead of the bank's AGM, as Sweden's fraud squad stepped up its investigation into money-laundering allegations. At the time, Folksam held a 7% stake in the bank.
Göran Persson, chairman of Swedbank's supervisory board, said Henriksson had the competence required to take on the current situation at the bank, as well as handling the rapid technological changes and competition that characterised the banking sector.
Henriksson – who has previously worked for Swedbank as head of banking relations – said: "After six fantastic years as president and CEO, it is with a certain sadness that I leave the Folksam Group. At the same time, I feel proud and honoured to have been given the trust to lead Swedbank."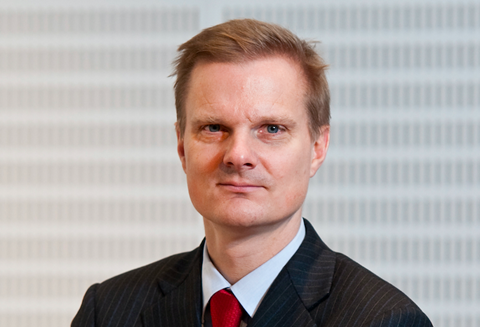 He is to take up his new role at Swedbank as soon as possible, the bank said, with Karlsson continuing as acting chief before returning to his regular role as the bank's CFO.
Henriksson is a former state secretary at the Swedish Ministry of Finance, and has been a member of the supervisory board of the International Monetary Fund in Washington. Immediately before joining Folksam he was chief executive of the Stockholm Stock Exchange.
Folksam, which manages around SEK600bn (€56bn) of group total assets, said the work of recruiting a new president and chief executive would begin immediately, under the leadership of Lars Ericson, chairman of Folksam Liv (life insurance) and Karl-Petter Thorwaldsson, chairman of Folksam Sak (non-life insurance).
In the interim period, Folksam's deputy chief executive Ylva Wessén will lead the company.
Swedbank is currently under investigation by the Swedish and Baltic financial watchdogs and is also being investigated in the US. It faces sanctions and fines in multiple jurisdictions connected to the alleged money-laundering through Eastern European branches, according to a Reuters report.