Investors should not be formally assessed on the outcomes of investments made in line with the UN's Sustainable Development Goals (SDGs), according to one of the world's biggest asset owners.
Norges Bank Investment Management (NBIM), manager of Norway's NOK8.9trn (€919bn) sovereign wealth fund, said it did not support adding outcome-based reporting on the SDGs, in a written response to the Principles for Responsible Investment's (PRI) reporting review.
NBIM argued in a letter to the PRI Association that it was difficult to measure an investor's direct impact on the SDGs, and that the inclusion of outcome-based reporting was drifting away from the PRI's founding principles.
In the letter, NBIM's Carine Smith Ihenacho, chief corporate governance officer, and Wilhelm Mohn, head of sustainability initiatives, wrote: "To attribute ownership of an outcome, an investor would ideally need to be able to demonstrate additionality, ie that any positive impact would not have happened without their investment.
"Establishing such a relationship is challenging, given that a minority investor has only a marginal influence on a company's funding cost and on its strategic direction, and is not involved in operational decisions. Investors' efforts may be several steps removed from real-world outcomes on sustainable development."
NBIM also said that, for many investors, achieving the SDGs was not necessarily part of their mandate and so they should not be expected to report potential outcomes of their investments in this way to the PRI.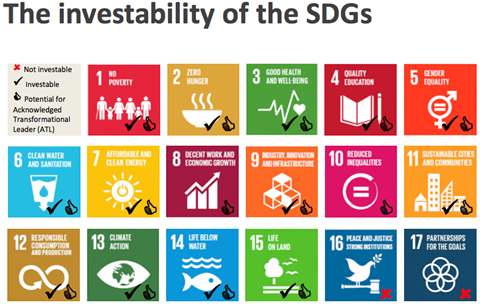 "Finally, including outcome-based reporting in the PRI Reporting Framework is drifting away from the PRI's founding principles," Smith Ihenacho and Mohn said. They added that the PRI's signatories were financial investors committed to incorporate environmental, social and corporate governance (ESG) issues into their decision-making, while delivering on their investment mandate.
"Most investors' mandate is to maximise financial returns for their beneficiaries," they said. "Responsible investors who do not have in their mandate to achieve specific social or environmental goals, or to contribute to policy goals, should not be expected to report on such potential impact under the PRI Reporting Framework."
The PRI has said that reporting how companies incorporated ESG factors not only encouraged positive change in financial markets, but also gave signatories an opportunity to compare their performance with peers, allowing for feedback and improvement.
NBIM said this was not the first time it had objected to the concept of outcome-based reporting, having previously highlighted problems in the fund's response to the PRI Blueprint, created in 2017.
The PRI is surveying signatory investors and service providers about their views on the organisation's reporting framework as part of a review it committed to in 2017.
It wants to force signatories to report how they have considered specific climate change risks in their portfolios, beginning in 2020.
Launched in 2012, the framework is, according to the PRI, "the largest global reporting project on responsible investment".