bfinance, AMF, Robeco, SEI, Amundi, Perpetual, AIG, Willis Towers Watson
bfinance – The independent investment consultancy has appointed Matthew Siddick as operational risk solutions senior director.
Siddick will head up bfinance's new operational risk solutions advisory unit, based in the firm's London office. He brings more than 14 years of experience in financial services, pensions and investments, most recently as head of EMEA operational due diligence at Aon. He reports to Duncan Higgs, managing director and head of portfolio solutions.
Siddick represents bfinance's first senior appointment dedicated solely to operational due diligence (ODD) matters. He will focus on enhancing and developing solutions designed to support investors' operational risk requirements, both at the time of appointing external asset managers and over the longer-term as part of ongoing due diligence, the firm said.
The move reflects the evolving ODD challenges faced by the firm's asset owner clients – such as pension funds, insurers and endowments – who are seeking to conduct thorough analysis of external asset managers in order to protect against losses incurred through operational failures, such as fraud or blow-up.
"While there have been significant improvements in asset managers' operational control in the 10-plus years since the global financial crisis, operational deficiencies still represent a major potential pitfall," Higgs said. "Today we see growing complexities within areas such as cyber security."
---
AMF Fastigheter – Thomas Erséus has been appointed as the new chief executive officer of AMF Fastigheter, the real estate subsidiary of Swedish pension fund AMF. He is to succeed the current CEO Mats Hederos, who the firm said had decided to retire.
Hederos, who has worked at AMF for 15 years and been CEO of the real estate unit since it was set up in 2010, will remain in the leading role during the autumn, with Erséus then taking on the CEO job after the turn of the year, the company said.
Erséus is currently CEO of employers' organisation Almega, and has sat on AMF Fastigheter's board since the spring of 2020.
---
Robeco – Robeco has added four new members to its sustainable investment (SI) research team. Rachel Whittaker will join as head of the team on 1 September 2021, and the team will be further strengthened by researchers Giulia Schettino, Ally Wong, and Federico Silvano.
Whittaker, who will be based in Zurich, is a seasoned SI professional with more than 20 years of industry experience. She joins from UBS where she was an SI strategist in the CIO office of the global wealth management arm. Having already worked for Robeco from 2015 to 2017, her new role as head of SI research will see Whittaker lead a growing international team of research analysts.
Whittaker's and her team's responsibilities include identifying the impact ESG has on business fundamentals, increasing and broadening SI sector knowledge and further developing the SDG framework for mapping and measuring SDG contributions across all investment portfolios. She will be a thought leader and ambassador of SI expertise, ensuring Robeco's investment teams' access to extensive sustainability know-how, which is an integral part of the investment process.
Researchers Schettino and Wong, who both also join from UBS, will be covering Robeco's TMT FiRe (technology, media and telecom, financials and real estate) SI research cluster and heavy industries cluster, respectively. Silvano, who joins from Allianz Global Investors, will also join the heavy industries SI research cluster as a researcher.
Robeco's SI Center of Expertise brings together its investment professionals focused on sustainable investing. The center consists of four pillars: SI Thought Leadership, SI Client Portfolio Management, SI Research, and Active Ownership. The team is headed by Carola van Lamoen.
---
SEI – Nicola (Nicky) Benstead has been appointed client director of defined contribution for SEI's UK Institutional Group. She will be responsible for relationship management with SEI's DC clients within SEI Master Trust.
Benstead was most recently head of client relations at Aegon, where she covered over 13,000 clients and more than £20bn in assets under management. Prior to that, she served as head of DC clients at BlackRock and as a senior consultant at Willis Towers Watson.
---
Amundi – Jonathan Duensing has been promoted to head of fixed income, US, at the asset manager, having most recently been director of investment grade corporates and senior portfolio manager at Amundi US.
Duensing has been at Amundi US (Smith Breeden Associates) since 1996, joining as investment analyst and then working his way into other roles. He served as deputy chief investment officer from 2014-2017. Before joining Amundi US Duensing was the credit officer for a member bank of Old National Bancorp.
---
Perpetual – The asset manager has appointed Jan Hein Alfrink as director of institutional business development for Europe. He will be responsible for developing Perpetual's presence in the institutional market across key European markets, with an emphasis on the Nordic and Benelux regions.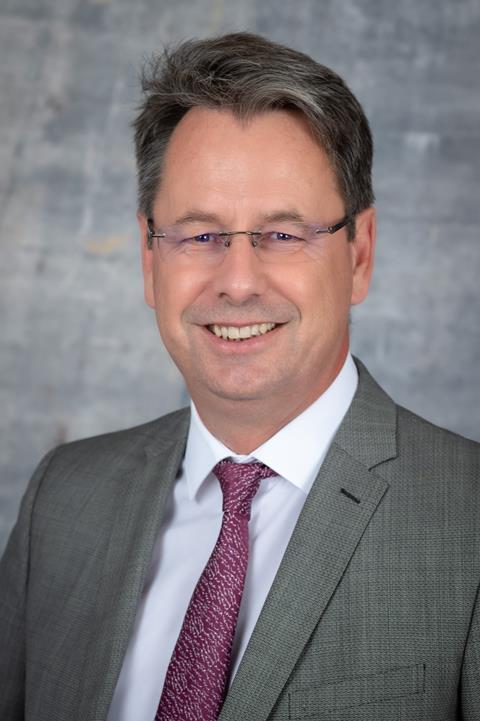 Following two transformative acquisitions in 2020, of ESG specialist Trillium Asset Management and US-based global value asset manager Barrow Hanley Global Investors, Perpetual aims to bring its expanding offering to global institutional investors, it said.
Hein Alfrink will be focused on actively developing Perpetual's institutional business by covering a broad range of pension funds, insurers, sovereign wealth funds and corporates across the European market and introducing the firm's suite of products alongside additional offerings from Trillium and Barrow Hanley.
Hein Alfrink has 25 years of experience in institutional investment and relationship management, focused on opening new markets and implementing growth strategies for international asset managers, leading distribution and business development teams across wholesale and institutional markets in Europe.
Most recently, he was the head of distribution for France, Monaco, Benelux, Nordics and Central & Eastern European countries at GAM Investment Management. Prior to this, he held various sales and business development positions at firms including Candriam Investors Group and Ostrum Asset Management.
Hein Alfrink will be based in the Netherlands and will report to Adam Quaife, Perpetual's head of global distribution.
---
AIG – Drew Schechtman has joined the insurer as head of ESG strategy, investments.
Schechtman was previously at Voya Financial, as head of ESG investment for Voya Investment Management. He also previously served as head of sustainability and environmental investing at BNY Mellon, and senior sustainability consultant at Viridian Energy+ Environmental.
---
Willis Towers Watson (WTW) – The consultancy has appointed a new UK client data services lead within its Technology and Administration Solutions (TAS) business. Matt Dodds joins WTW from ITM where he was a director.
Reporting to UK head of business development, Damian Magee, Dodds' new role is focused on working with clients to improve the quality of their pension scheme data, improving member interaction, understanding and outcomes. He is a leading industry voice on the importance of pensions data and its broader impacts.
Dodds is also co-founder of NextGen, and will continue in that role, promoting and encouraging the next generation of professionals within the financial services sector.
To read the digital edition of IPE's latest magazine click here.