Goldman Sachs, DWS, Investec, PAAMCO Prisma, IFRS Foundation, FRC, Vanguard, SIMAG, Achmea, VanEck, BlueBay, Barnett Waddingham, Kas Bank
Goldman Sachs – Lloyd Blankfein , chairman and chief executive officer at the investment banking giant, is to leave the company at the end of September after 12 years at the helm. David Solomon , currently president and co-chief operating officer, will take on both roles from 1 October.
Blankfein joined Goldman Sachs in 1981 as part of the investment bank's acquisition of commodities trading company J Aron & Co. He was appointed as president and chief operating officer in 2004. Solomon joined Goldman Sachs in 1999 and became global co-head of the investment bank in 2006. He became COO in 2016.
"Our firm has demonstrated great resiliency and strength over the last 12 years," Blankfein said in a statement. "I've never been more optimistic about our ability to serve our clients effectively and generate industry-leading returns.
"David is the right person to lead Goldman Sachs. He has demonstrated a proven ability to build and grow businesses, identified creative ways to enhance our culture and has put clients at the centre of our strategy. Through the talent of our people and the quality of our client franchise, Goldman Sachs is poised to realise the next stage of growth."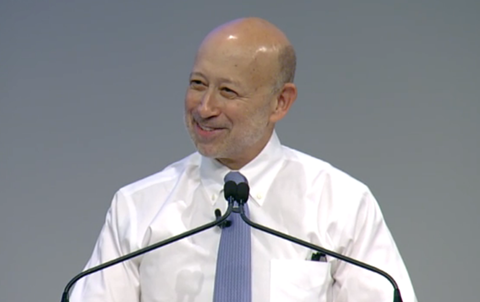 Adebayo Ogunlesi, lead director of the company's board, added: "Lloyd has been a remarkable leader during an extraordinary period of challenge for Goldman Sachs.
"His temperament and innovative thinking, deep understanding of risk and the firm's businesses, and ability to motivate and inspire the people of Goldman Sachs have defined his tenure.
"He has pushed the firm's entry into new businesses and opportunities, while also investing in areas that will continue to be highly valued by our clients."
---
DWS – The asset management arm of Deutsche Bank has hired a trio of senior staff to its institutional client-facing team. Gareth Davies joins from Hermes Investment Management as head of UK institutional clients, having previously held senior roles at BlackRock, Henderson, JP Morgan and Bacon & Woodrow.
Alexia Giugni has been named head of institutional clients for southern Europe. She has spent much of her career in the investment banking sector with a focus on insurance.
Shalin Bhagwan joins as head of UK pensions advisory. He was previously head of fixed income at Ashburton Investments, responsible for its liability-driven investment business. He has spent much of his career specialising in LDI, having led the LDI business at AXA Investment Managers. He has also worked in LDI related roles at Legal & General Investment Management, Mercer, and Hewitt Associates.
---
Investec Asset Management – Anna Genda will join the investment company's UK institutional business at the start of August in a newly created role as director of direct defined benefit, defined contribution and insurance. She was previously an investment director at Fidelity International, and has worked in several other investment consulting roles.
Genda's appointment follows a number of recent additions to Investec's institutional business, including Ed Evers as head of global consultants; Alastair Leather as sales director for global and UK consultants; and Michelle Campbell as a sales associate for global and UK consultants.
---
PAAMCO Prisma – Jane Buchan and Girish Reddy, co-chief executives of the US-based hedge fund provider, are to leave the company later this year as part of a leadership restructure. The pair will remain at the company in an advisory capacity until the end of this year.
The company – formed last year by the merger of PAAMCO and Prisma – will be led from 1 August by a six-strong executive committee, chaired by Eric Wolfe, currently head of the portfolio management team at Prisma.
Buchan was a co-founder of PAAMCO in 2000, while Reddy co-founded Prisma in 2004. Buchan plans to launch a quantitative investment fund next year, while Reddy plans to move into "investing and educational philanthropy", the company said.
---
IFRS Foundation – The international accounting standards body has named the governor of Finland's central bank as chair of its trustee board. Erkki Liikanen was a member of parliament in Finland for 18 years, including three as finance minister from 1987 to 1990, and subsequently became Finland's first EU commissioner in 1994. In 2012, he chaired an EU inquiry into structural reforms for the banking sector. He has led Finland's central bank since 2004.
The IFRS Foundation said in a statement that Liikanen would lead the trustee board in "advancing their objectives of developing a single set of high-quality, understandable, enforceable, and globally accepted accounting standards and promoting and facilitating the adoption of IFRS globally".
---
Financial Reporting Council (FRC) – Elizabeth Barrett is the UK accounting regulator's new executive counsel and director of enforcement, effective from 1 August. She will be responsible for leading the FRC's enforcement division and for decisions in relation to disciplinary proceedings involving auditors, accountants and actuaries, the FRC said.
She joins following a 30-year career at law firm Slaughter & May, including 27 years as a partner. She advised the UK treasury department on a number of high-profile proceedings throughout the financial crisis and after, including its interventions in Northern Rock and Bradford & Bingley.
---
Vanguard – The passive investing giant has appointed Gregoire Blanc as senior ETF capital markets specialist, responsible for "supporting the liquidity of Vanguard's products, and helping clients achieve their desired investment outcomes", according to the company. He joins from Lyxor Asset Management where he held a similar role.
The hire is part of a marked push to expand its ETF staff in Europe. Simone Rosti joined last month as head of Italy, Markus Weis was named deputy head of Germany and Austria in February, and Liz Wright, Rahul Thrakar and Christophe Collet have also joined the firm this year as senior ETF specialists.
---
Systematic Investment Management – Christian Gast has been named CEO of the Swiss asset manager with effect from November 2018. He joins from BlackRock where he was head of iShares and index investing for Switzerland, a position he held since 2010. He previously led UBS' exchange-traded fund business since 1999.
The company was set up last year as a joint venture between fund managers from Credit Suisse and a team from Switzerland's Federal Institute of Technology in Zurich.
---
Achmea IM – Ivo van der Veen has been appointed business development director at the €120bn Achmea Investment Management. Van der Veen joins from Deloitte, where he was an adviser to pension funds and asset managers for the past five years. Prior to this, the econometrist worked at Aegon Asset Management for 10 years. At Achmea IM, Van der Veen is to focus on growing its fiduciary management, liability-driven investing and responsible investment businesses.
---
VanEck – The ETF provider has further expanded its European staff with the appointment of Gijs Koning as head of portfolio management and operations. He is co-founder of the Dutch ETF provider Think ETFs , which was acquired by VanEck earlier this year. Think ETFs' other co-founder, Martijn Rozemuller, is the new head of VanEck Europe.
---
BlueBay Asset Management – The fixed income specialist has appointed Gautam Kalani to the newly created role of emerging market FX strategist. He will be responsible for analysing and shaping global FX positioning across BlueBay's emerging markets investment strategies, the company said. Kalani was previously a strategist in the emerging markets research team at Deutsche Bank.
---
Barnett Waddingham – The UK consulting and actuarial firm has appointed Nasir Shah to its insurance consulting team. He joins as consulting actuary and associate, and will support general insurance companies across a variety of areas. He was previously at ANN Consulting, which he co-founded in 2014.
---
Kas Bank – Rebecca Pitts has been appointed as business development manager at Kas Bank, specialist provider of securities serices to the UK pension industry. She has been tasked with developing and delivering innovative fintech solutions for trustees in both private and public sectors. She joins from SEI Investments Europe where she was a technical sales executive.