Alecta, AMF, Alpima, PGB, Waterbouw, Morningstar, Merian Global Investors, LGIM, Willis Towers Watson, GAM, Franklin Templeton
Alecta – Hans Sterte has been appointed deputy chief executive at Alecta. He has been CIO at the Swedish pension fund since the spring of 2018 and will continue this work in this role alongside the new position, to which he was promoted at a supervisory board meeting on 14 March.
Alecta said that Katarina Thorslund, who is currently deputy chief executive and head of clients, will continue in both of these roles. Before coming to Alecta, Sterte was at Swedish pension fund Skandia where he headed up asset management, and before that, he worked at pensions and insurance company Länsförsäkringar.
---
AMF/AP3 – Former Swedish finance minister Pär Nuder has left his position as chairman of the supervisory board for the SEK590bn (€56.5bn) pension fund AMF. Nuder is also stepping down as chairman of the supervisory board for AP3 after holding the position for the maximum term of eight years.
The Confederation of Swedish Enterprise (Svensk Näringsliv) – a co-owner of AMF – said Nuder believed recent media attention should not be allowed to cause AMF damage. Nuder has recently been the subject of allegations in the Swedish media, which he has denied. AMF supervisory board member Marie Rudberg will take up the position of acting chair until a suitable replacement has been found.
---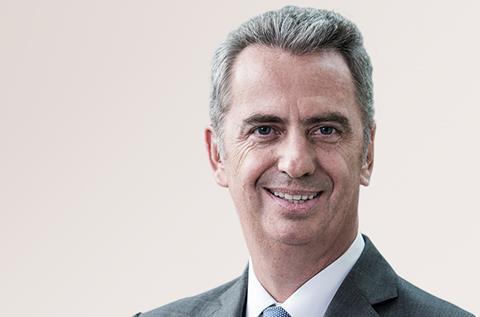 Alpima – Former DWS chief executive Nicolas Moreau had joined the advisory board of London-based fintech firm Alpima. He is currently CEO of Ladbroke Advisory, an independent consultancy he set up at the start of this year after leaving DWS in October .
At DWS Moreau oversaw its rebrand from Deutsche Asset Management and its listing on the Frankfurt Stock Exchange. He has also led AXA France and AXA Investment Managers, both as CEO.
Alpima offers pre-built rules-based investment portfolios across a range of asset classes, as well as allowing investors to code their own quant strategies.
---
PGB – Edwin de Jong has started as director of the administrative bureau of the €25.2bn Dutch multi-sector pension fund PGB, succeeding Hans van Vliet who has retired. De Jong joined from consultancy Sprenkels & Verschuren. Prior to this, he was a consultant at Willis Towers Watson for 25 years. He is also an independent adviser for pensions and actuarial matters.
Within PGB's board, Jochem Dijckmeester has succeeded Frans de Haan as deputy chairman. Dijckmeester has been a trustee representing employees since 2016. He is tasked with strategy and public affairs. De Haan remains on the board, responsible for relationship management.
---
Waterbouw – Clemens Heijne is the new director of the administrative bureau of the €1.3bn Dutch industry-wide pension fund for hydraulic engineering (Waterbouw). In addition, Susan Oomens-Simons has started as board and policy adviser. They replace Berend Keddeman and Jan van Doorn, who were chief executive and director, respectively. Keddeman and Van Doorn will stay on as board advisers until 1 April.
---
Morningstar – The investment research provider has hired the former co-CEO of Munich's stock exchange as its new head of Germany and Austria, effective 1 April. Jochen Thiel will be responsible for business development and managing key client relationships with banks, advisory firms, asset managers, and consultants.
Thiel was co-CEO of Bayerische Börse, the operator of the Munich Stock Exchange, for five years until the end of 2017, and has also held senior roles at Deutsche Börse and Capco. He is currently an advisory board member at 12Tree, an institutional investment house focused on ecologically and socially sustainable agriculture projects in Latin America.
---
Merian Global Investors – The UK-based asset manager has promoted Dominik Issler to head of EMEA distribution. He has worked at the company – previously known as Old Mutual Global Investors – since 2015, when he joined from Martin Currie to lead distribution in Germany, Austria and Switzerland. He will continue to oversee this region alongside Benjamin Huegli.
In a statement, Merian said the creation of the EMEA distribution role reflected the company's focus on expanding in Europe, following the opening of its Zurich office in 2015. It has since opened an office in Milan, and plans to target Spain, Portugal, France, Benelux, and the Nordic region.
---
Legal & General Investment Management (LGIM) – The UK's largest investment manager has appointed Lisa Purdy as head of fiduciary distribution, tasked with growing LGIM's fiduciary business across existing and potential clients.
She joins from Lloyds Bank where she was corporate pensions director responsible for distributing pension services to commercial customers. She has also worked as an investment consultant and business development leader at Aon Hewitt.
---
Willis Towers Watson – The investment consulting giant has appointed Anne Swift as a senior director in its advisory investment services team, focusing on defined contribution (DC) pension schemes. She joins from KPMG where she served as head of DC investment and has previously worked at Aon, BlackRock and Deutsche Asset Management.
---
GAM – Michael Lai, the Swiss investment house's lead manager for China and Asian equities, is to leave the company later this year. In a statement, GAM said he would "be working with us over the coming months to ensure an orderly and smooth transition". The portfolios he runs will transfer to Rob Mumford and Yu-Heng Fan, subject to regulatory approval.
Lai has worked for GAM since 1998, having joined from Trust Company of the West where he was responsible for Asian portfolios. Prior to this he was an investment manager at BZW Investment Management.
---
AMP Capital – The AUD187.2bn (€117.2bn) Australian asset manager has appointed former Apple operations director Thomas Preising as a senior adviser to its infrastructure business. He worked at the tech giant for 14 years before leaving in 2018, and is currently an adviser to fintech startup Metafused.
AMP said Preising would "bring his extensive experience of large-scale and efficient business operations in varied market environments, as well as his deep understanding of the tech industry and its growth".
---
Franklin Templeton – Nicole Vettise has joined Franklin Templeton as an institutional portfolio manager in its emerging markets equity team. She joins from BlackRock where she managed a team of product strategists for a range of equity strategies. She has also worked as an institutional portfolio manager at RBC Global Asset Management, and previously worked at JP Morgan Asset Management.