UK parliamentarians are to hold a special meeting about evidence of dubious advice being given to members of the £15bn (€13.2bn) British Steel Pension Scheme (BSPS).
In a statement the committee said it had "received evidence of questionable approaches and unsuitable advice being given to members of the BSPS, which the chair has described as a 'honeypot for scammers', and there are fears of BSPS members nearing retirement losing huge amounts of their life savings".
The special evidence session will inform a report that will propose regulatory and other measures to prevent similar situations.
The pensions select committee of the House of Commons is to hear evidence from Henry Tapper, a director at First Actuarial, and independent financial adviser Alastair Rush. The pair have visited Port Talbot in Wales, where Tata Steel UK's operations are based, and have reported poor advice practices and confusion about what options are available.
IPE understands individuals claiming to be pension advisers have been approaching employees of Tata Steel – BSPS' sponsoring employer – outside the company's factory in Port Talbot.
Yes, I've been invited. The firms I identified as providing inappropriate service have also been asked to attend. 13th Dec.

— Al Rush (@RAF_IFA) November 29, 2017
The politicians will also hear from representatives of steelworkers and their union, the BSPS trustees, the Financial Conduct Authority (FCA), and financial advice firms Celtic Wealth and Active Wealth. The latter is reported to be engaged in poor advice practices, luring members to transfer out, and FCA has told it to stop accepting any new clients on pension business.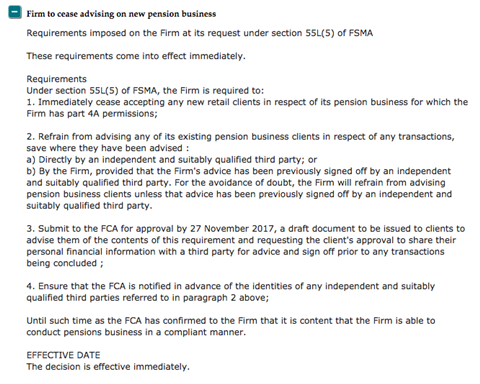 In his personal submission to the select committee, Tapper said: "We have found evidence of a breakdown in orderly advice in Port Talbot; we have anecdotal evidence that matters are little better in other towns where BSPS members [live]."
Tapper added: "I hope that in future cases where members are asked to take choices as tough as those in [BSPS], lessons are learned and members are not abandoned to the market."
The FCA has visited advisers in Port Talbot and the surrounding area to "remind them of their requirements".
After a deal was agreed to allow BSPS to be separated from its sponsor, BSPS' members – of which there are some 150,000 – have the option of joining the Pension Protection Fund or a new British Steel scheme.
They can, however, also transfer their benefits out of the fund, an option that is available independent of the restructuring of the fund.
Members had until 11 December, two days before the committee meeting, to make a decision. It today extended to 22 December the deadline for members to send their completed option form to the scheme.
The scheme has also reportedly extended to 26 January the deadline for pension transfer quotes for current quotes near expiry.
The committee's special evidence session is part of its inquiry into the operation of 'pension freedoms'.
British Steel Pension Scheme was shortlisted for IPE's 2017 Corporate Pension Fund award.