In the second article on a new pension survey, Pascal Blanque and Amin Rajan argue that it is harder to make rational decisions in this age of ultra-low rates
History teaches us that investors have lost far more money in trying to anticipate or plan for corrections than they have lost in the corrections themselves. So, pension plans have placed an emphasis on remaining invested in quality assets in order to gain more by losing less and to outperform the market over a full cycle, according to the 2015 Amundi Asset Management/CREATE-Research Survey*.
They survey shows, as asset valuations inch towards all-time highs, that nominal returns will be lower than in the past for most asset classes. Continued deleveraging in the West will also hit growth directly and returns indirectly. But lower forward-looking returns do not imply lower forward-looking volatility.
This explains why pension plans are resorting to an eclectic mix of assets. Taking a three-year forward view, their top-10 and bottom-10 choices are presented in the table, right. The choices show that most pension plans are aiming to meet two challenging objectives: delivering high absolute returns and managing risk relative to liabilities.
The first objective is being met via risky assets (see figure, top left quadrant). On the one hand, it recognises that future returns will be much lower than in the recent past; on the other, it aims to avoid missing a once-in-a-generation rally. So, the emphasis will be on stocks with good dividends, less debt, good pricing power, free cash flow and high returns.
The second objective has proved more challenging. Traditionally, bonds have provided income, preserved capital and offered diversification benefits. With near-zero rates, however, the income component is absent, capital preservation is difficult because of duration sensitivity, and diversification benefits are low because of rising correlations. Therefore, pension plans are unlikely to be overweight in bonds (see figure, bottom right quadrant).
With a single large dominant buyer in the European Central Bank, debt markets have ceased to function normally. There is a better chance of being repaid by cash-rich companies than by some governments.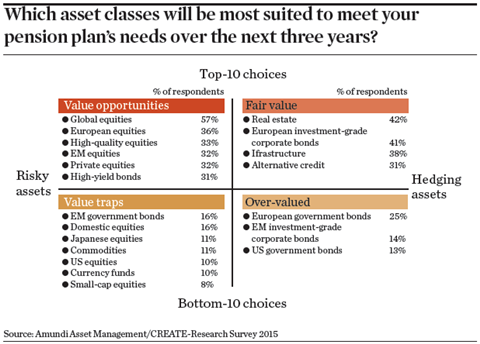 As a result, there is a renewed emphasis on managing asset-specific idiosyncratic risk, as distinct from market risk. It is about exploiting asset price anomalies. Managing overall risk with respect to liabilities, therefore, is about looking for under-valued, under-researched and under-loved assets to generate decent returns. It is also about separating value opportunities from their hidden traps.
The old dictum that bull markets are 'born on pessimism, grow on scepticism, mature on optimism and die on euphoria' has lost relevance since markets have been artificially inflated by the actions of central banks.
The resulting nervousness is clear to see from three main indicators. First, one-month forward euro currency volatility has soared this year. Second, expectation of European stock-market volatility has raced ahead of US equivalents, with levels of divergence similar to those at the height of the euro crisis in 2011. Last, most euro-zone countries have continued to increase their public debt ratios because of the favourable refinancing conditions and the postponement of fiscal consolidation.
So, investors are worried about a sudden swing in sentiment translating into far bigger actual price moves. Trying to figure out what triggered a move is like asking which snowflake caused an avalanche.
Sound housekeeping has a higher priority now than uncorrelated absolute returns. In the past, high returns were the sole objective, but in today's financial environment of combined ultra-low rates and rising inflation, prudence has the upper hand.
The global deflation scare has evaporated, as central banks have taken deflation risk off the table – for now. But fears lurk in the background that new, unknown risks are being stoked up in this surreal world of near-zero rates.
Pascal Blanqué is CIO of Amundi Asset Management and Amin Rajan is CEO of CREATE-Research
*How pension plans are responding to financial repression. Available at amin.rajan@create-research.co.uk
Case study of a German pension plan
"With record low rates, the world of investing can no longer be the same. We had to dump our old ideas on mean-variance optimisers, risk premia and diversification as we went from strategic to dynamic asset allocation.
"Our new approach starts with the past risk-return features of different asset classes and reconfigures them within a scenario analysis that considers the most likely macroeconomic outcomes.
"These range from the normalisation of the global economy at one end to a prolonged secular stagnation at the other. Under each scenario, we assess the likely risks and returns for different asset classes and then make the choices appropriately.
"When opportunities arise, we buy on the dips and sell at the peaks. Soon after the crisis, we made some bold moves with credit and equities that proved very profitable.
"Furthermore, we no longer allocate assets by asset classes. We use risk factors that are primary risks that we believe will drive our investment returns. For each of them, we estimate the long-term return we expect to get by taking these risks.
"This kind of granularity enables us to have a more high-conviction portfolio. In it, our core focus is on liquid assets that are amenable to dynamic investing. So, we have got out of real estate and infrastructure.
"Another reason is that big inflows are now diluting their returns and creating 'crowded trades'.
"So we have a portfolio with roughly the following weights: 25% investment-grade bonds, 25% developed market equity, 15% government bonds, 10% absolute return strategies, 10% emerging market equities, 5% high yield bonds, 5% emerging market bonds and 5% small cap equity."