Norges Bank Investment Management and five other major sovereign wealth funds have joined forces to produce a framework on climate change.
The aim of the framework, according to a statement, is to promote the integration of climate change analysis into the management of large, long-term and diversified asset pools.
It is also intended to help identify climate-related risk and opportunities in the funds' investments and "enhance their investment decision-making frameworks to better inform their priorities as investors and participants in financial markets".
This could include integrating climate change considerations into allocation decisions, manager selection and valuation, according to the framework.
Another purpose is "to foster a shared understanding of key principles, methodologies and indicators related to climate change".
Three main principles underpin the framework, which is voluntary: "alignment", "ownership", and "integration".
Under the ownership principle, the framework states that sovereign wealth funds expect company boards "to understand the consequences of their business practices for climate emissions and to set clear priorities for the company to address climate change issues".
The framework does not contain a commitment to engage with companies, instead stating that "SWFs may wish to engage with companies as a shareholder" to understand different aspects of the companies' position with respect to climate change.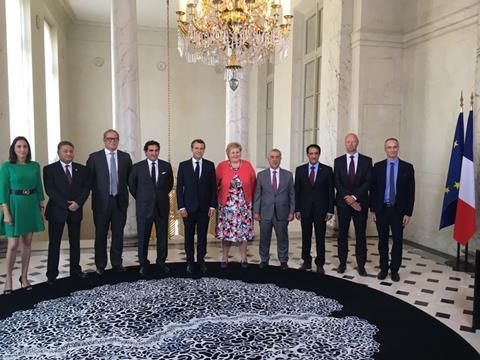 Another principle is that sovereign wealth funds should encourage companies to provide climate-related data based on standardised methodologies and in a consistent format – for example, following the recommendations of the Task Force on Climate-related Financial Disclosures.
The framework, which is voluntary, is the output of a working group comprising six sovereign wealth funds with over $3trn (€2.5trn) in assets between them: Abu Dhabi Investment Authority, Kuwait Investment Authority, the New Zealand Superannuation Fund, Norges Bank Investment Management, Saudi Arabia's Public Investment Fund, and the Qatar Investment Authority.
The group was formed last year on the occasion of the One Planet summit in Paris, with French president Emmanuel Macron described as championing the initiative. The framework was presented on Friday at the Elysée Palace, Macron's official residence, following an event convened by Macron and the prime minister of Norway, Erna Solberg.
In a statement, the six sovereign wealth funds said: "By using the framework, SWFs can reinforce their long-term value creation, improve their risk-return profile, and increase long-term portfolio resilience by factoring and integrating climate issues into their decision-making.
"The One Planet SWF Group hopes that other long-term institutional investors will be able to make use of this framework in the execution of their mandates and investment objectives."