With nearly €4.9trn of assets, BlackRock tops IPE's Top 400 latest ranking of asset managers in terms of global assets under management (AUM).
BlackRock's market share was 7.7% of global assets at the end of 2016. The firm also recorded the highest inflows during the year, bringing in €192bn – nearly three times that of its nearest rival.
Amundi Asset Management, AXA Investment Managers, Goldman Sachs Asset Management and JP Morgan Asset Management made up the rest of the top five for inflows during the year.
The ranking of global managers is largely unchanged from last year, but Fidelity Investments entered the top 10, reporting €2.13trn of AUM and attaining fourth place, following a year in which it expanded its exchange-traded fund business.
As a result, Amundi and Legal & General Investment Management came 11th and 12th, despite both breaking through the €1trn barrier.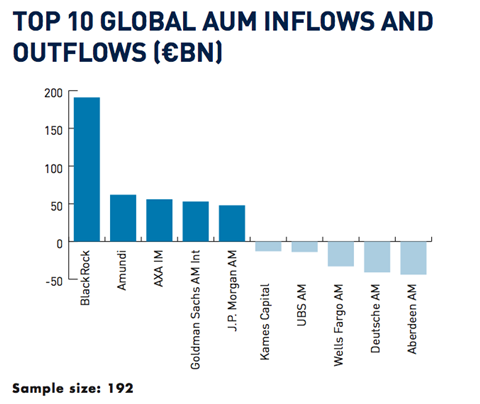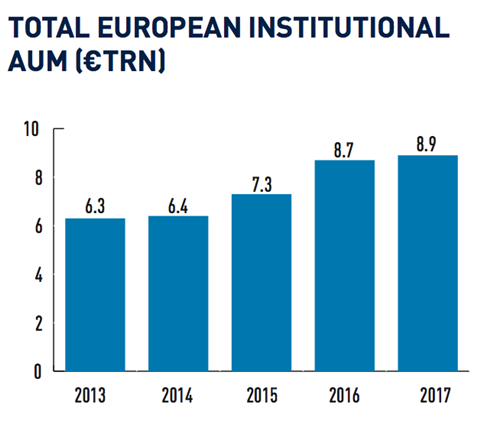 BlackRock also topped the AUM ranking of managers of European institutional assets, with €912bn.
Amundi climbed several places in the ranking to fifth place, reporting an AUM increase of nearly 15% to €309bn. The French asset manager was aided by its strong inflows as well as its acquisition of Pioneer Investments.
Credit Suisse moved up to 10th place, reporting €215bn of assets managed on behalf of European institutional clients. Aberdeen Asset Management fell out of the top five, following a year of outflows. The survey does not reflect the recent merger deals involving Aberdeen and Standard Life Investments, or Janus and Henderson Global Investors.
Leading asset managers ran €63.3trn of assets globally at the end of 2016 the Top 400 Asset Managers survey shows. Global assets grew 12% during 2016, in line with the previous year's growth rate.
Total assets managed on behalf of European institutional clients reached €8.9trn. European institutional assets grew 2.3% during 2016.
For the full Top 400 Asset Managers Special Report, click here.
For last year's rankings, click here.