The Church of England has ruled out buying the loan book of failed UK payday loan company Wonga in order to protect borrowers.
Wonga – which made short-term loans at high interest rates, becoming the UK's biggest payday lender – went into administration last month, following thousands of compensation claims from customers and tougher government rules for the sector. Its assets include a loan book worth around £400m (€450m).
Church leaders met charitable foundations and other investors this week to discuss a potential buyout.
In a statement issued on 21 September, Church Commissioners for England – which runs the church's investment portfolio – said it would not participate, "having concluded that they are not as well placed as others to take this forward".
The Archbishop of Canterbury, Justin Welby – the Church of England's spiritual leader – said: "I fully support and respect the decision of the Church Commissioners not to participate in a potential buyout. They have given this option close attention and I thank them for their time, advice and consideration.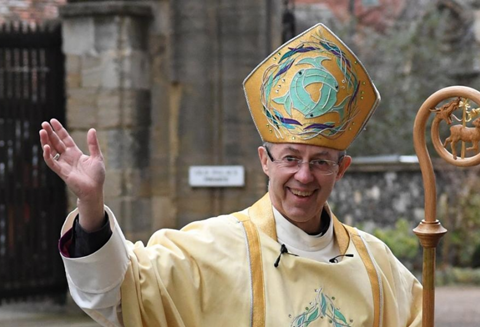 "I will be continuing to examine ways to make affordable credit, debt advice and support more widely available and convening interested parties… If we make the economy fairer for all, we will also make it stronger. When prosperity and justice go hand in hand, every part of society benefits."
Earlier this month, UK politician Frank Field wrote to the archbishop asking him to consider leading a consortium of investors to buy Wonga's loan book, in order to protect customers from exploitation by debt recovery companies.
Field – who is also chair of parliament's Work and Pensions Select Committee – expressed concern that the company's administrators, Grant Thornton, could sell the loans at "knockdown prices" to debt recovery companies, which might then charge high commercial rates to existing borrowers.
A Church of England spokesman said earlier this week: "We are reflecting on what may or may not be possible in the months ahead following Wonga's collapse."
A spokesperson for Grant Thornton said: "The administrators are more than willing to consider all such interest in accordance with their statutory obligations, while working closely with the Financial Conduct Authority to conduct an orderly wind down of the business and supporting customers where possible during this period."
IPE reported earlier this week that it was more likely that the church would attempt to convene parties around the table to explore a range of possible solutions, rather than taking a direct financial investment.
Its own endowment fund is currently worth £8.3bn.
In 2013, a press investigation discovered that the fund's portfolio included a £75,000 investment in Wonga, albeit held indirectly. The revelation was particularly embarrassing for the Commissioners as it followed a public vow by the archbishop to "compete [Wonga] out of existence". The holding was later sold.
Later in 2013, the Church Commissioners – in partnership with other investors – bid to buy more than 300 UK bank branches from RBS for £600m, although RBS later pulled out of the deal.
The new bank was to be called Williams & Glyn's – the branch network's previous name – and was intended to act as a "challenger" bank to the major players, with a focus on ethical standards and servicing the needs of retail and small and medium-sized enterprise customers.
This story was updated on 21 September following a statement from Church Commissioners.