The Church Commissioners, the Church of England's investment arm with an £8.2bn (€9.4bn) portfolio, have nominated Gareth Mostyn as their new chief executive, starting on 1 February 2020.
Mostyn is currently chief finance and operations officer (CFOO) for the National Church Institutions of the Church of England, which encompass the Church Commissioners, Church of England Pensions Board and Archbishops' Council.
In his new role, he will also become secretary to the Church Commissioners, reporting to the First Church Estates Commissioner and the board of governors. He will support the Commissioners in strategic policy and prioritisation, and take responsibility for strategic leadership of the investments team, among other roles.
His tenure of office, which is subject to approval by the Church Commissioners at an extraordinary general meeting to be held in November, will follow the retirement of current CEO Andrew Brown at the end of January 2020.
Mostyn joined the National Church Institutions in 2018 from diamond company De Beers plc, where he was the board director responsible for strategy and corporate affairs, before which he was chief financial officer.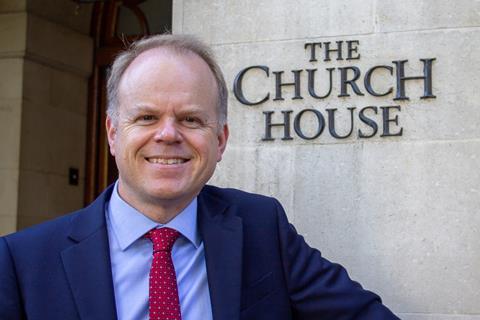 Loretta Minghella, first Church estates commissioner, said: "Since his arrival as CFOO, [Mostyn] has demonstrated a clear-eyed commitment to delivering sustainable financial support to the Church over the long term to help the Church meet its mission priorities."
Minghella continued: "He has a thorough understanding of the oversight required for an endowment of our size and significance, a solid grasp of our requirements as a leader in responsible and ethical investment and a real appreciation of the broader role the Commissioners play in support of the Church's work."
Mostyn has also held senior finance roles with Anglo American and The BOC Group (latterly The Linde Group).
The Church Commissioners made an investment return of 1.8% for the 2018 calendar year, although the average return over the past 30 years is 8.9%, above the Commissioners' 8.2% target.
The Commissioners promote socially responsible investment and engagement with investee companies, and in 2018 voted against or withheld votes on 15.6% of resolutions presented at company meetings, most commonly on executive remuneration.