Specialist alternative asset manager Gresham House has launched an online investor portal intended to facilitate co-investment opportunities and provide better reporting for investors in private assets.
Clients will be able to log on to the portal to see deal-by-deal co-investment opportunities, access information on the assets underlying their investments, read appraisal and investment papers where available, and see how much of their committed cash has been drawn down.
The AIM-listed manager said this level of transparency was common in the public markets but not with private assets.
The manager was motivated by a desire to move way from the "clubby" nature of much private market investing and to offer more structured access to co-investment opportunities, it said at a media briefing.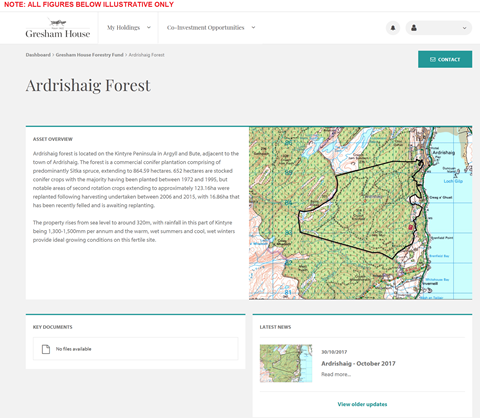 Andy Hampshire, chief technology officer at Gresham House, said: "We understand that, in addition to financial returns, investors are looking for greater transparency, more informed decision-making in their co-investments and a higher level of engagement and communication.
"With the launch of this platform we believe that we are at the forefront of the alternative sector in formalising the co-investment process."
Allowing investors to drill down into the funds they owned was a way to "bring to life" what the manager did, said Hampshire.
For example, an investor in the manager's forestry fund could see information about the underlying forests.
The portal was built for the AIM-listed manager by digital agency MMT Digital. Gresham House considered off-the-shelf industry solutions but was not satisfied with these.
Investors have been involved in the development process from the beginning and a small group has been testing the portal for the past five weeks.
The Royal County of Berkshire Pension Fund is Gresham House's largest shareholder, with a 20% stake. Its fund manager, Nick Greenwood, said: "The Gresham House portal is one of the best examples I have seen for this kind of technology. It looks good, it's easy to use and for a limited partner commitment it shows you straight away how much is drawn.
"I haven't seen something this comprehensive covering private assets, particularly not from an asset manager of Gresham House's size."
Berkshire provided the cornerstone investment for the British Strategic Investment Fund (BSIF), the first fund on a platform Gresham House has created to deploy long-term or "patient" capital, while also providing an opportunity for co-investment.
One other local government pension scheme has committed to BSIF, which closed in June with £150m (€170m) in commitments.
Gresham House had £632m of assets under management as of October.