Institutional alternative investment fund (AIF) assets grew by 13% in 2015, contributing to a record year for European investment funds overall, according to the European Fund and Asset Management Association (EFAMA).
Net assets of AIFs reserved for institutional investors reached €2.42trn at the end of the fourth quarter of 2015, the figures show.
Including retail funds, the total stood at €4.41trn, an increase of 8.3%.
There was stronger growth in institutional net AIF assets, however, as these were up 13.3% compared with the end of December 2014 (13% excluding Ireland).
Institutional AIFs registered total net sales of €181bn for the whole of 2015, according to EFAMA.
Institutional bond AIFs recorded the strongest growth in assets, up 17.1%.
Real estate AIF assets were up 14.7%, and 'other' institutional funds 16%.
There was double-digit growth in multi-asset fund net assets as well, of 11.3%.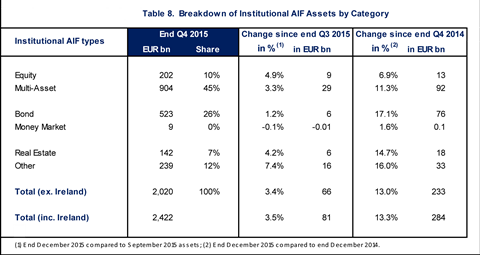 Net assets of institutional equity funds increased by 6.9%.
The results form part of what was overall a record year for the European investment fund industry, according to EFAMA.
Bernard Delbecque, director of economics and research at EFAMA, said: "The growth of fund assets has been substantially positive across Europe, with a very few exceptions, confirming investor confidence in UCITS and AIF."
Net sales of European investment funds rose to an all-time high of €725bn in 2015, and assets under management broke €12trn on the back of a growth rate of 11%.
Demand for UCITS funds reached its highest level ever, with net sales of €573bn.
Among long-term UCITs funds, multi-asset funds attracted the largest net inflows, of €236bn, while equity funds had their best year since 2000, drawing net sales of €134bn.