Bill Gross, once dubbed the 'Bond King' and one of the world's foremost fixed income investors, has announced his retirement from Janus Henderson Investors after more than 40 years in investment.
Gross planned to focus on managing his personal assets and private charitable foundation, Janus Henderson said in a statement today.
The manager currently runs more than $1.6bn (€1.4bn) at Janus Henderson, but once oversaw more than $200bn while at PIMCO, the investment house he co-founded in 1971.
Dick Weil, CEO at Janus Henderson, said: "I have known Bill for the past 23 years. Bill is one of the greatest investors of all time and it has been my honour to work alongside him. I want to personally thank him for his contributions to the firm."
Gross joined Janus Henderson – then Janus Capital – in 2014 after an acrimonious exit from PIMCO . He left as chief investment officer in September 2014 after falling out with senior colleagues and later sued the company for $200m. The parties settled the lawsuit for $81m in 2017.
The global unconstrained bond strategy run by Gross underperformed its benchmark since he joined, according to Janus Henderson. It lost 3.5% net of fees over the course of last year compared to a 2.1% increase in the strategy's benchmark, the three-month dollar Libor.
Similarly, his "total return" strategy – which invests solely in US securities – lost 0.8% in 2018, while its benchmark, the Bloomberg Barclays US Aggregate index, was flat. However, since launch to 31 December 2018 the strategy outperformed by 89 basis points net of fees.
Bill Gross' statement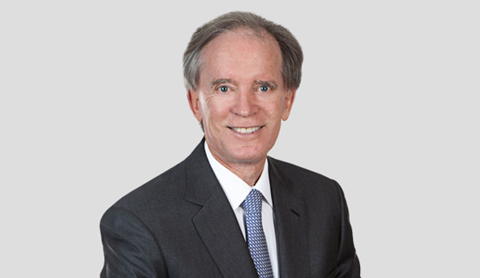 "I've had a wonderful ride for over 40 years in my career – trying at all times to put client interests first while inventing and reinventing active bond management along the way.
"So many friends and associates at my two firms to thank – nothing is possible without a team working together with a common interest. I've been fortunate to have had that.
"And thank you to all of my past clients for their trust and support. I learned early on that without a client, there can be no franchise. I'm off – leaving this port for another destination with high hopes, sunny skies and smooth seas!"
Janus Henderson's global macro fixed income team will take over management of the global unconstrained bond funds, with Nick Maroutsos, co-head of global bonds, becoming portfolio manager from 15 February "to assist with the transition", the company said. The US and Ireland-based versions of the fund will be renamed as "absolute return income opportunities" funds on the same date.
A legendary investor, Bill Gross leaves behind him a long history of fixed income innovation and performance. Many of his portfolio approaches and analytical frameworks continue to be used today by investors around the world.

Wishing him well in his retirement.

— Mohamed A. El-Erian (@elerianm) February 4, 2019