The rollout of MiFID II could encourage institutional investors to make greater use of exchange-trade funds (ETFs) for securities lending and collateral purposes, according to a rating agency.
This was because the new rules, effective yesterday, will lead to more information being available about trading volumes and liquidity.
Before the MiFID II regime, ETF trades did not have to be reported, and, being largely transacted over-the-counter (OTC), this meant trading volumes and hence liquidity were understated.
The new EU rules require ETF trades to be reported.
Moody's expects ETFs to become more widely used by institutional investors as part of securities lending as a result, according to Marina Cremonese, senior analyst at the credit rating agency.
She said there has been a general trend towards increased use of non-cash assets as collateral in securities lending in the past decade. ETFs had been part of this, but in Europe their use had been constrained by a perception of low liquidity.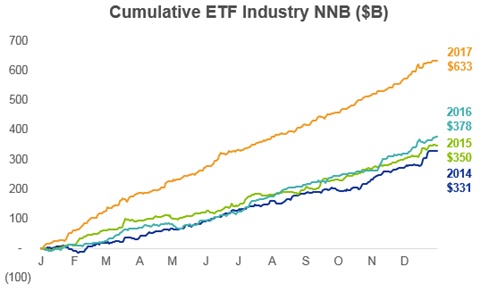 "As things become more transparent and we see the real volumes and liquidity associated with some ETFs we think institutional investors like banks, hedge funds, and asset managers, may use ETFs more as collateral," she told IPE.
Increased transparency brought about by MiFID II may also make it easier for pension funds to accept ETFs as collateral for securities lending, although liquidity will be only one of their considerations, she added.
The MiFID II rules have come into effect after a buoyant year for ETFs.
BlackRock yesterday said that its iShares business expanded at its fastest pace last year, with institutional investors deepening their usage of ETFs as financial instruments alongside bonds and derivatives in fast-growing buy-side to buy-side networked trading.
It predicts the global ETF market will more than double in assets under management by 2022, said Mark Wiedman, global head of iShares and index investments at BlackRock.
Colleague Stephen Cohen, head of iShares EMEA at BlackRock, said: "As the impact of MiFID II rules resound across the region we believe the European ETF industry is set for a new phase of growth."
The global ETF industry has more than $4.5trn (€3.7trn) of assets under management, according to BlackRock.
See IPE's November magazine for a guide on ETFs and this month's magazine for a special report on investment research and MiFID II