Speakers at fringe events in Glasgow around COP26 this week emphasised biodiversity and nature-based investing following the global commitment to halt deforestation announced on Tuesday.
Comments by Indonesia's environment minister about the feasibility of the agreement's 2030 target took some of the shine off the announcement. But there is much significance in that the agreement was backed by 30 global financial institutions – among them AP2 in Sweden, Switzerland's CPEG, and the UK's Church Commissioners, Church of England Pensions Board and LGPS Central.
Put simply, forests are highly efficient and cost effective removers of carbon from the atmosphere. According to recent research they remove a net 7.6 billion tonnes of CO2 annually and sequestered twice as much carbon as they emitted between 2001-19.
For Thomas Hohne-Sparborth, head of sustainability research at Lombard Odier, one of the 30 financial sector signatories: "Ceasing deforestation, and investment in reforestation, has garnered growing momentum owing to the recognition of not only the comparatively low cost of this intervention, but also its associated benefits to the wider environment, biodiversity and the communities that depend on it."
This requires a look at commodities supply chains – beef, soy, palm oil among them. Blended finance initiatives like the UK's £150m (€175m) Mobilising Finance for Forests programme will be instrumental here.
But commodities needed for energy transition also come into play. As a Chatham House paper from October 2020 pointed out, many of the minerals needed for green technologies and sustainable infrastructure are located in developing countries.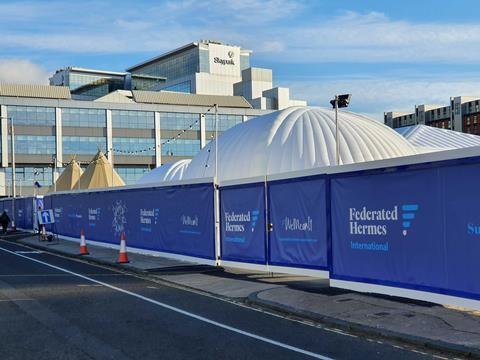 "Many of these commodities are found in critical forest landscapes, placing forests at increased risk as demand for minerals increases," the paper notes.
It continues:
"The links between forest impacts at project level and climate commitments at corporate level remain underexplored. The monitoring and reporting of mining's direct and indirect roles in land-use change, including forest loss and degradation, could support a more comprehensive assessment of the sector's contribution to climate change and biodiversity loss."
"If we don't solve the problems of tropical rainforests we lose the fight against climate change."

Lee White, conservation scientist and Gabon minister of forests and climate change
Investors of all stripes would do well to start thinking about the Congo Basin. Democratic Republic of Congo (DRC) is rapidly depleting its forests and land use pressure is likely to continue as the country's population grows. DRC's population is set to more than double from its current level of around 90 million now to 194 million by 2050, according to the UN.
DRC is also home to 60% of the world's cobalt reserves – cobalt of course is a key component of lithium ion batteries, used in electric vehicles, which we wrote about in September.
Speaking at a COP26 fringe event organised by Lombard Odier and the Terra Carta Action Forum this week, Professor Lee White – a conservationist who in 2019 was appointed as Gabon's minister of forests, oceans, environment and climate change – said the west African country's forests absorb about 100 million tonnes of CO2 a year (almost enough to offset Belgium's emissions).
DRC, by contrast, lost 1.3 million hectares of natural forest last year, equivalent to more than 850 million tonnes of CO2 emissions (more than Germany emits). Much forest land is cleared by subsistence farmers and according to White, the simplest solution could just be to pay those farmers not to cut down trees.
He said: "If we don't solve the problems of tropical rainforests we lose the fight against climate change."
A biodiversity leading indicator
Data reliability on deforestation can be an issue, as reported in 2018 by the Yale School of the Environment, with a risk of underreporting.
And despite increasing focus on biodiversity by investors, there is a lack of a leading (and attention focusing) indicator akin to global projected temperature rises or absolute CO2 emissions data.
The UK's Natural History Museum, a research institution in its own right employing over 300 academic scientists, is trying to bridge that gap with its own leading indicator – the Biodiversity Intactness Index.
This is currently in beta mode but the museum's director Douglas Gurr (a former McKinsey partner) urged attendees at a Federated Hermes fringe event at COP to test the index and send in feedback.
As data reliability increases, so will reporting requirements – as IPE has reported, and France is mandating biodiversity reporting.
The forgotten COP
With so much focus on Glasgow's COP26, you might be forgiven for not recognising the Kunming Declaration, signed at October's UN Biodiversity Conference at which global governments agreed to a post 2020 Global Biodiversity Framework.
The COP15 Biodiversity Conference will reconvene in person in Kunming in southern China next spring to hammer out a 10-year framework to reverse nature loss.
It would be a safe bet to expect greater focus on biodiversity all along the investment value chain in 2022 and beyond – seeking to curb destructive activities by engagement with corporates, changing lending patterns and through direct investing for biodiversity impact.