More than 30 financial institutions, including investors such as AP2 and LGPS Central, have made a commitment to tackle agricultural commodity-driven deforestation and help drive the shift towards sustainable production and nature-based climate solutions.
The focus will be on beef, soy, palm oil, pulp and paper. The timeframe is tight – the target is for signatories to eliminate deforestation caused by sourcing for those agricultural commodities from their investment and lending portfolios by 2025.
The commitment comes as more than 100 world leaders pledged to halt and reverse forest loss and land degradation by 2030, the Glasgow Leaders' Declaration on Forest and Land Use. The commitment will be supported by a pledge to provide $12bn of public finance from 12 countries from 2021 – 2025, with talk also of "at least £5.3 billion ($7.2 billion) of newly-mobilised private sector funding".
Shelagh Whitley, chief sustainability officer at the Principles for Responsible Investment, said: "The first major deal of COP26 is an example of how commitments from the financial sector alongside governments may be structured in future, with over 30 financial institutions, representing more than US$8.7trn in AUM joining 120 world leaders to address underlying causes of deforestation."
She said the deal's focus on the sustainable production of key commodities signalled alignment among investors to address key drivers of deforestation.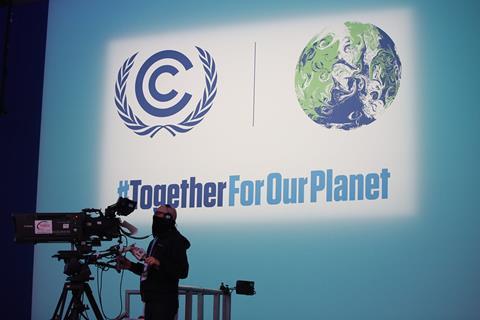 Timber and natural capital asset managers welcomed the commitments announced by world leaders at the UN climate summit.
Auditors warned not to ignore lack of 'climate-aware' financial statements
A group of investors has written to the UK's big four audit firms to urge them to flag when company financial statements ignore the global transition to a 1.5°C pathway.
The investors said auditors failing to respond to the call for net zero-aligned audits should expect increasing votes against reappointment.
The letters are the latest instalment in an engagement initiated in January 2019, with Sarasin & Partners at the help. The investors consider that the situation has become more pressing since 2019.
The 24-strong investor group includes Aviva Investors, Border to Coast Pensions Partnership, Candriam, ERAFP, and Railpen.
The letters to the auditors can be found here.
Plus:
Nordic and UK pension funds have committed to invest $130bn (€112bn) in clean energy and the green transition by 2030. See full story here.
BlackRock's blended finance vehicle for investing in climate infrastructure in emerging markets raised $673m, with CEO Larry Fink saying the asset manager could have raised more.
Five pension funds making up the Brunel Pension Partnership decided to switch £3bn of passively-managed assets to new indices co-developed by Brunel following EU Paris-aligned Benchmark (PAB) requirements. See full story here.
New asset owner-backed research has for the first time identified key industry carbon budgets in a system approach, which the scientists involved claim allows "true" science-based net-zero investing. See the full story here.
Don't miss Towards Net Zero, COP26 and beyond
Our extensive Special Report looks at Net Zero through an institutional lens, talking to leading pension funds about their climate related commitments, but also covering areas like carbon pricing, portfolio transition, blended finance and the latest investment research
Looking for IPE's latest magazine? Read the digital edition here.