Nordic and UK pension funds have committed to invest $130bn (€112bn) in clean energy and the green transition by 2030, in a collective pledge announced at an event in Glasgow this morning, with the Danish pensions lobby pointing out that 40% of this was down to its members.
The Climate Investment Coalition (CIC) – a scheme formed two years ago to foster private funding for clean energy and climate investments – announced that a range of pension funds, including Iceland's Almenni Pension Fund, Denmark's ATP and the Environment Agency Pension Fund in the UK, had collectively made the commitment and also promised to report annually on the progress of their climate investments.
The announcement was made at an event on the side of the UN Climate Change Conference, COP26, organised by World Climate Foundation and the Institutional Investors Group on Climate Change (IIGCC).
Peter Damgaard Jensen, CIC co-chair, said: "These ambitious pension funds are taking critical steps to ensure pensions take advantage of the enormous opportunities of the green transition, help spur immediate solutions to lower carbon emissions, while protecting our savings against the ravages of climate change."
Mark Fawcett, chief investment officer of UK defined contribution master trust NEST, said: "We're already hard at work to deliver our net zero 2050 ambition, having taken immediate steps to reduce our portfolio's carbon footprint and halve our emissions by 2030."
He added that this work included a commitment to invest "billions of pounds" into renewable infrastructure over the coming decades.
The prime ministers of Denmark, the Faroe Islands, Iceland, Norway and Sweden were present at the event, along with the president of Finland, and premier of the Greenland government.
Bo Foged, chief executive officer of ATP, Thorey Thordardottir, CEO of the Icelandic Pension Funds Association, and Kent Damsgaard, CEO of Insurance & Pension Denmark (IPD) were also there in person, with other pension fund leaders giving virtual statements.
Twenty five pension funds and providers have made the commitments this year, adding to the commitment made by Danish pension funds and insurers in 2019 via their industry association IPD, according to information released by CIC.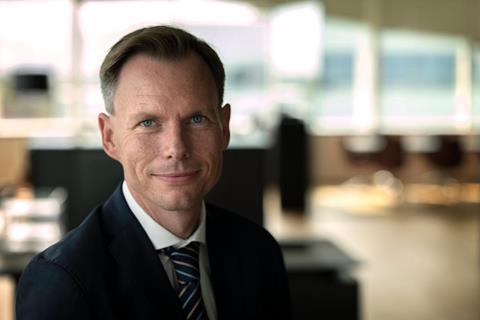 IPD said today that its members had pledged to invest DKK350bn (€47bn) in the green transition by 2030, which formed part of the group commitment made at yesterday's conference.
The lobby group boasted that the Danish firms would therefore be accounting for more than 40% of the total commitment, with Damsgaard saying: "It is our commitment that is the role model for the rest of the Nordic region and the UK.
"I am proud of that and I hope that with this initiative together with Prime Minister Mette Frederiksen we can help to put Denmark on the green world map," he added.
IPD said this Northern European commitment was based on the Danish model, as the lobby group and the country's pension providers already announced they would invest DKK350bn by 2030 back in 2019.
Frederiksen said: "With a commitment of DKK830bn, the pension companies in Denmark, the Nordic countries and the UK are sending an important signal that together we give high priority to the green transition."
The premier added that the country wanted to be a "leading region" for climate-friendly solutions globally, and aimed to create jobs and exports while contributing to the green transition, concluding: "I am glad that we can show Denmark as a role model here at COP26."
Not a member of IPD, Denmark's largest pension fund ATP is among the latest wave of pension funds to commit, having announced at the end of last week that it was increasing its climate ambitions and would make DKK200bn (€27bn) of green investments by 2030 – an amount equalling more than a fifth of its current assets.
CIC listed the pension providers making the commitment in 2021 (following the 2019 commitment from IPD's members) as:
Almenni Pension Fund
ATP
Bank Employees' Pension Fund, Iceland
The Pension Fund for Reykjavík City Employees
Birta Pension Fund
Brú Pension Fund
Environment Agency Pension Fund
Festa Pension Fund
Frjálsi Pension Fund
Gildi Pension Fund
Greater Manchester Pension Fund
Ilmarinen
KLP
Lifsverk Pension Fund
Lív Group
LSR - Icelandic Pension Fund for State Employees
Merseyside Pension Fund
NEST
Pension Fund of Commerce
Skandia
SL, The General Pension Fund, Iceland
SPP
Stapi Pension Fund
Storebrand Group
Varma
Looking for IPE's latest magazine? Read the digital edition here.