The fund bases its ESG investments on engagement, screening and active ownership
Key data
• Labour-market pension fund with DC structure
• Assets of €36bn
• Location: Copenhagen
• Net-zero target: 2050
• Seven staff members primarily devoted to ESG
• ESG approach based on engagement, screening and active ownership
A co-founder member of the Net-Zero Asset Owner Alliance, Pension-Danmark is more focused on lowering real-world carbon emissions than just shrinking the footprint of its own investment portfolio, according to Jan Kæraa Rasmussen, head of ESG.
"The important thing for us, the overall purpose, is to have a real-economy impact.
It doesn't help anybody if we have a fully decarbonised portfolio but the real world hasn't changed. We do want to decarbonise our portfolio, but that should be the result of us being investors in an economy having decarbonised itself," Kæraa Rasmussen says.
This means the Danish pension fund has a preference for investments that focus on the impact on the real economy. "This holistic view emphasises investment in climate solutions, and that could be in all sectors and assets classes.
"Historically, we have done a lot of investment in renewable energy, infrastructure and sustainable real estate, but listed equity and green bonds are also involved here," Kæraa Rasmussen says.
Active ownership is the second key element of PensionDanmark's ESG work.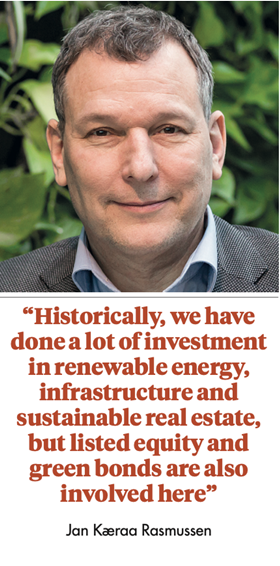 "We have to have appreciative and constructive dialogues with companies to understand what the best opportunity is for them to transform their businesses – dialogues in which we get clever and can find the solutions together."
The third key aspect is target-setting and reporting on how those goals are to be achieved, and the progress towards them.
"You get what you measure, and by setting standards for your reporting you will also be keener in your drive to achieve the targets you set," Kæraa Rasmussen continues.
On the contentious issue of fossil fuel divestment, the ESG chief says that though there is a very strong case for banishing coal investments, figures from the International Energy Agency show there will still be a need – though substantially reduced – for both oil and gas during the shift to renewables in the run up to 2050.
"So I still think there is room for investors in that sector, because we have to recognise that these products are needed in the real economy.
"The question is really about active ownership and understanding these companies, what they can do in the future. Some oil and gas companies can use their cash to transform themselves to a clean-energy company, by entering, for example, renewable-energy production companies and other technologies.
"And some oil and gas companies should probably just downscale their oil and gas production. Maybe they would not be the best developers of new energy, so they should focus on paying more dividends to investors," he says.
Looking to world leaders
Looking ahead to COP26 in Glasgow, Kæraa Rasmussen says the international climate summit will be the most important such meeting since Paris in 2015.
Investments that PensionDanmark and others have planned and already allocated resources to – including green technologies of the future such as the Danish energy island project and green hydrogen factories – were made, he says, in the expectation that the world's leaders would play their part by making vital decisions to help the world economy decarbonise.
"I think the ball is very much at the feet of the world's leaders. What we can hope for, is that there will be an agreement about a global coal phaseout. I think that would be a very important step –and not too high a hanging fruit for the world leaders.
"Hopefully we can get some signals on carbon pricing in the future. This doesn't have to be the same in all regions.
"I think there are very positive developments in the EU with the initiatives played out in the Fit for 55 plan, with higher quotas, emissions trading, and also with the Carbon Border Adjustment Mechanism. And I think that will also inspire other regions in the world to take some measures," he says.
Higher decarbonisation ambitions from individual countries would also be welcome, according to Kæraa Rasmussen: "There has been some progress, but the ambition could be raised further."
Leaders should also use the conference to agree how to expand climate investments, particularly in less developed countries.
"There needs to be a transfer of technology, and there is a very good case for public/private partnerships and blended finance when we have to scale investments to less developed countries," he says.
PensionDenmark's responsible investment work is based on three pillars of engagement with the world, screening and active ownership. The fund states: "All three principles support our goal towards securing the highest possible returns for our members, while being committed to our role as a responsible investor."