The asset pool has released a standalone climate-change policy to meet net zero
Key data

• UK local government pensions asset pool
• Assets: £34.5bn (€40bn) – including AUM of £24.67bn and assets under advice of £10.7bn
• Location: Leeds
• Net-zero target: 2050 or sooner
• Interim net-zero target: 50% reduction by 2030
The UK pension industry may recall 2021 as the year when climate risk finally moved to the forefront of the agenda. In June, the Department of of Work and Pensions released new rules making it mandatory for funds to disclose how they assess climate risk.
The rules are modelled on the framework put forward by the Taskforce on Climate-related Financial Disclosures (TCFD). The UK is the first large country to incorporate the TCFD framework in pension regulation.
Some UK funds are already taking significant steps beyond climate-risk assessment and disclosure and committing to achieve net-zero greenhouse gas emissions.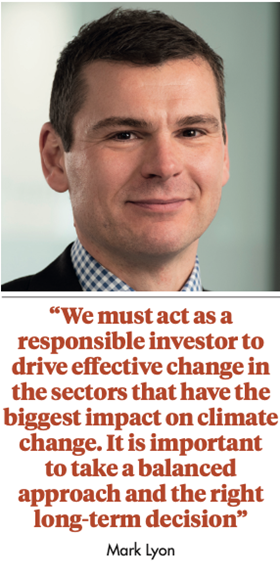 One of the latest to join that relatively small group is the Border to Coast Pension Partnership (BTCPP). It oversees £34.5bn (€40bn) of assets on behalf of 11 UK local government pension schemes (LGPS) as one of eight organisations set up to pool LGPS assets, deliver economies of scale and achieve cost savings.
BTCPP announced a commitment to achieve net-zero emissions by 2050 earlier this year and at the same time has released its first standalone climate-change policy, which will be implemented over the next 12 months.
Mark Lyon, BTCPP head of internal management, says that the move recognises "the systemic threat posed by climate change".
The first interim target is to reach a 50% reduction of portfolio emissions by 2030. The institution intends to prioritise engagement with policymakers, regulators and companies, in order to achieve real economy emissions reductions, says Lyon.
The focus will be on facilitating increased investment in climate transition solutions, improving carbon data disclosure and escalating the institution's voting policy.
The plan will be supported by the Net Zero Investment Framework created by the Institutional Investors Group on Climate Change (IIGCC), which cuts across the institution's whole portfolio.
Private markets challenges
Lyon says achieving better carbon data disclosure in private markets is a challenge the institution plans to tackle head-on. Border to Coast's private markets programme totals around £5.7bn of assets.
"Getting clear and consistent metrics across all asset classes is one of the key challenges to get to net-zero emissions.
We use several different tools to assess climate-related risk and opportunities. For example, for listed equity and fixed income we use MSCI carbon portfolio analytics to implement carbon screening.
"Carbon footprinting of unlisted investments is more challenging as few private companies measure and report emissions data, and this is an area where we will work with the industry to enable us to monitor our private market portfolios as they grow and mature," says Lyon.
To that end, this year the institution supported its private markets consultant, Albourne, in its development of a new ESG-scoring framework for alternatives to help standardise and improve reporting in the asset class.
The decision whether to engage with or divest from heavy carbon emitters never has a simple answer, but Lyon outlines a pragmatic approach grounded in long-term thinking.
He says: "While it's feasible for investors to have a low-carbon footprint in their portfolios, it doesn't change the underlying risks we are all facing. Carbon-intensive sectors need significant investment if they are to stop being part of the problem and become part of the solution.
"We must act as a responsible investor to drive effective change in the sectors that have the biggest impact on climate change. It is important to take a balanced approach and the right long-term decision may be to invest in a firm which has high emissions today if we believe it is part of the solution to build a low-carbon economy."
By way of example, BTCPP holds a position in Holcim, the Switzerland-based multi-national manufacturer of building materials and cement. "We maintain a position in the company because of its work to create lower-carbon building materials and lead the way on carbon-capture storage projects, supporting crucial work in the energy transition. As an investor, we recognise that change often does not happen overnight, and long-term consistent engagement is key," says Lyon.
"That said, we recognise there are limitations to engagement. For example, we don't invest in any pure coal or tar sands companies due to what we see as both the lack of sustainable future returns, and the inability for such companies to change their strategy and make improvements. If the ability or appetite for positive change at any asset decreased, or if our engagement efforts are escalated and still fail, divesting is always an option open to us," he adds.