The pension provider is decarbonising its portfolio one asset class at a time
Key data
• Denmark's largest mutually-owned commercial pension provider
• Assets: DKK730bn (€98bn)
• Location: Copenhagen
• Net-zero target: 2050
• Interim net-zero target: 29% reduction by 2025
PFA Pension, one of Denmark's largest pension companies, has announced the first interim target within its plan to achieve net-zero carbon emissions by 2050. The announcement, at the end of last summer, commits the organisation to a 29% reduction in emissions by 2025. This will be achieved by focusing on listed equities, real estate and corporate bonds.
Christian Storm Schubart, PFA's head of ESG, adds a valuable perspective to the depth of the company's net-zero strategy. While many investors are giving in to the pressure to announce ambitious climate-related plans, few can back up their announcements with PFA's long-standing experience.
"Achieving net-zero emissions and playing our part in the transition towards a greener economy has been at the forefront of PFA's agenda for many years. We have always been supportive of the Paris Agreement and its targets, so setting reduction targets along the way is natural for us. We see our first interim target as fairly ambitious, but it is also realistic in our view," says Schubart.
The company, which had DKK730bn (€98bn) in assets under management at the end of last year, has laid the groundwork for reaching its 2050 target for a number of years, primarily by becoming a large investor in non-listed green assets.
The company has invested in the world's largest offshore wind farms, Hornsea 1 and Walney Extension Offshore Wind Farm, both in the UK and both owned by the Danish energy company Ørsted. This is in addition to six solar parks in England and Scandlines' hybrid ferries, among other assets.
More recently, PFA has divested from 16 out of 18 of its equity positions in energy companies. The decision came as the company reached the conclusion that to achieve its emission-reduction targets, it was best to focus on fewer energy companies with more credible plans, where engagement can make the difference.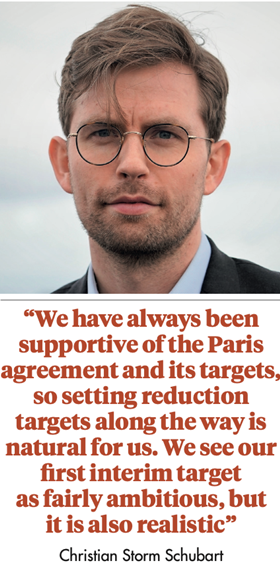 "Given the importance of our fundamental equity strategy, we will always prefer engagement rather than divestment. I struggle to see us making new investments in the coal sector, and we have set a criteria whereby we will not invest in coal mines that derive more than 5% of revenues from thermal coal. However, our approach is to own a number of oil and gas companies, focusing on those that are better prepared for the green transition," says Schubart.
"The approach only works through active ownership. We will only achieve our targets by talking to the larger emitters within our portfolio. We have a lot of discussions with our investee companies, and we require regular status updates to follow up on their transition plans," he adds.
As well as the engagement component, the company is looking at its investment process and its approach to voting. It is also looking to add more climate solutions to its offering.
Across asset classes
Between 2019 and 2021, the company has worked on its corporate credit assets, resulting in a 35% reduction of carbon emissions from its portfolio. In 2020, PFA launched a climate pension product, PFA Klima Plus, which has returned 26.5% since launch.
The methodology chosen to account for carbon emissions focuses on enterprise value, which allows PFA to compare the carbon intensity of its equity and debt holdings. But PFA's net-zero strategy consists of a step-by-step approach that seeks to reduce emissions one asset class at a time, says Schubart.
"So far we have focused on equity, debt and real estate. The next asset classes we will be looking at are government bonds, supranational bonds and infrastructure, including renewables. The tricky thing will be to broaden the approach to our portfolios of non-listed assets – for instance, private equity," he says.
Expanding PFA's portfolio of investments in green infrastructure assets is part of the strategy, but Schubart points out that the market is becoming increasingly competitive. "That is why we may need to look for niche opportunities within green infrastructure beyond wind farms and solar parks," Schubart says.
Adapting to the new regulatory requirements is taking up a large share of PFA's sustainability efforts, but the benefits are significant. Schubart says: "The EU's taxonomy will give us some welcome clarity on what can be defined as green activities and help us identify which investments are more urgent in terms of driving capital towards the EU's net-zero objectives."
He adds: "However, it will take time to collect the data and educate the market, especially those among our investee companies that are domiciled outside the EU. We will also have to educate our members about green investment products. The share of taxonomy alignment in such products could be lower than what customers would expect from the industry, but this will increase in the long term in the context of the green transition."