The Cheshire Pension Fund is developing a detailed climate strategy and a climate stewardship plan taking into account its characteristics and its policy of engaging with companies to encourage the development of climate-resilient business strategies.
It claims it is the first local pension fund to report on the carbon footprint of its £6bn (€6.5bn) investment portfolio.
The move follows a recent in-depth review of its climate risks under different climate change scenarios across all asset classes carried out by the fund's pooling company, LGPS Central.
In the scheme's Cheshire Pension Fund Climate-Related Disclosure report published this month, the fund highlighted its support for the Taskforce on Climate-related Financial Disclosures (TCFD) recommendations as the optimal framework to describe and communicate the steps it is taking to manage climate-related risks and incorporate climate risk management into its investment processes.
TCFD's recommendations (see image) are based on the financial materiality of climate change, the fund said, adding that they "are designed so as to make TCFD-aligned disclosures comparable, but with sufficient flexibility to account for local circumstances".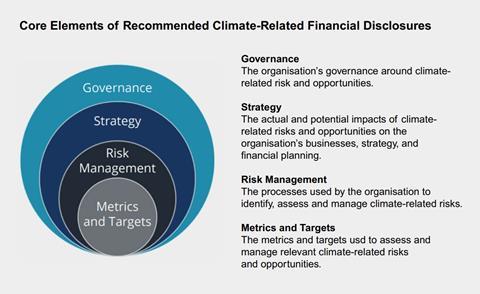 Early adopters of the TCFD recommendations include AP2, Nest, PGGM, RPMI Railpen, The Pensions Trust, and Environment Agency Pension Fund.
Not just oil and gas
Cheshire's report disclosed that the issue faced by diversified investors such as pension funds is not limited to the oil and gas and power generation sectors, but also to downstream sectors.
"Research suggests that the oil and gas sector is not homogeneous with regards to climate risk: were climate policies to affect the oil price, those companies with assets lower down the cost curve are less likely to be financially compromised by those companies with higher cost assets," the fund said.
Investors that assume each fossil fuel company bears an equal magnitude of climate-related risk could be led towards sub-optimal decision-making, it added.
Although the scheme is diversified across various asset classes, regions, and sectors, it is recognised that climate risk is systemic and is unlikely to be eliminated through diversification alone.
Partly to reduce its climate-related risks, Cheshire invested £500m in a multi-factor climate fund in October 2019 and is now also exploring options to further embed climate-related risks and opportunities into its investment strategy, including reviewing potential investments in sustainable asset classes where this supports the fund's investment and funding objectives.
The scheme has also engaged with consultancy Mercer to understand the extent to which its risk and return characteristics could come to be affected by a set of plausible climate scenarios.
This includes an estimation of the annual climate-related impact on returns – at fund and asset-class level, including all asset classes. The climate scenarios considered are 2°C, 3°C and 4°C, the report disclosed.
Based on its climate risk report, the scheme will develop a climate stewardship plan which will include targeted engagement at investee companies of particular significance to the its portfolio.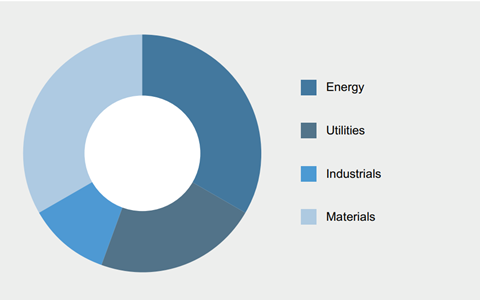 Wherever feasible engagement objectives will be SMART – specific, measurable, actionable, relevant and time-bound – to enable the fund to adequately assess a company's progress towards their net zero carbon target, it said.
Cheshire believes all companies should align their business activities with the Paris Agreement on climate change.
Carbon footprint
The fund's total equities portfolio is approximately 30% more carbon efficient than the FTSE All World index. This means that, on average, for every million dollar of economic output companies produce, the fund's investee companies emit 30% fewer greenhouse gas (GHG) emissions than the companies in the index.
The report received from LGPS Central shows that both the active equity portfolio and the passive and factor-based equities portfolios are more carbon efficient than their respective benchmarks.
Within these broad portfolios, every individual underlying equity strategy bar one – the strategy tracking the FTSE RAFI 3000 index – has a portfolio carbon footprint lower than the FTSE All World index.
Myles Hogg, chair of the Cheshire scheme, said: "Our priority remains our financial duty to pay the pensions of our 100,000 members and to do this we need to ensure the assets of the fund are well diversified and resilient when faced with the impact of climate change."
In addition, both the active equity portfolio and the passive and factor-based equities portfolio have lower weights in companies with fossil fuel reserves and thermal coal reserves than their benchmarks.
"The fund will continue to explore what additional steps it can take to reduce investment risk through further reductions in its carbon footprint," Hogg said.
Looking for IPE's latest magazine? Read the digital edition here.