The Network for Greening the Financial System (NGFS) has launched a consultation on what it describes as a repository of climate data needs and available sources, a move intended to further its work on bridging climate data gaps facing the financial sector.
The NGFS, which has grown to encompass more than 100 central banks and supervisors, said the repository was intended as a directory of available climate data based on specific needs and stakeholder uses case.
Since laying out the repository in a progress report on bridging data gaps in May 2021, the NGFS has built a directory web interface, and it is on this that it is seeking feedback through a short questionnaire open until 6 May.
"The consultation […] is a crucial step to finalise the directory by seeking feedback from the data users and providers on (i) the format and functionalities of the current directory web interface (a prototype at this stage); and (ii) the contents of the directory with respect to climate data sources, including by pointing out potential data gaps and sources that have not been identified so far," it said.
The NGFS noted that the directory does not offer direct access to actual climate data, but said it was a useful tool for financial sector stakeholders to identify climate data sources.
The group had already previously identified six stakeholder categories and six main use cases for climate data, such as insurers and pension funds and investment and lending decisions. It added metrics and raw data items to this framework to create a three-layered directory (see schematic overview).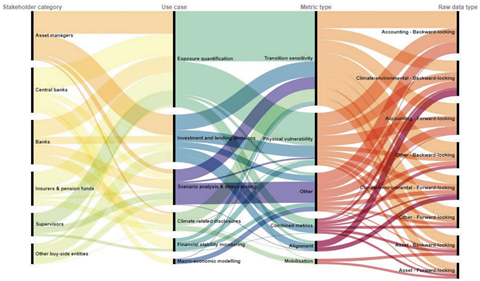 The NGFS this week also published a report on 'Enhancing Market Transparency in Green and Transition Finance', saying it aimed to feed into international discussions about improving compatibility of approaches to identify, verify and align investments to sustainability goals.
BlackRock signs up to asset owner SDG platform
BlackRock has subscribed to the dataset developed by the asset owner-backed Sustainable Development Investments Asset Owner Platform (SDI AOP).
The dataset analyses corporate alignment with the UN Sustainable Development Goals (SDGs).
SDI AOP was launched in 2020 by the Dutch pension providers APG and PGGM. Later that year, British Columbia Investment Management and AustralianSuper joined as founding partners.
Underling data is made available to the market through analytics and index provider Qontigo. BlackRock will use the data to advise clients on ESG portfolio construction, research, reporting, product creation and evolution, according to a statement.
BlackRock is the 10th subscriber to the platform, according to IPE's tally. NN Investment Partners joined in March.
'Virtual' CSO proposition launched
JTC, a professional services provider, has launched an offering aimed at organisations struggling to navigate the rapidly evolving ESG regulatory and reporting landscape.
It said its "virtual Chief Sustainability Officer (vCSO)" service provided clients, on a flexible, outsourced basis, with the technical knowledge and support they need to understand, define and implement their own ESG strategy, policies and reporting.
JTC's focus will be on the fund, corporate and private client markets.
UK pension providers make ESG moves
National Pension Trust (NPT), a £978m multi-employer defined contribution scheme, is to adopt an ESG-oriented default arrangement, while Aegon UK has said it is investing £3bn in new UK-domiciled ESG index mutual funds for its workplace default fund.
NPT said its new arrangement would focus on climate change and the carbon transition while aligning with a 2°C investment policy. It will be working with State Street Global Advisors, the Transition Pathway Initiative and Legal and General Investment Management.
Aegon said using the new funds, along with a BlackRock ESG fixed income fund, would see ESG exposure in the workplace default fund double for investors still in the growth stage of their retirement journey, from 30% to 60%.

Susanna is deputy news editor at IPE. At IPE she covers responsible investment and EU regulation, but also enjoys reporting on developments in and around the UK pensions industry. Having been a financial journalist since 2008, Susanna started her career as a corporate governance/corporate social responsibility analyst at proxy advisory firm PIRC.
View full Profile