A group of 12 French investors has withdrawn a climate shareholder resolution they had tabled for the upcoming annual general meeting (AGM) of TotalEnergies after the company made new disclosure commitments.
Another group of investors, led by asset manager MN on behalf of Dutch pension fund PMT, is sticking with a shareholder resolution focussed on Paris-aligned targets, however.
In a letter to investors earlier this month, TotalEnergies said that, following disussions with French investors subejct to Article 29 of the French Energy-Climate Law, it wanted to confirm it would publish an annual sustainability and climate report presenting the company's energy transition strategy and implementation.
Specific contents would include absolute and relative targets for greenhouse gas (GHG) emissions for Scope 1, 2 and 3 for 2025 and 2030 covering all activities, and short- and medium-term investment plans broken down by sector and by orientation between maintenance and growth of the company's assets.
The company also committed to an annual shareholder advisory vote on its report, a so-called 'Say on Climate'.
Citing the company's commitments, the group of 12 French investors, which include Candriam, pension fund ERAFP, La Banque Postale Asset Management, and Meeschaert Amilton Asset Management, said their draft resolution "has now lapsed".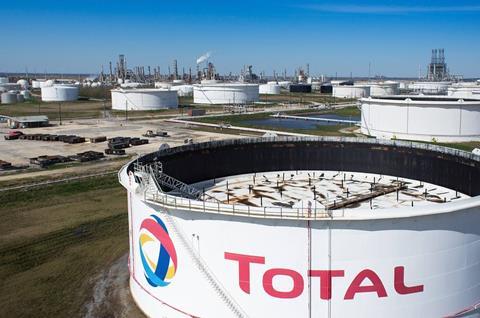 They said they welcomed the progress made, which they attributed to "an ongoing and in-depth dialogue between the company and various investor coalitions, which should continue".
MN and others pursue targets resolution
Bas Bijleveld, senior adviser, responsible investment and governance at MN in the Netherlands, meanwhile, told IPE that MN and its co-filing investors were pursuing with their shareholder resolution for Total's AGM, as in its letter the company made new disclosure commitments but did not tighten its targets.
"The new commitments in the letter do not impact our ask in the resolution," he said. "Our ask from Total is to increase its targets to level that is Paris Aligned, using the CA100+ Net Zero Company Benchmark as reference."
According to the CA100+ benchmark assessment, TotalEnergies' short- and medium-term GHG emission intensity reduction targets are not aligned with a 1.5°C scenario.
The co-filers of the targets-focussed shareholder resolution include Achmea Investment Management, APG (on behalf of clients BpfBOUW, SPW and PPF APG), Greater Manchester Pension Fund, and PGGM Investments.
Bijleveld said the company had made progress over the last years but its current efforts "are not enough to stop global warming".
"With this shareholder resolution we encourage the company to become the first oil and gas giant that has its targets for 2030 completely 1.5°C aligned and be an example for others in the sector."
TotalEnergies' AGM is on 25 May. The rebrand from Total was approved at last year's AGM.

Susanna is deputy news editor at IPE. At IPE she covers responsible investment and EU regulation, but also enjoys reporting on developments in and around the UK pensions industry. Having been a financial journalist since 2008, Susanna started her career as a corporate governance/corporate social responsibility analyst at proxy advisory firm PIRC.