Norway's giant sovereign wealth fund terminated asset managers running NOK20bn (€2bn) of green investment mandates last year, bringing the investments in house to save costs.
Norges Bank Investment Management (NBIM), which runs the NOK8.6trn Government Pension Fund Global (GPFG), said in its annual responsible investment report that its environmental, social and corporate governance (ESG) themed mandates made a loss of 8.3% over the course of last year.
The allocation's annualised return since inception just over eight years ago was 4.5% – below the 7.3% return on the MSCI Global Environment index over the same period, according to NBIM data.
"To reduce cost in the management of the fund, the externally managed, environment-related mandates were terminated in 2018," NBIM said in the report, adding that these mandates were now almost totally managed internally.
"We have built up extensive internal expertise in environmental technology," it said.
The mandates – set up in 2010 on the Norwegian Finance Ministry's instruction – totalled NOK43.3bn at the end of 2018. A spokesperson for NBIM said around NOK20bn was managed externally.
According to the rules laid down by the ministry, the allocation can range between NOK30bn and NOK60bn of assets.
Further reading
Norway's oil fund to axe real estate arm and reduce target allocation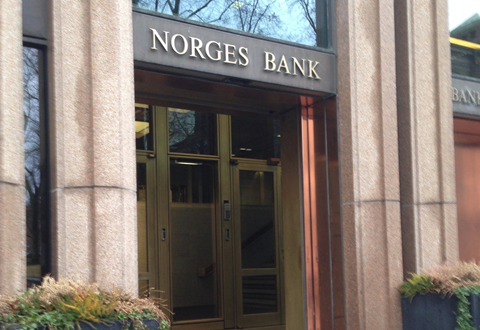 NBIM also announced yesterday that it was discontinuing Norges Bank Real Estate Management as a separate entity within the organisation, as part of an overhaul of its approach to property investing. Rachel Fixsen reports for IPE Real Assets.
Releasing the responsible investment report yesterday, NBIM also said it had dealt with new climate-related issues last year.
"Some new issues are emerging from the transition to a low-carbon economy," said Carine Smith Ihenacho, chief corporate governance officer.
In 2018, she said, NBIM had talks with companies in the car sector that use cobalt as a component of lithium batteries. Companies involved in mining cobalt have been linked to human rights issues in recent years.
"We contacted companies to understand their low-emission plans and how they are managing the risk of human rights violations in their supply chains," Smith Ihenacho said.
According to the report, climate change was the ESG topic most frequently addressed in NBIM's meetings with companies last year, having been a priority topic at 272 events in 2018.
The manager said it had conducted almost 1,500 company meetings in 2018 at which it discussed governance issues and followed up on its expectations of businesses.