ATP Real Estate, LPFA, Janus Henderson, APG, Ontario Teachers', PFA, State Street, PLSA, TKP, PDN, Syntrus Achmea, BMO GAM, Carbon Tracker Initiative, Montae, Aspect Capital
ATP Real Estate – Martin Vang Hansen has been hired by Danish pensions giant ATP's property subsidiary, ATP Real Estate, in the newly-created role of chief financial officer. He will start the Copenhagen-based job on 1 May. Vang Hansen is currently chief executive of the Færch Foundation, a foundation set up by members of Denmark's wealthy Færch family.
London Pensions Fund Authority – The £5.3bn (€6.1bn) public sector fund has appointed Robert Branagh as managing director, responsible for managing relationships with the scheme's key stakeholders. He replaces Mike Allen, who is retiring after working at LPFA since it was established in 1990.
Branagh is the current president of the Pensions Management Institute and has worked in both public and private sector pensions over the past 30 years.
Janus Henderson Investors – The fund management group has hired Andrew McCarthy from the Universities Superannuation Scheme (USS) to join its European equities team in London. He will join in July as co-manager on the firm's long-only funds and mandates alongside John Bennett, head of European equities. At USS's investment arm, McCarthy specialised in the industrial and consumer sectors.
APG – The €475bn asset manager and pensions provider has appointed Ronald Wuijster as member of its executive board, responsible for the asset management portfolio as well as advising on the implementation of investment policy for APG's pension fund clients, which include the €409bn civil service scheme ABP. Wuijster also chairs the board of APG Asset Management.
Since he joined APG in 2006, Wuijster has held roles including managing director of strategic portfolio management and CIO. Prior to this, he held various managing directorships at asset manager Robeco.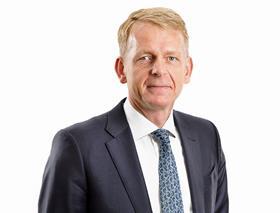 Ontario Teachers' Pension Plan – Bjarne Graven Larsen, chief investment officer at the CAD189.5bn (€120.9bn) Ontario Teachers' Pension Plan, has resigned after two years in the post, the Canadian scheme said in a statement. Ron Mock, OTPP's chief executive, will act as interim CIO during the process to find a replacement. Graven Larsen – former CIO of ATP – planned to move back to Denmark with his family, according to Ontario.
PFA – Kenneth Graversen has taken up a new job at Denmark's PFA as senior portfolio manager for global equities. He previously worked at SEB Asset Management as chief portfolio manager and CIO for Danish equities. At PFA, Graversen reports to chief portfolio manager Klaus Ørtoft Madsen and Henrik Nøhr Poulsen, CIO for equities and alternatives.
State Street – The financial services giant has appointed Sara Mathew and William Meaney to its board of directors. Mathew is a former chair and CEO of analytics and ratings firm Dun & Bradstreet, where she also held roles including president and chief operating officer. She has board-level experience across a number of sectors.
Meaney is the president and CEO of storage company Iron Mountain. He was previously CEO of multi-industry conglomerate Zuellig Group, and has held a number of senior roles at major airline companies.
Jay Hooley, chairman and CEO of State Street, said: "Technology, data and analytics are driving our ability to strengthen client service and solutions, and improve efficiency and productivity. Sara and Bill's collective knowledge of finance and technology, as well as their shared experience leading transformational change within large corporations, will bring great value to our board."
Pensions and Lifetime Savings Association – Luke Hildyard has left the UK pension fund assocation to return to the High Pay Centre, a think tank. Hildyard was deputy director at the High Pay Centre before leaving to join the PLSA in late 2015. As of today he is back at the think tank, this time taking over the role of director from Stefan Stern, who has stepped down. At the PLSA, Hildyard was policy lead for stewardship and corporate governance.
TKP Pensioen – Doekle Terpstra has been named as independent chairman of the supervisory board (RvC) of pensions provider and Aegon subsidiary TKP Pensioen. He is to succeed Maarten Edixhoven, chief executive of Aegon, who is to stay on as member of the RvC. Terpstra has previously worked as chairman of the HBO-Raad, the council for higher professional training, and as chairman of trade union CNV.
PDN – Hans van Suijdam has been appointed as temporary trustee and chairman of PDN, the €7bn pension fund of Dutch chemical giant DSM. Van Suijdam is a former executive vice president of DSM and former chair of the company pension fund GistBrocades, which has liquidated. At PDN, he succeeds Atzo Nicolaï, who has stepped down but will stay on as board member.
Ortec Finance – The consultancy and technology provider has hired Deon Dreyer as UK managing director. He takes over from Lucas Vermeulen who has moved back to the Netherlands. Dreyer joins from Insight Investment where he was client director. He has also worked in consultancy roles at Quantum Advisory, PwC and Aon Hewitt.
SAREF – Syntrus Achmea Real Estate & Finance has appointed Jos Sentel as strategy and research manager, responsible for the team focusing on translating trends, political developments and changes in the property and mortgages market into investment frameworks for institutional investors.
Sentel previously ran ThirdPlace, an advisory bureau for real estate concepts, since 2006. Prior to this, he was director of research and concepts at ING Real Estate Development. Sentel succeeds Boris van der Gijp, who has been appointed director of commercial property at SAREF.
BMO Global Asset Management – The $260bn (€211.9bn) asset manager has appointed Alice Evans and Claudia Wearmouth as co-heads of its governance and sustainable investment team. They will be responsible for integrating environmental, social and governance issues into the group's investment processes.
Evans joined BMO in 2010, having previously worked at Henderson Global Investors and JP Morgan Asset Management. Wearmouth joined in 2007 and has held a variety of responsible investment roles across BMO's business.
In addition, BMO GAM has hired Pieter van Stijn as a director in the governance and sustainable investment team, based in the Netherlands. He joins from PGGM where he worked for 11 years as a senior adviser on responsible investment matters.
Carbon Tracker Initiative – Mark Lewis has been appointed head of research and managing director at the think tank. He has worked on the financial ramifications of climate change as a sell-side financial analyst, and his research to date has focused on the overlap between energy and climate change. He was most recently managing director and head of European utilities at Barclays, and has held roles at Kepler Cheuvreux and Deutsche Bank. He is a member of the Financial Stability Board's Task Force on Climate-related Financial Disclosures.
Montae – Menko Nieland has started as consultant for balance and risk management at Dutch pensions adviser Montae. He is tasked with supporting pension funds' boards and investment committees. Nieland joined from pensions regulator De Nederlandsche Bank, where he was part of its on-site team for pension funds and insurers. Prior to this, he worked in actuarial roles at PwC Netherlands, Nationale Nederlanden and Deloitte.
Aspect Capital – The $7.5bn systematic investment manager has promoted Rosie Reynolds to chief commercial officer. She is responsible for the company's commercial strategy and the management of its business development team. She has worked for Aspect for 12 years, most recently as director of global business development.